A Guide to the Connected TV Supply Chain
Posted on: Friday 04 December 2020 | IAB UK
This guide has been developed in partnership with the IAB's Connected TV Advisory group to provide an overview of the CTV programmatic supply chain and the different CTV options open to advertisers
As the industry body for digital advertising, we at IAB UK collaborate with our members to share expertise and develop collective resources that can't be achieved by one company alone.  
The 'CTV Supply Chain Guide' builds our 'Changing the Channel' introduction to Connected TV (CTV) and our general overview into the Programmatic Supply Chain, to help you understand the supply chain in one of the newest, most exciting and innovative sectors within digital advertising.
This guide aims to provide you with practical insight into the fast-growing CTV sector by curating advice and guidance from the IAB's CTV Advisory group. 
With thanks to Adjust, Amobee, AudienceProject, Beeswax, FreeWheel, LiveRamp, Magnite, OMD UK, Roku, Samsung Ads, Vevo and Xandr for their time and effort in helping to compile this guide.
This guide will give you...
Key terms 
Before you go on, below are some terms that you will find useful before reading this guide. For a full CTV glossary, take a look here. 
Publisher: In the context of this guide, publisher refers to publishers of CTV content - whether that's BBC iPlayer, Amazon, Netflix or Sky. 

CTV-first publisher: This refers to publishers that are native to the CTV space, and do not have a presence on linear TV, such as Roku and RakutenTV. 

Broadcast-first publisher: Publishers that have evolved into CTV while maintaining a linear TV presence. Put simply, they are the broadcast TV channels we all recognise such as, such as ITV and Channel 4. 

Digital-first publisher: In the context of this guide, digital-first publishers refers to digital publishers that are not CTV publishers but deliver a CTV-style offering, such as YouTube and Vevo. 

ACR-powered CTV publisher: This refers to CTV publishers that use automatic content recognition (ACR). Benefits of this include novel forms of targeting and enhanced measurement. 
The Connected TV market spans a range of different business models and types of publisher. This section will help you to understand the different players in the CTV programmatic supply chain and the types of inventory available to advertisers. 
CTV-FIRST PUBLISHERS
Who typically buys this inventory?
Initially, Connected TV advertising was seen as an extension of digital video on a bigger screen, but increasingly we see mainstream TV traders investing as data, targeting, and flexibility become more important. As consumers invest more of their time and attention in non-ad supported services like Netflix, Amazon Prime, Disney+ and NowTV, it is harder for marketers to reach viewers solely via linear TV. Advertisers – both digital and TV buyers – are looking for ways to reach the growing base of CTV users in a measurable, targetable way.
Overall, we are seeing an increase in the total numbers of buyers because CTV is not yet dominated by the same trading agreements between agencies and broadcasters that have governed linear TV for decades. This makes CTV easier to buy and measure. With its measurement capabilities, CTV also appeals to marketers across the purchase funnel – from brand-building to performance-focused messaging – encouraging more advertisers to try and test CTV.
Which publishers make up this ecosystem? 
The ad-supported CTV publisher landscape (AVOD) is incredibly diverse. The barriers to entry on CTV are considerably lower than they are for linear TV, so a wide variety of channels and applications – from Pluto to Vevo to The Roku Channel – are joining traditional broadcasters in the CTV content game.  "Free" is a compelling value proposition for consumers, and AVOD services will continue to garner a large share of consumer engagement. Many broadcaster video-on-demand (BVOD) services also fall into this camp. 
In addition to the advertising funded ecosystem, there is a very strong set of subscription-based (SVOD) services like Netflix, Amazon Prime and Disney+. The proportion of UK homes with an SVOD subscription passed 50% for the first time in Q4 2019, according to BARB.  
CTV is also a great platform for brands to publish their own content and give consumers more engaging experiences than most advertising ever allows. Red Bull and Peloton are good examples of brands that distribute quality content to consumers via CTV. We expect to see similar approaches from sectors like cooking, education, travel and home improvement.
What are the different ways you can work with a CTV-first publisher? 
The two main ways to work with CTV-first publishers are by buying directly from the publisher or through an aggregated buying partner. Aggregators have the benefit of aggregated scale, providing opportunities for very precise targeting by audience and geography. However, they do not maintain a relationship with customers, and not all CTV inventory is the same quality. Buying directly reduces risk but may require managing multiple direct relationships.
In addition, there are several considerations to think about when starting to buy CTV. The first is that CTV pricing will largely look more like TV pricing than digital video pricing. Second, targeting and measurement enhancements mean your CTV budgets can work much harder for you than in less measurable channels. Lastly, the market is changing quickly, so watch the space closely; now is the time to test.
What are the main differences between different CTV-first publishers? And what considerations should a brand make when choosing which publishers to work with? 
CTV-first publishers can be identified by which platform type they use to reach consumers - smart TVs, games consoles and streaming devices. Publishers can be further segmented into those that own the platform, and the third-party apps that exist within the platform. 
For brands considering which platforms to reach CTV audiences on, this distinction is important. Platform owners typically have a holistic view of audience viewing behaviours because they utilise technology such as Automatic Content Recognition (ACR). ACR provides rich insights and targeting options to support brands in finding the most relevant audiences, which can drive incremental reach over traditional linear TV. Additionally, platform owners are responsible for creating excellent user experience and discoverability.
This allows them to reach consumers with premium placements that can be both integrated (no download required) and 'above the fold' when consumers are selecting content. By contrast, third-party apps have the benefit of being platform-agnostic, meaning that they can offer brands access to audiences engaging across multiple platforms and devices. Whatever route you are looking at, it's important to have access to quality data to help you make smarter decisions.
With Smart TVs becoming more sophisticated, coupled with a greater variety of premium CTV apps available to consumers, there is a feeling that CTV platform consolidation will continue to move consumers and brands towards the device manufacturers as a way of accessing Connected TV.
What are the creative considerations when working with a CTV-first publisher? 
CTV-first publishers operating within a programmatic ecosystem will provide clear creative guidelines for their buyers. Creatives should be designed for the largest screen in the house, and follow standard CTV dimensions (1920 x 1080). CTV publishers will typically only accept VAST (Video Ad Serving Template) creatives, and no VPAID (video player ad-serving interface definition) elements of any kind can be applied.
Buyers should work with AVOD (ad-based video-on-demand) publishers offering non-skippable, full screen and 100% viewable environments. In these environments, video creative has the opportunity to be entertaining, engaging and tell a story as well as expect video completion rates of over 85%.
It also means buyers don't have to squeeze their message into the first six seconds like they might need to in some online formats. CTV-first publishers should be able to support creative lengths from six seconds up to 120 seconds within an in-stream ad break.
Through advanced targeting in CTV environments, buyers have the opportunity to tailor their creative towards specific audience behaviours and demographics, or utilise geo-targeting to deliver region-specific messaging. Brands can also work with ACR-powered CTV publishers to run video creatives that provide follow-on messaging for consumers who have already been exposed to linear TV campaigns.
What bid request data are CTV-first publishers willing to pass to buyers?
Consumer privacy should be a primary concern for CTV-first publishers, and as such, publishers should ensure that personally identifiable information (PII) is managed in a controlled manner, while allowing buyers to effectively manage frequency within their CTV campaign.
CTV publishers may pass contextual information about the content being viewed (e.g. content genre, IAB category, live-stream or VOD, content length), as well as information about the device (e.g. device manufacturer, device year). Buyers should work directly with CTV publishers to ensure data is utilised most effectively to reach the most relevant audiences and at the right frequency.
BROADCAST-FIRST PUBLISHERS
Who typically buys this inventory? 
Broadcast inventory has typically been bought by media agency buying teams through legacy Insertion Order (IO) setups, however there has been a shift in recent years to make this inventory increasingly available via programmatic platforms. 
In some instances, broadcasters have been hesitant to lean in fully with third-party technology, and have instead opted to buy or build their own ecosystems to retain control over first-party inventory and data. Within agencies, there is a varied approach to broadcaster CTV, with some digital specialists and trading desks managing this portion of a client's buy, whereas traditional AV teams are often tasked with buying broadcaster CTV along with linear buys for closer alignment on audience and reach and frequency.
This shift towards automation has also made broadcaster inventory a lot more accessible to smaller brands and in-house digital teams. ITV's PlanetV platform is an example of a broadcaster building a full end-to-end stack to manage its inventory and data. Another example is Sky's AdSmart, one of the first truly addressable TV solutions in the UK that offers buyers the ability to buy targeted spots seamlessly, where linear spots have traditionally been.
Which publishers make up this ecosystem?
In the UK, there is a growing list of broadcasters that are following the eyeballs and making their content available via digital platforms and devices, including:
ITV

Channel 4

Sky

Discovery

Channel 5

STV

UKTV
While buyers in this market will continue to focus on the UK, it is important to note some key broadcaster CTV offerings available abroad. Across Europe, there are several broadcaster groups and alliances that make buying CTV inventory more straightforward. RTL and Mediaset are two examples of broadcaster groups in this category, with RTL Ad Connect representing the international budgets for advertisers as a one-stop-shop for regional CTV bookings.
What are the main differences between different broadcast-first publishers? And what considerations should a brand make when choosing which publishers to work with?

 
As a marketer, if great quality content powered by first-party data is important to your brand, broadcast publishers offer a great home for your investment. If a cross-channel buy, with targeting applied on the buy side is required, then broadcaster platforms today may lack the scale and optionality for brands, though they are catching up.
Additionally, broadcast-first publishers are a lot more protective over their inventory and data than other online publishers. Their inventory isn't available in the open exchange and it is a lot scarcer, meaning programmatic guaranteed and other fixed buying models are commonplace. Broadcasters often sell their CTV inventory at the same time as their linear bookings, meaning inventory can be booked-out months in advance.
Broadcaster's caution and protectiveness around their data comes from seeing how other publisher assets have been commoditised in the programmatic ecosystem. Broadcasters want to preserve the value of their data, especially when they have deterministic logged in user data that buyers can leverage when negotiating campaigns.
What are the creative considerations when working with a broadcast first publisher? 
Advertisers need to be aware of the creative compliance standards that broadcasters must adhere to in the UK. These are different to the self-regulatory standards that much of the digital ecosystem follows.
Broadcasters must abide by Clearcast's rules. Clearcast clears TV ads for broadcast on more than 250 UK commercial channels and services. Before ads are shown, they are checked against the UK Codes of Advertising (BCAP and CAP Codes), which set out what is and isn't permitted. Clearcast approvals typically take up to three days, so this timeframe needs to be taken into account by advertisers planning on running activity with broadcasters.
The same rules that have always been in place for linear broadcasters are also applied in the CTV world for broadcast-first publishers. This has put them at a disadvantage when compared with CTV-first publishers who adhere to self-regulatory practices and tend to be able to move faster when it comes to approving creative for ad campaigns. Once live, all CTV ad campaigns are subsequently subject to review by the Advertising Standards Authority. 
What bid request data are broadcast first publishers willing to pass to buyers? 
The level of data that is passed in the bid requests by broadcaster first publishers varies greatly and is a lot more nuanced than with digital-first publishers, who tend to operate in a more open, standard ecosystem.
As mentioned above, some broadcasters have designed their own ecosystems, meaning there isn't necessarily a bid request for buyers to analyse and use for optimisations, while others pass details about location and device types with IP addresses and granular location data truncated to mask user identities.
Additionally, it is important to note that broadcaster inventory isn't always aligned with the programmatic verification technologies that buyers are familiar with from the wider ecosystem. These technologies typically rely on certain information being passed in the bid request/scanning of content in order to understand the brand safety/suitability. In a lot of cases, broadcasters will require buyers to remove these targeting features in order to successfully deliver campaigns.
Explore the opportunities that programmatic CTV offers advertisers, including practical advice on how to set up a campaign and measure its success. 
What is the scale of the CTV market opportunity?
The AA/WARC Expenditure Report from July 2020 highlighted an 11.3% growth in Q1 2020 and forecast 21.1% year-on-year growth in video-on-demand in 2021. In August 2020, Ofcom reported that the global pandemic has further accelerated the popularity of subscription video-on-demand (VOD) services, with more than 50% of households subscribing to at least one subscription video-on-demand (SVOD) service. Ofcom highlights the speed of this growth: "This is up from 39% last year, demonstrating the rapid rate at which adoption of these services is still growing."
As more people buy the latest televisions and adopt more streaming services, the amount of inventory available to buy programmatically increases. From the demand side, interest is already high as connected TV makes smaller, more targeted buys possible. For example, targeting a particular geographic area, within a certain distance from a bricks and mortar store, rather than having to buy a whole TV region. This targeting opens up TV advertising to brands who would normally not be able to invest in advertising on broadcast TV.
What can I buy? 
There are a huge variety of different definitions when it comes to Connected TV and, depending on your definition, the answer to this question will be different. Let's start with assuming that we're talking about ads served within professionally produced, rights-based TV content, delivered via the open internet, and served on an actual television.
The most prevalent format is instream video (pre-roll, mid-roll and post-roll). These can be served in any number of applications and streaming services, which may mean live-streamed content, but could also covers VOD, SVOD, ad-funded video-on-demand (AVOD) or transactional video-on-demand (TVOD).
Given the premium nature of Connected TV inventory, most of the available programmatic inventory is accessed via private marketplaces (PMP) from a supply-side platform, such as Freewheel, SpotX, Magnite. In this way, a publisher can control which buyers can bid on their inventory.
Many broadcasters and streaming service providers also offer their own managed service access to this supply, and recently we have seen Sky open their AdSmart product to other broadcasters.
For how much?
Inventory prices vary significantly, depending on the level of targeting required by the advertiser, as well as the quality of the content that the ad will run within. For example, a private marketplace running on broadcaster inventory against a known audience demographic would have a significantly higher price point than an untargeted buy in a user-generated content environment. CPMs can reach up to £70 per thousand impressions or higher.
How/where can I buy?
Below are the two main ways of buying CTV:
Buying direct from a supplier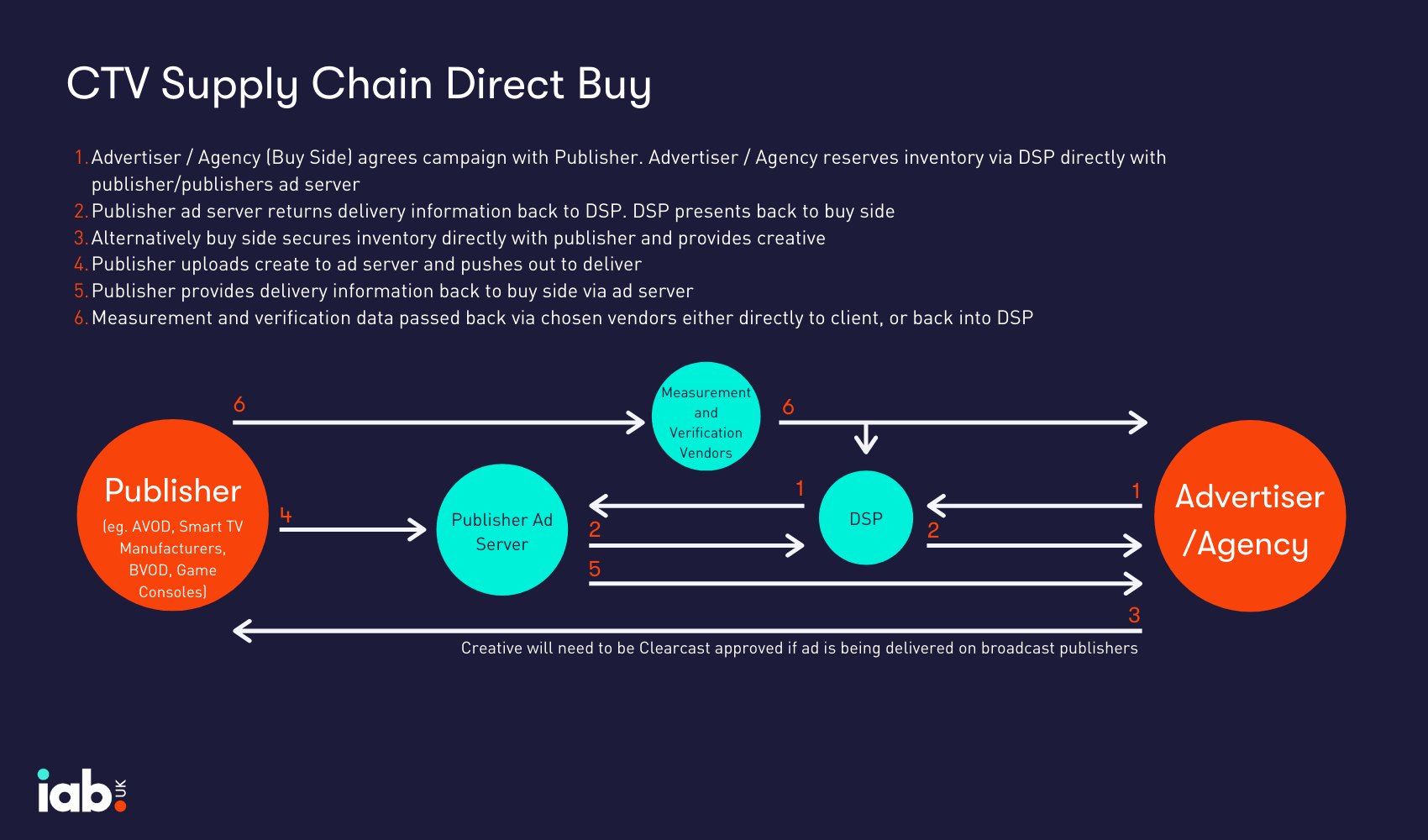 Buying programmatically through a trading desk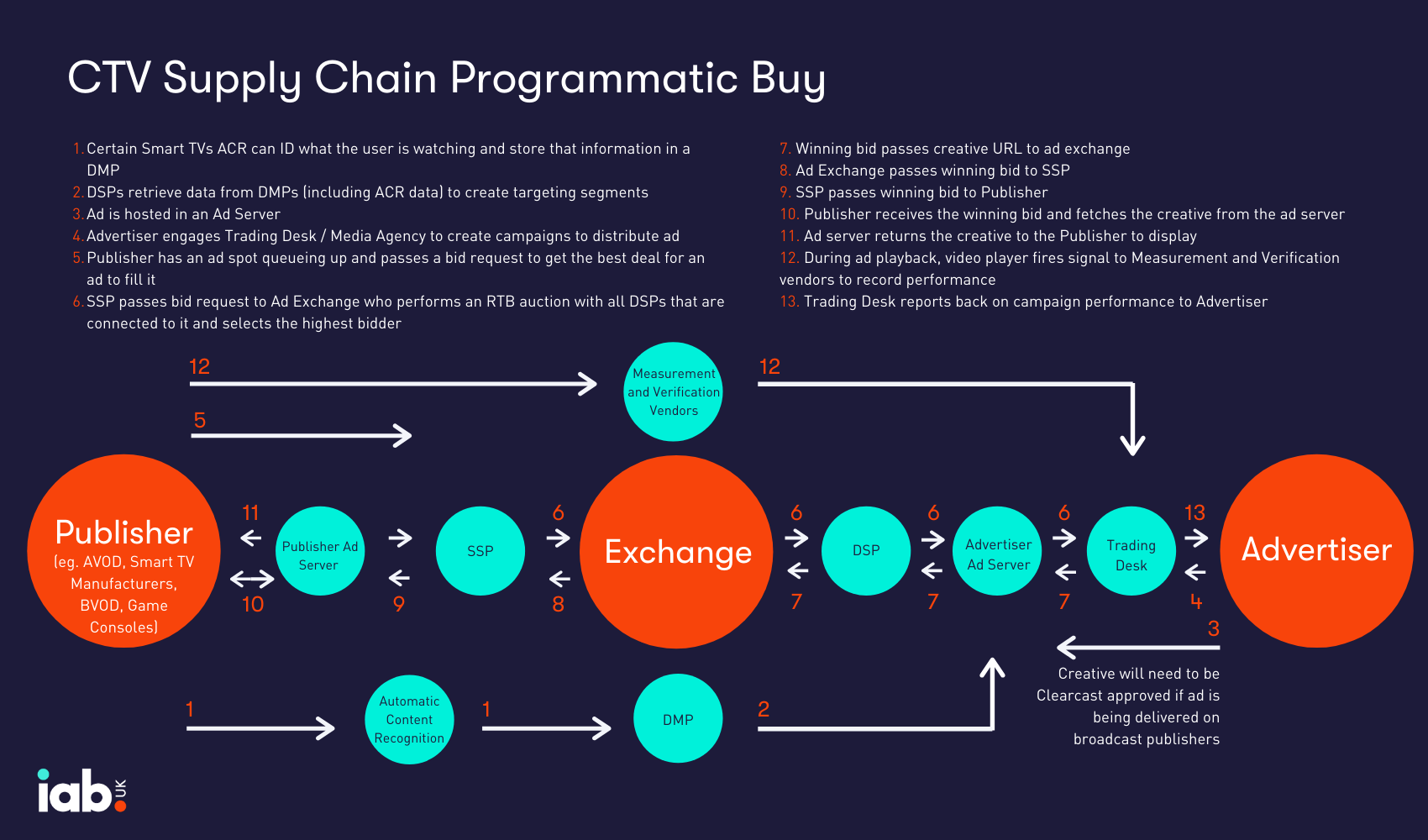 Given the premium nature of Connected TV inventory, it is most usually accessed programmatically via private marketplace from one of the supply-side platforms (such as Freewheel, SpotX, The Rubicon Project). This means that a publisher can control who has access to the inventory.
Many broadcasters, production companies and content creators also offer their own managed service access to their own inventory (traditionally offering managed service, through partnership with a DSP and an SSP).  Historically, a production company deals with a broadcaster who would distribute and monetise the content. The rise of connected devices now allows a production company to create its own app and monetise the content directly, via an app or a platform.
The routes to market in this area are changing very rapidly, with many innovations and new players entering the market.
What's different from buying other digital media?
The main differences to consider stem from the fact that this advertising appears on a television, and not a personal device. The majority of digital media is served one on one to an individual and (at least currently) uses targeting via cookies, mobile advertising IDs etc.
In a CTV environment, targeting can be more complicated. For broadcaster inventory, users are likely to log in and, when negotiating access to a private marketplace directly with a broadcaster, it can be possible to request that they layer their data on top of the PMP at their side. Some DSPs enable targeting by IP address, making it possible to target small geographic areas, although not always to a household level.
Another area of difference is the price point of the inventory.  It is not uncommon for buyers accessing Connected TV inventory to request different pricing models from their DSP, as percentage-of-spend models can be punitive.
There can also be differences in transactional workflow (most notably in the case of creative approval), although this varies significantly depending on the source and quality of the inventory that a buyer is accessing.
How easy is it?
There is little difference between setting up a private marketplace to access digital display or video supply and setting up Connected TV access.
How does audience measurement work in CTV?
Scaled CTV inventory offers advertisers the ability to extend big screen audience reach beyond linear TV, coupled with the near limitless creative benefits of a digital environment.
However, in order to attract investment from brands, CTV inventory will need to pass three measurement tests 1. Viewability, 2. Ad fraud and 3. Audience reach. The first two are staples of any digital investment, however audience reach and measurement needs to be better understood.
The adoption of better audience measurement allows for the de-duplication of reach and frequency and, perhaps more importantly, the incremental reach of CTV inventory vs TV. The challenge for both the buy-side and sell-side is that if CTV inventory is to be sold as an extension of TV, it needs to be held to as close to TV measurement standards as the current landscape allows. At the same time, many of the technologies (eg. cookies) used to both build and measure some of the more niche audiences in traditional digital, do not translate to CTV environments.
The perfect solution won't be established in the early days of this CTV boom, but it's now possible to put measurement standards (including demographic audience) in place, to ensure brands derive value from this emerging space and the industry avoids jumping in without first checking the temperature.  
This is also the moment to build partnerships between publishers, advertisers and intermediaries to guarantee a fair economic exchange and avoid the emergence of data monopolies.
How does targeting work in CTV?
Targeting on Connected TV boils down to one word: efficiency. With CTV, advertisers have the ability to reach their target audience with a simple programmatic transaction, as opposed to finding them network by network, market by market, in a more linear TV model.
It is important to note that CTV audience targets are built on IP addresses, since standards are still being put in place around IFAs on OTT platforms.
Whilst this granular ability to target audiences is a unique selling point, something to keep in mind is that with so many ways to segment potential audiences, buyers need to be careful of "over-targeting." 
Each layer of targeting can limit scale and drive up the cost of meeting campaign goals. By focusing too heavily on a small audience, buyers may not get a return on investment if the cost to reach those handful of people is too high, and so consideration needs to be paid to the campaign objectives.
Can you connect audience data to CTV inventory, and is people-based or household targeting possible?
Digital advertisers have long been relying on digital identifiers such as cookies or device IDs to link data to media inventory.  In CTV, we are simply using new identifiers to adapt to changing consumer behaviour. CTV IDs can include device information such as smart TVs, set top boxes, streaming devices, and game consoles. 
Other information such as IP addresses can also help, but authenticated viewer data may be seen as the best source of identity for a people-device view of who is watching and on what device. Ultimately, identifiers are defined by what pieces of data can be compliantly collected and are available to be passed between inventory source and buyer. 
In the UK, the CTV market is rich in data - with BVOD and AVOD players holding registered user bases with high penetration against the UK population. This data is hugely valuable and will contain 'personal information' so connections to advertiser data can be based on aggregation for privacy or security reasons. i.e. to postcode level but individual or HH targeting is possible with trusted, privacy compliant third-parties such as data connectivity platforms.
Freewheel, Vevo, Xandr and Magnite share expert advice on how to get it right when it comes to Connected TV advertising  
An Advertiser View
CTV is integral to today's media strategy because it encompasses the best of both digital video and TV – precision targeting in a premium video environment. While linear TV's share is still king, you can no longer ignore the importance of exposure on alternative screens and platforms. Marketers want to follow the audience and CTV is a powerful new opportunity to reach fragmented audiences traditionally catered to by linear broadcast.   
There are a number of reasons why buyers should become familiar with this growing advertising format:
Programmatic CTV Is efficient: With CTV, advertisers have the ability to reach their target audience with a simple programmatic transaction, as opposed to finding them network by network, market by market

Programmatic CTV is fast and flexible: Campaign analytics are updated in real-time, giving brands an accurate picture of performance pacing. This is important for all campaigns, but especially those with short flights or live programming

Programmatic CTV is addressable: Advertisers can tailor a message to reach the right viewer at the right time. It also gives advertisers the ability to target content by category, genre, content length and even content rating
Data-driven capabilities across all TV, including linear, demand a multi-screen approach to maximise scale. It is about finding the right audience, no matter the screen or the device. By combining OTT/CTV with VOD and linear TV, advertisers can attain the optimal reach and frequency while upholding key metrics like engagement and brand safety. 
There is often a view that CTV audiences will overlap with consumers that are already being reached through linear buys. This is not the case. CTV has compensated for a large part of the decline in time spent with live TV, replacing traditional linear viewing for many consumers. 
According to an analysis of data from Nielsen's Total Audience Report, people spend almost the same amount of time with a TV but increasingly access their content through multimedia devices. This suggests that a growing portion of CTV audiences use it to supplement or even replace linear television, and therefore cannot be reached through traditional TV buys alone.
Additionally, campaign analysis in the US has shown that data-driven audience campaigns are able to deliver more than twice the reach of traditional, spot-based campaigns. Not only does digital help to extend the reach of the campaign, but it also helps to deliver households that are underexposed on the linear side. 
To get the most out of CTV, advertisers should be aware of the following:
Invalid traffic (IVT)
Because CTV is an IP-based platform, a number of marketers have expressed concerns about viewability and fraudulent traffic. Many CTV players are rapidly adapting by developing solutions to certify and authenticate viewership in order to ensure viewers are human audiences. 
Many traditional solutions that measure IVT (Invalid Traffic) don't work well in server-side environments, which encompass the majority of CTV platforms. Also, IVT is often associated with open exchanges, which are rarely used in premium video CTV inventory currently. 
Audience measurement 
While CTV is the best of linear and digital, it doesn't fit neatly into the measurement frameworks used by either. There are many ways to measure and transact CTV if advertisers are willing to be flexible and innovate, and safe automated marketplaces are opening up new targeting and measurement opportunities for buyers.
To fully realise the potential of CTV, premium video buyers and sellers also must position their organisations to navigate these challenges. Advancements in CTV measurement are rapidly emerging, especially through programmatic channels. For instance, the ability to target users through a device ID, which can give advertisers the ability to leverage their first-party data or a data management platform (DMP) to reach their identified audiences. 
While new solutions to build audience profiles using a combination of a viewer's IP address and a user-agent string are emerging, these innovations are likely to run up against growing concerns around user privacy and personal data collection on internet connected devices. 
Post-impression validation
The below table provides a quick overview of the CTV challenges for post-impression reporting and what alternative solutions can be used to overturn these.
| | | | | |
| --- | --- | --- | --- | --- |
|   | DEMO GUARENTEE | VIEWABILITY | FRAUD / NHT | AUDIENCE TARGETING  |
| Primary challenges | Measurement company methodologies do not yet scale across all CTV devices  | Tracking dependent on Flash/VPAID, which aren't supported by CTV  | Tracking criteria don't work for server-side integrations  | CTV doesn't employ cookies, which are typically used to create user segments  |
| Alternatives | Compositional Measurement Audience Targeting | Ad completion / view-through rates Certification through third-party (e.g. Moat, IAS…)  | Custom traffic analysis | Build audience profiles based on Device ID or IP + user agent  |
KPIs
It is important for advertisers to consider effective KPIs, looking at other ways to measure CTV engagement beyond CPM to ensure they fully understand their return on investment, i.e. Cost Per Completed Views (CPCV).
A Publisher View
TV has long been proven as a builder of brands. Two of the founding pillars that support this are the size and make-up of the audience and the quality of the environment. It is trusted, engaged, and familiar amongst marketers. So, whilst we are entering a world where the delivery mechanism on content to TV is different, advertisers still need to hold those principles front and centre. 
Platforms that encourage undivided attention are increasingly vital in today's media landscape. When a viewer tunes into a clip, show or live stream on a CTV device, they are actively seeking out a specific series or network and tend to watch it all: both content and commercials. No other platform comes close to the near perfect rate observed on CTV. Visits are generally over an hour long and viewers complete 97% of all premium video ads. These superior metrics can partially be explained by the full-screen, lean-back experience that CTV enables, replicating behaviours seen on traditional linear TV.
So, what can publishers do now to help drive progress in the CTV market? 
Arm teams with knowledge & tools
Agencies, marketers, and publishers all need sufficient knowledge about the benefits and limitations of CTV to intelligently sell and buy in the medium, anticipate concerns, and be able to offer creative solutions to address them. Having the right training and understanding of industry best practices in this area will be critical to success for all players.
Ensure system integrations are optimised & aligned 
Delivering a quality CTV viewing experience involves integrating multiple device endpoints with unique specifications and ensuring that a variety of delivery systems effectively communicate with each other.
While it's tempting to integrate with every new smart TV, sometimes it's better to focus on optimising the experience on larger established platforms instead of investing in the marginal incremental reach of newer device models. However publishers need to understand where their audiences are and prioritise development accordingly.
Additionally, it's important that publishers make sure all of their systems are configured to get the most out of their CTV inventory, including ensuring that key pieces of information are being passed between systems to enable richer targeting. Buyers, agencies and buy-side technology vendors need to ensure their systems are properly calibrated for the unique characteristics of CTV devices. 
Prioritise user experience 
As video consumption grows, users are watching on a myriad of devices and it is important that they have the same overall experience on each one. From the look and feel to the ad load, it is important for publishers to always keep the end user experience top of mind.
Creative quality is obviously very important when it comes to CTV. Too often we see ads in standard definition, some that don't fit the full screen, or others that are extremely loud compared to the content. Aspect ratio, bitrate and sound normalisation are just some examples of the creative specifications' publishers should share with buyers. 
Ad Podding uses frequency capping to avoid running the same ad over and over within a short period of time. Publishers should employ competitive and creative separation within ad pods to reduce the possibility of repetition. A poor ad experience is not only associated with the publisher but also gives a bad image for the brand.
Leverage data 
Data will play an increasingly large role for publishers and they need to have full trust that every technology partner they work with will only use that competitive intelligence to serve the publisher. Publishers need technology that is not beholden to a larger entity and can provide a competitive advantage.
There's vast opportunity in selling beyond traditional age and gender on CTV. The ability for advertisers to bring in their target audience lists and find them on these devices puts a premium on CTV inventory.
Publishers should experiment with new ways of packaging and pricing CTV, as well as open it up to safe automated channels where it's easier for advertisers to incorporate their own data. Additionally, publishers should work with DMPs to define audience segments (e.g. based on age, income and psychographics) that they can sell against.
Make content the priority
The best way of getting the maximum value out of CTV is by keeping content as the priority.
Create a prime-time only environment and understand your audience. Content transcends platforms - isolating content sources means you can build bigger singular access to audiences. This in turn allows you to effectively manage reach and frequency whilst context informs profile and relevancy. 
Having a content-first approach allows brands to ensure brand safety and suitability. It minimises the risk of fraud and does not centre itself on data alone. If marketers keep content at the forefront of their plans and remember to target their consumers in this way, irrespective of platform, they will have the greatest success of reaching and transforming their audience. 
Demand competition
Finally, publishers should explore solutions that could potentially bring them more demand, while respecting the compliance that is so important in TV. The recent developments by some platforms to leverage Prebid technology for long-form content is a great way to do this. Thanks to information like creative price, industry and duration being passed in the bid response, the control and compliance can still be applied in your ad server of choice.
A Consumer View
There is no question that CTV is a platform of choice for younger people and is rapidly gaining traction among wider audiences. People want to watch their favourite shows on the best screen available in the home and CTV provides access to an array of made-for-TV content, both on-demand and live, in a lean-back, living room environment.
Throughout the last year, restrictions and lockdowns due to the COVID-19 crisis resulted in a lot more screen time for UK viewers. According to eMarketer, the time that UK adults spend consuming TV and digital video will see nearly a half hour spike in 2020 due to the COVID-19 pandemic. Changes include:
At home quarantine is driving up all media usage, especially CTV

The downturn in the economy is driving cost-cutting - there is likely to be a shift away from consumers paying for subscription VOD services towards ad-supported services 

Consumer attitudes and behaviours around how they access TV content were already changing before COVID-19 and the current increase of CTV usage across the UK is expected to outlast the crisis
What's more, CTV is one of the most effective platforms for driving brand metrics. According to a brand lift study by Innovid, the activation of interactive ad units via CTV devices produced a sales lift of 35%, seeing overall the highest lift for above average engagement-rate, conversion, and brand favourability.
This, of course, is great news for marketers keen to harness the opportunities that CTV has to offer - creating immersive experiences that drive viewer engagement. Not only do viewers now have more choice as a result of the growing CTV market, but advertisers do too. CTV is an important platform to reach quality audiences at scale and generate positive brand outcomes. This trend is only likely to accelerate as more content becomes available, especially driven by the growth of new ad-supported DTC offerings.
 
What's next?
As the Connected TV market evolves, it's critical that we establish best practice, set standards, simplify the ecosystem and educate the buy-side about this fast-growing area. Doing so will help ensure that we collectively build a successful and sustainable marketplace, learning from the evolution of traditional digital media. This guide has set out to answer key questions, simplify the programmatic CTV supply chain and highlight the exciting opportunities that this marketplace offers advertisers. 
For more information about how advertisers can tune into Connected TV, and to understand changing viewing habits, take a look at our 'Changing the Channel' guide here. 
IAB UK Connected TV Advisory group
This guide has been developed in partnership with the IAB's Connected TV Advisory group to provide an overview of the CTV programmatic supply chain and the different CTV options open to advertisers