For the purpose of this guide, Connected TV (CTV) is defined as: 
Video content consumed on a TV screen, delivered via an internet connection. This includes TVs directly connected to the internet (Smart TV), as well as hardware that enables a TV to become connected, e.g. TV sticks, games consoles and set-top boxes that are connected to the internet.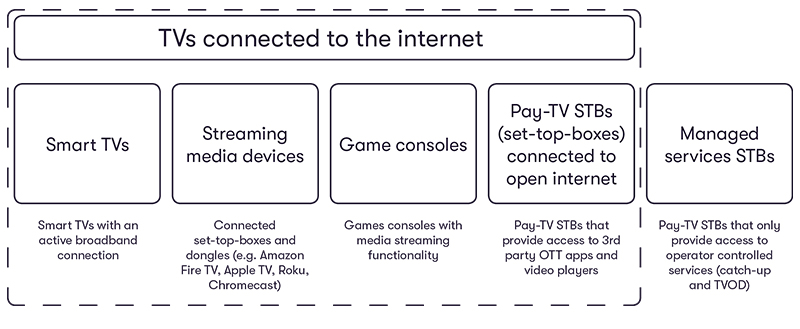 Connectivity 
Advanced TV
An umbrella term referring to any TV content that has evolved beyond traditional, linear TV delivery methods.
OTT (Over-the-top)
Over-the-top media services that allow access to TV-like content delivered over the internet, bypassing traditional terrestrial TV formats. OTT services can be accessed via CTV, as well as through apps on other devices with an internet connection, such as smartphones and tablets.
IPTV (Internet Protocol television)
Internet Protocol television is the delivery of TV content over Internet Protocol (IP) networks. This is in contrast to delivery through traditional terrestrial, satellite and cable TV formats.
HbbTV (Hybrid broadcast broadband TV)
HbbTV is a global initiative aimed at combining the broadcast and broadband delivery of entertainment services to consumers. What it means in practical terms is that you can get both standard broadcast FTA (free-to-air) TV and IPTV (internet delivered) TV services all in one place.
On Demand
VOD (Video-on-demand)
A service that allows viewers to watch video content wherever and whenever they choose, rather than at the scheduled broadcast time.
SVOD (Subscription VOD)
A video content service for which the user pays a subscription for e.g. Netflix, Amazon Prime etc.
BVOD (Broadcaster VOD)
A video content service delivered by a broadcaster, typically funded by advertising and therefore free to the user.
AVOD (Ad-supported VOD)
A video content service that is funded by advertising. This includes video services that are free to the user and also those that offer a subscription fee as well as showing ads. Broadcaster VOD services that are funded by advertising are included in this, but also YouTube etc.
TVOD (Transactional VOD)
A video content service where customers pay for each piece of video-on-demand content. For example, a customer would pay a fee for each movie or TV show that they watch.
How advertisers can tune in to Connected TV
The UK Connected TV (CTV) market has been gaining momentum over the last 12 months as audiences have continued to diversify their viewing habits. In turn, brands are tuning into the exciting new opportunities that CTV offers.
Drawing on research, workshops and advice from a range of industry experts, our Connected TV guide explores key considerations for advertisers looking to get the most from this booming market.
This guide is only available to IAB UK members, please log in to view this guide.
You must be a member of the IAB UK to view this content. If you are not a member you can find out more here.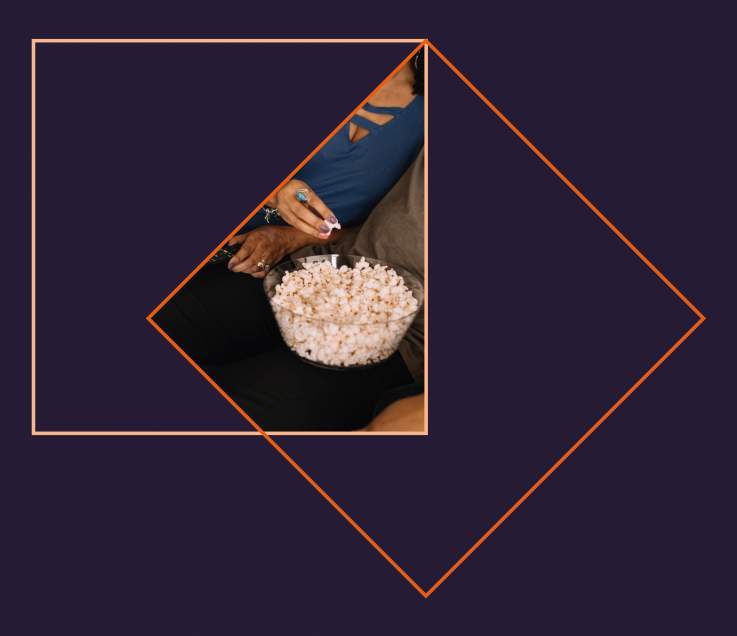 Buying and Selling
Programmatic TV
An automated approach to buying and delivering TV ads.
Addressable TV
The ability to serve different ads to different audience segments watching the same TV content.
Technology
DAI (Dynamic ad insertion)
Campaign optimisation technology that allows advertisers to dynamically change ads within VOD content, i.e. swap the ad creative shown, making it possible to target specific viewers rather than serving the same ad to each viewer.
ACR (Automatic content recognition)
Identification technology that allows content to be recognised by video, audio or watermark cues that are matched back to a database for reference and verification.