AR you ready for the revolution?
Snapchat showed the audience how easy it is to create customised, original lenses at today's Nonference.
'Nonferencers' were invited to download Snap's Lens Studio today, before being walked through the process and shown how easy it is to create custom lenses. 
The crowd was told that what makes Snap different is the wider implication of audiences growing increasingly accustomed to having a camera on their smartphones, always to hand, and how these generations of so-called 'camera natives' means that we are talking in new ways. 
The audience was then invited to play along, in true #Nonference style, with Snap's creative team illustrating just how easy it is to 'unlock your imagination and create something amazing'. 
What's more, we were shown how the democratisation of tech has led to a growing community of creators. And we learnt that AR is far from a passive experience, but rather one which fully engages its audience. 
Brands can of course work with this community of creators and so Snap urged those present to visit its booth in order to try out the creation of customised filters, with expert guidance on hand to walk us all through the often easier than expected process. See Lensstudio.snapchat.com.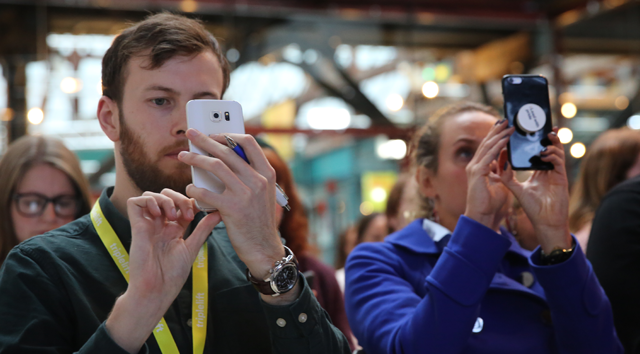 Blockchain + Lego = One Packed Room
Having started the session with a definition of blockchain - a distributed digital ledger for storing and securing information – Dee, Publicis Media, and Jonathan, IAB UK, set out to explain this definition with just a quiz and some Lego bricks. Six teams were each assigned a Lego brick colour and had to work together to solve a relatively simple equation. Once they had done so, they had to dash to the front and give the answer. The winners of each round were recognised and every team had to add the relevant coloured block to their own tower of Lego bricks, matching the column Dee and Jon built at the front of the room (sounds more complicated than it was). At the end of the quiz, each team should have an exact replica of the tower. It then became clear that the quiz answers were the secure information, whilst the Lego tower represented the distributed ledger of the blockchain. The allegory was complete. Following the quiz, Marco Ricci, Fenestra explained why blockchain technology will quickly become central to solving some of the challenges of digital media trading, including transparency, trust and the 36 categories of ad fraud.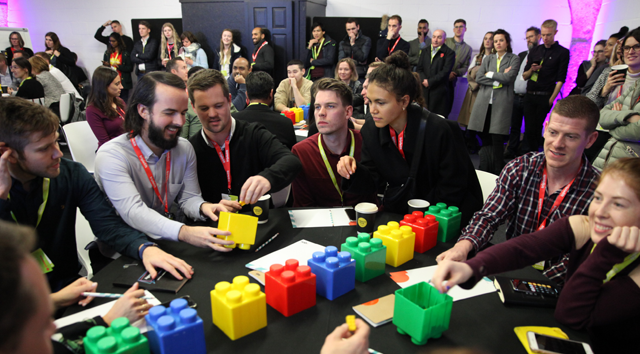 Girl power - The truth behind gender of the voice assistants
With voice technology and gender & diversity being two very hot topics in current times, it was great to see gender balance from the offset in presenters Jeremy Pounder, Futures Director, Mindshare and Heather Andrew, CEO, Neuro-Insight and voice assistants Sam (male) and Alexa (female).

The room was challenged to answer a series of multiple choice questions about the research findings from Neuro-Insight's study looking at preferences to male or female voices assistants. Voice interactions are highly intimate which is why this choice can make a real difference to a brands choice of dulcet tone.
Top take outs included:
At a conscious level, both men and women liked female voices better.

As content becomes more opinionated, people find the male voice more off-putting. 

There was a difference in audiences preference subject to age group, with young people much more open to female voices than older audiences. 

And finally, for a bit of a racy fact, over 29% of people have had a sexual fantasy about their voice assistant. Ummm moving on.
The session concluded with two of the audience donning a neuro head set to determine their response to male and female voices. Upshot, when it comes to voice assistants, we want to hear it from the ladies.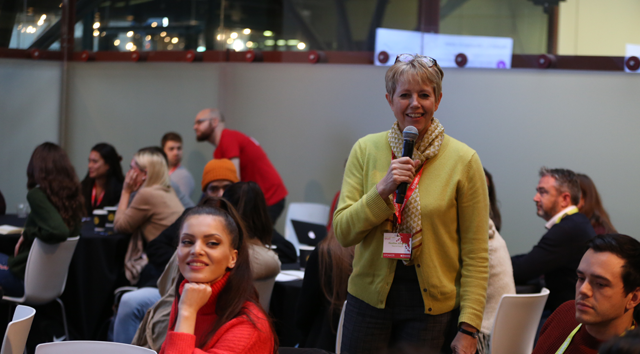 If you would like to find out more about Nonference 2018, you can read all about it here.