Meet people where they are: message in a bottle
This session lifted the lid on the understated but powerful potential of conversational messaging. Nick Pestell, Head of Agency, Facebook reminded us that the marketing funnel is so 90's. So 1890's when Elias St Elmo Lewis first developed AIDA - the awareness, interest, desire and action model.
The forces of change have made their mark and brands need to adapt their strategies to stand out. First people and their expectations are changing - same day delivery has become the norm and the experience has become as mighty as the product itself. He cited the ease with which we can now explore a new car and even go as far as book the test drive through messenger without speaking to the car salesman or entering the showroom. Secondly the rise of the disruptor, dozens of new brand players are entering and evolving new categories from eve, to Birchbox to Blue Apron - these guys do communications differently and it works. And finally the importance of customer service - hundreds of billions of customers and £s have been lost due to poor customer service, which is where messaging can step in. On top of this, the advent of GDPR has meant the loss historical databases, forcing marketing strategies to go back to the drawing board.
The beauty of messaging is that the consumer decides when they get in touch, if they want to pause and  come back later, and they dont have to listen to that god-forsaken hold music. On top of this they can demo, purchase and feedback in one fell swoop.
Nick went on to demo the beauty of messenger brand experiences on Facebook from Victoria Beckham - where we all had our own dialogue and tried on her latest sunglasses, through to Finnair who enhance a frustrating flight booking process giving control back to the consumer. So it seems conversational messaging has a bright future.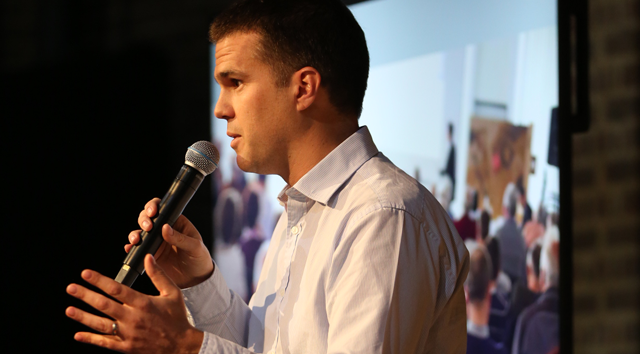 Celebrating the power of sound
Maple Street Creative let 'nonferencers' hum, sing and whistle their way to a full house in a hilarious game of sonic branding bingo.
Audio creative specialist Maple Street Creative set out to illustrate the strength of brand associations that 'sonic' logos can deliver by inviting teams to take part in a game of sonic branding bingo. Guests also took to the stage, microphone in hand, to sing or hum popular soundtracks to the ads of some of the most loved brands. Hilarity aside, the success of the teams served to prove the power of sound and its recall, whether audio logos are bespoke to a company or the result of adopting a popular piece of music.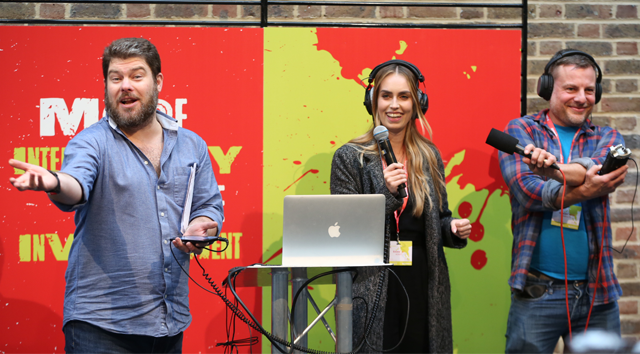 Let your brand speak up with IAB UK 
In Don't Just Speak, Learn to be Heard, from the IAB Research team of George Hopkinson and Steph Clarke, we were inspired to consider the strategies brands should take when thinking about Voice. This follows the IAB Find Your Voice research released this summer. Delegates were first asked to choose between four brands: BMW, B&Q, Pampers and Persil and, in groups, consider how their mission may inform their voice strategy. The teams were then tasked with thinking through four strategic decisions: Where in the customer journey could your brand use voice technology? How can you use different voice tech for your brand? Which roles could your brand fill and why? And Consider and develop your brand's literal voice. After only 12 minutes of discussion and debate, we were asked to stretch our ideas further, to find the inspiration not limited by budgets, or technology. Each group came up with a wealth of interesting and entertaining ideas that aligned with their brand position, but the winner of their own smart speakers was team BMW. Leveraging the wealth of in-car data a voice assistant would be able to access, from destinations to driving style, the stretch was to deliver a BMW Mystery Experience, booking your accommodation and taking you there in style and comfort. The IAB team felt this would definitely deliver some brand surprise and delight!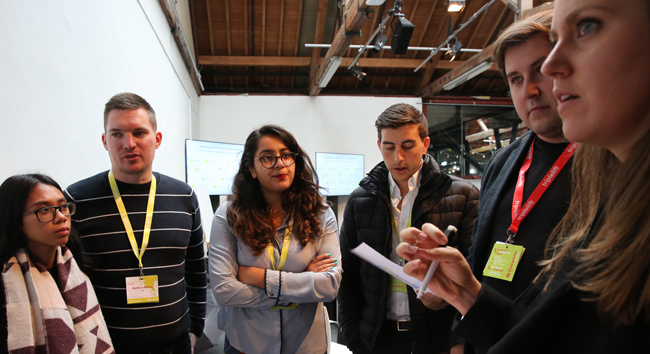 If you would like to find out more about Nonference 2018, you can read all about it here.