Research report finds that brands that embrace an omnichannel marketing strategy increase ROI by 32% in comparison to those that do not, writes Kevin O'Farrell, Associate Vice President at Analytic Partners
Consumers have never lived in a more connected world, and they have never been more in need of that connection to do everything from ordering groceries and buying clothing and technology, to educating their children and working from home. This connected world has seen the rise of "omni-shopping", which is researching, or experiencing the product in one channel, but converting in another. As a result, the interplay of both online and offline advertising is becoming increasingly complex and more difficult to manage. So, while it may be tempting for business leaders to think about and analyse marketing in siloes, consumers do not.
A combined presence for a 32% increase in ROI
Consumers expect to be able to conduct commerce anywhere and anytime across multiple platforms. For that reason, we at Analytic Partners decided to closely examine what has changed for consumers, and how business leaders should be thinking about marketing to meet those needs - especially considering the significant changes 2020 had brought with it, resulting in strong shifts in mobility and consumer behaviour.
Our research had found that companies that embrace an omnichannel marketing strategy increase ROI by 32% in comparison to those that do not. There is an ever-growing need and great potential for holistic planning across online and offline channels, along with the challenges many organisations face when trying to create this strategy.

"The circumstances of the past several months have created shifts in the balance of ecommerce and brick and mortar for many brands," explains Mike Menkes, Senior Vice President at Analytic Partners. "In looking at those shifts, it's vitally important to understand the impact holistically, rather than looking at each channel or tactic in a silo."
Consumer behaviour changes
One of the retailers we examined in our latest ROI Genome Report, 'Omnichannel and the Brave New World', showed a large growth in ecommerce sales after the first months of the pandemic and it is estimated to further grow that share in 2021.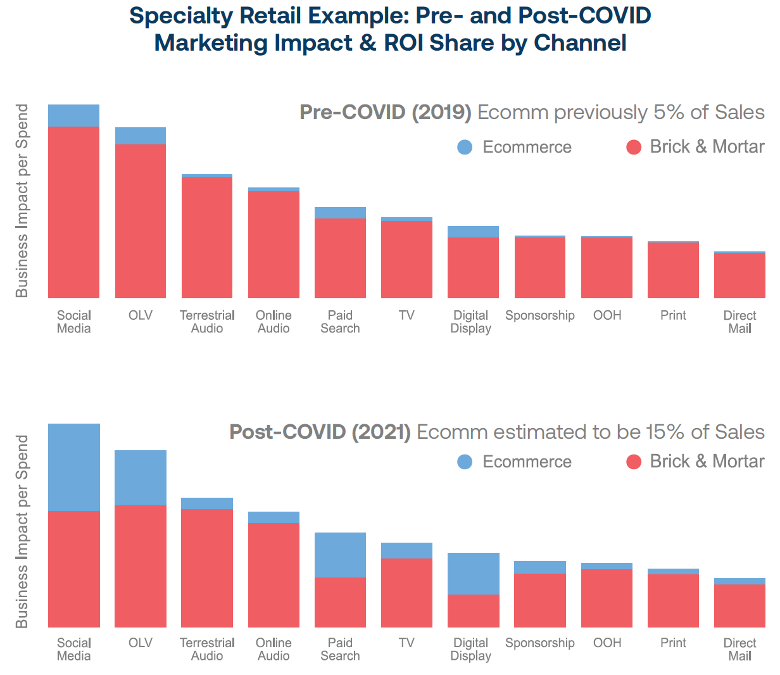 Under the current conditions, in order to truly and sustainably understand the impact of those shifts and changes, business leaders need to think, plan and measure holistically: How do in-store experiences impact online shopping? What macro factors have impacted and will continue to impact these online/offline relationships? How does paid search within and beyond ecommerce sites impact foot traffic and sales at real world retailers? Most importantly, how can leaders adapt and evolve strategies in this changing world in order to thrive?
Shaping the future of the omnichannel experience
Actively shaping the future of the omnichannel experience is about creating a unified, holistic view across tactics and channels, and understanding the short and long-term impact each channel offers while keeping the consumer in mind - from the start of their omnichannel journey through purchase and beyond.
There are three key takeaways that every brand should keep in mind in order to thrive in this brave new omnichannel world:
Take a consumer-centric view, encompassing both online and offline channels, measuring holistically across the full route to market

Ensure a deep understanding of indirect, synergistic and cascading impacts over time

Leverage opportunities to increase presence and improve ROI
For more information, download Analytic Partners' report here.
Posted on: Wednesday 3 March 2021