Overview
When it comes to the world of digital advertising, one thing is for certain: change. New tools, platforms and opportunities are constantly emerging and making sure you're up-to-date and ahead of the curve isn't always easy. 
Enter… Nonference! The self-confessed anti-conference returns for a day bursting with hands-on sessions, ensuring that you're one step ahead of the pack. Come away with the latest skills and knowledge from the digital arena – and have a bit fun along the way. 
Our most interactive and inclusive event of the year is taking place on Tuesday 29 October at Tobacco Dock. Don't miss your chance to prepare for what's coming next!
Tobacco Dock, Wapping, London, E1W 2SF
IAB Members: £250.00 + VAT
Agency: FREE
Advertiser: FREE
IAB Non-members: £250.00 + VAT
First 25 Nonference sessions announced
The Quiet Riot: video in a sound-off world
Unruly
Improve your moves, your video advertising skills and win a pair of Bose headphones worth over £500 at Unruly's sound-off dance-off – a hot ticket for anyone wanting to understand the complexity of video advertising in a sound-off world.
The 12 Days of Open Xmas
OpenX
Deck the halls with boughs of knowledge. In this festive frisson, OpenX will use new research to educate you about your consumers' buying habits in advance of the biggest spending season of the year (and not a pear tree in sight).
Change your life in 2020
MiQ Digital
The answer to life, the universe and everything: how to smash your 2020 planning by focusing on the questions and not the answer. This fast-paced workshop for marketers and agency planners will tap into the brains of solution engineers and strategy directors to help you achieve your goals.
A Carnival of Creativity
TIPi Group
Unleash your inner creativity with this immersive workshop in voice app building. TIPi Group will take you on a memorable journey through the steps to consider to make your voice heard via Alexa Skill or Google Action.
Born Online: the Direct to Consumer brands reshaping retail
IAB UK + Direct to Consumer brands
They have a strong core purpose, super-serve their customers, obsess over feedback and are building their brands online: off the back of new IAB UK research, come and meet the Direct to Consumer brands reshaping retail and see what you could learn from them.
Move over millennials
Generation Media
What do today's kids think about advertising? Join Generation Media's Q&A with a panel of kidfluencers and their parents to find out what makes Generation Alpha tick and how this can shape your future strategy.
The future is fake
Mindshare
Is the future fake or is fake the new real? Come along to Mindshare's future scoping session to dream and (literally) draw up your vision of the future.
Digital in the dark
Starcom
Supercharge your senses with Starcom's immersive session. Don a blindfold and open your eyes to the human experience of digital campaigns. You'll be exposed to a range of sounds, smells and tastes to explore what the digital ad experience should – and shouldn't – be.
The good, the bad and the podly
Acast
Forget dull host reads and bad adverts, branded podcast campaigns can sound amazing. Acast, with the help of a top UK podcaster, reveal everything you should – and should never – put in people's ears.
How can you apply behavioural thinking to your work? Behave break down biometrics, scope out psychometrics and apply academic principles to real brand challenges. You decide how this session goes - but you might be nudged along the way.
The Programmatic Olympics
GumGum
We're all winners with GumGum's sporting session. Learn how to get the right message to the right audience during Tokyo 2020, including how to harness programmatic, computer vision and AI.
Ad tech under the lens
SBDS, RedBud
Two teams. Six spokespeople. Three topics. Who'll survive the pressure? Question Time comes to Nonference, placing ad tech under the lens. Expect fiery debate on blockchain, 3rd party cookies, transparency and much more.
Demystifying the bid
IndexExchange
Pimp your programmatic campaigns with IndexExchange's bid-busting explainer. Find out how to identify opportunities in the programmatic process, improve monetisation and drive revenue along the way.
Asking for a friend
Zenith
Does it seem like you just learned about CPC and CTR but now need to master RTB in DSP to optimise eCPC ASAP? Consider this myth-busting session your CTA. No need to ask for a friend - ask for you, and walk away with a curated playbook to excel in your job.
Build-a-bot
Rakuten Viber
Tigers plus bots plus prizes – what's not to love!? Take inspiration from WWF's tiger bot as you build your own in this interactive session. Make sure to come armed with your best and weirdest facts to stand a chance of winning.
Brand safety whack-a-mole
GroupM
Roll up, roll up for a game of whack-a-mole. GroupM calls on the industry to beat brand safety issues (literally), learn what to look out for and hear from experts about how to combat the challenges. Start practicing your swing!
Stop, look, listen… to your brand
A Million Ads
Create a personal voice campaign in real-time with this session all about sound. A Million Ads shares how your brand can get the most out of personalisation technology and communicate as instinctively as you and me.
That's the way the cookie crumbles
The Guardian
The chips are down for the venerable cookie: join The Guardian to discuss the cookie's changing fortunes, explore the rocky road ahead via children's party games and ensure your company rises to the cookie challenge.
Super Human Stories
Media Chain
Learn how tell powerful human stories in a social first way. Media Chain is joined by two inspiring athletes who have done just that; Kate Farley, the first-ever boxer with cerebral palsy, and Josh Llewellyn-Jones, a world-record breaking athlete with cystic fibrosis.
Be the Teacher's Pet
Instagram
Go back to school with Instagram… Stories School that is. From creative possibilities and storytelling power, to driving business objectives by connecting brands and people, this interactive session will ensure that you graduate top of the Insta class.
You need to calm down
Melville Marketing Solutions
Immerse yourself in a stress-busting, interactive workshop. Find out how to build your own brand resilience, decide what to change and find out how your company can support you to be confident and calmer.
No Bullsh*t Leadership
Havas
We can all be leaders every day, we just need to get on with it. Havas Creative dispels the myth that leadership is an exclusive club and shares the secrets to adopting a leadership mindset. making confident decisions and outperforming the competition.
Know-it-all? Think again.
Microsoft Advertising
Switch from a know-it-all to a learn-it-all with the help of this immersive workshop. Microsoft Advertising shows participants how to harness the power of empathy to unlock new ways of working and produce truly inclusive marketing. 
Going for Gold Standard
IAB UK
Bullseye's back for one day only. We're reviving the 80s classic to help you get to grips with the Gold Standard - IAB UK's initiative to tackle ad fraud, boost brand safety and address ad blocking. You've got to be in it to win it!
More from Nonference
As well as learning, why not also be the teacher at this year's Nonference? Sponsoring or speaking is your chance to make Nonference 2019 even better and be leading the conversation on what's hot and what the 1,000 delegates absolutely need to know.  
What happened last year?
2018 saw Nonference cast off the conference agenda and reset the rules. No tea break, no stage and no notes. Instead, we crammed 29 hours of activities into 8 hours, giving over 800 delegates the chance to learn through doing. Subjects covered included…
Blockchain via the medium of LEGO 

Location targeting with the help of 'Where's Wally'

Programmatic in the form of a good old pub quiz

Data science – including how to bypass your "Trump Brain" 

Plus much more (including a little bit of mind reading)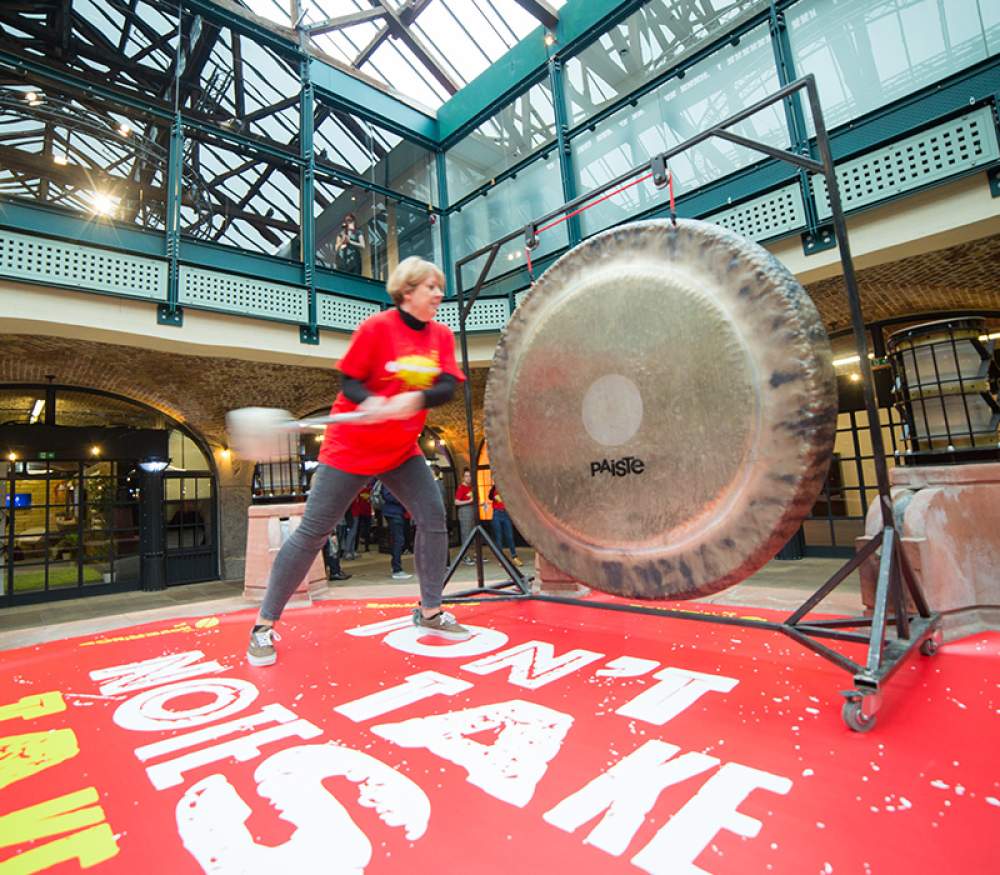 Influencer sponsor and Wifi sponsor