Nonference
Tobacco Dock, Wapping, London, E1W 2SF
This event is not available for IAB Advertisers, IAB Members & Non-members
Not a member yet?
From events to training to research, find out what becoming part of the IAB means for you and your team.
Become a Member
Event Overview
Bookings for Nonference are closed and the event has now passed. 
When it comes to the world of digital advertising, one thing is for certain: change. New tools, platforms and opportunities are constantly emerging and making sure you're up-to-date and ahead of the curve isn't always easy. 
Enter… Nonference! The self-confessed anti-conference returns for a day bursting with hands-on sessions, ensuring that you're one step ahead of the pack. Come away with the latest skills and knowledge from the digital arena – and have a bit fun along the way. 
Bookings for Nonference are now closed and the event has now passed.
View the full agenda
Take a look at the full agenda and the sessions that happened.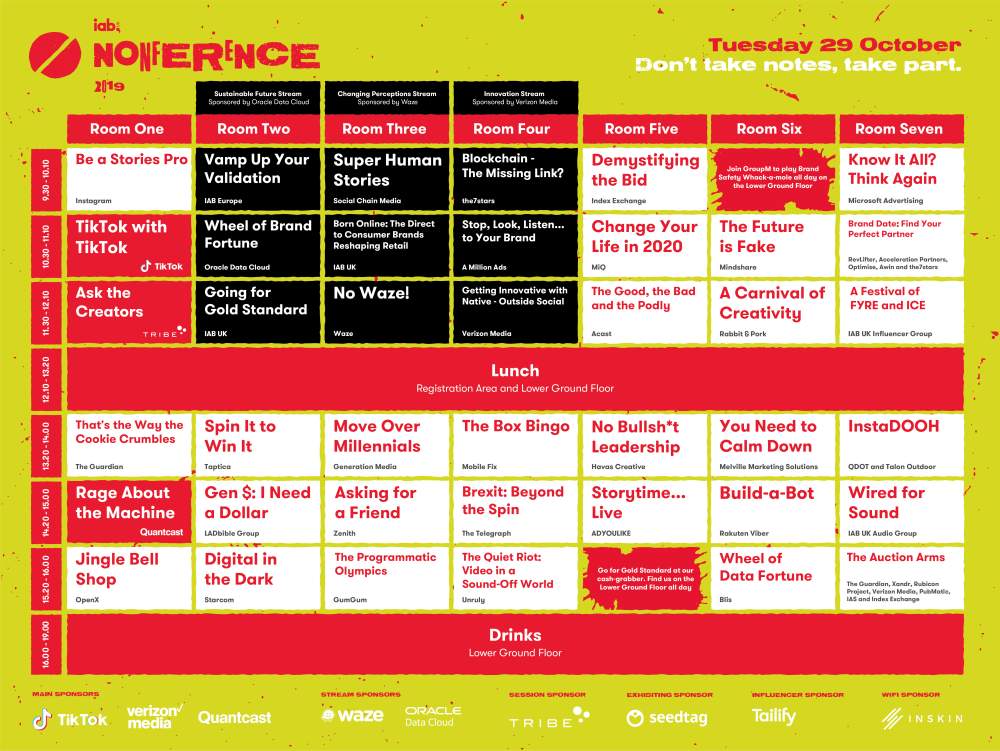 Find out what happened at Nonference
Want to know what happened? Missed a session? All the action from Nonference can be found here.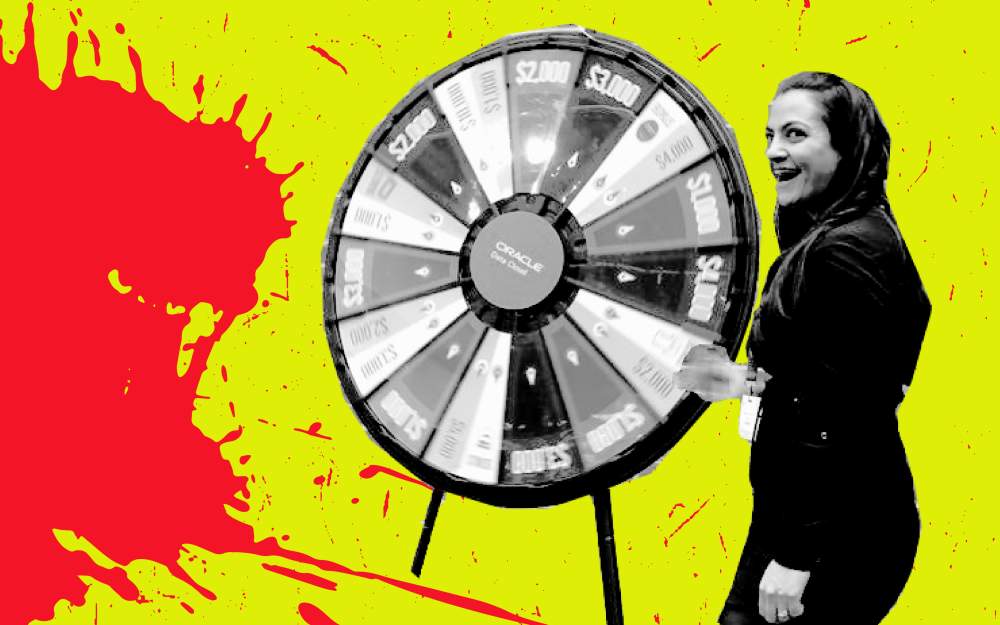 Agenda
GroupM
Brand Safety Whack-a-Mole
Roll up, roll up for a game of whack-a-mole. GroupM calls on the industry to beat brand safety issues (literally), learn what to look out for and hear from experts about how to combat the challenges. Start practicing your swing!
Tailify
The Waffle Takes It All
Join Tailify over lunch to experience Sweden at its finest. The team will be serving up freshly cooked waffles (choose your toppings wisely!) and a bit of ABBA to get you in the Nonference spirit. There'll also be an influencer on hand to teach you how to take the perfect food picture. That lunchtime Tesco meal deal will never be the same...
Instagram
Be a Stories Pro
Go back to school with Instagram... Stories School that is. From creative possibilities and storytelling power, to driving business objectives by connecting brands and people, this interactive session will ensure that you graduate top of the Insta class.
IAB Europe
Vamp Up Your Validation
Join IAB Europe and leading publishers to get to grips with its CMP validator tool - part of IAB Europe's Transparency & Consent Framework. With GDPR reconfiguring digital advertising, learn how you can vamp up your validation and ensure total transparency.
Social Chain Media
Super Human Stories
Learn how to tell powerful human stories in a social first way. Social Chain Media is joined by two inspiring athletes who have done just that; Kate Farley, the first-ever boxer with cerebral palsy, and Josh Llewellyn-Jones, a world-record breaking athlete with cystic fibrosis.
the7stars
Blockchain – The Missing Link?
When it comes to trust, transparency and improving data management, is blockchain the missing link? Join the7stars for a block by block look at what's feasible and what other solutions are out there.
Index Exchange
Demystifying the Bid
Pimp your programmatic campaigns with Index Exchange's bid-busting explainer. Find out how to identify opportunities in the programmatic process, improve monetisation and drive revenue along the way.
Microsoft Advertising
Know it All? Think Again
Switch from a know-it-all to a learn-it-all with the help of this immersive workshop. Microsoft Advertising shows participants how to harness the power of empathy to unlock new ways of working and produce truly inclusive marketing.
TikTok
TikTok with TikTok
Take up TikTok with an intro from the experts. Learn how to "Transition", "Git Up" and just what "The Woah" is. You'll come away a TikTok content creator - just don't forget to download the app first! 
Oracle Data Cloud
Wheel of Brand Fortune
Channel your inner Pat Sajak / Vanna White and put your digital ad knowledge to the test. From cybersecurity to new bots, your team will battle it out to combat digital ad issues. 
IAB UK + Direct to Consumer brands
Born Online: The Direct to Consumer Brands Reshaping Retail
They have a strong core purpose, super-serve their customers, obsess over feedback and are building their brands online: off the back of new IAB UK research, come and meet the Direct to Consumer brands reshaping retail and see what you could learn from them.
A Million Ads
Stop, Look, Listen… to Your Brand
Create a personal voice campaign in real-time with this session all about sound. A Million Ads shares how your brand can get the most out of personalisation technology and communicate as instinctively as you and me.
MiQ Digital
The Answer to Life, the Universe, and Everything
The answer to life, the universe and everything: how to smash your 2020 planning by focusing on the questions and not the answer. This fast-paced workshop for marketers and agency planners will tap into the brains of solution engineers and strategy directors to help you achieve your goals.
Mindshare
The Future is Fake
Is the future fake or is fake the new real? Come along to Mindshare's future scoping session to dream and (literally) draw up your vision of the future.
RevLifter, Acceleration Partners, Optimise, Awin and the7stars
Brand Date: Find Your Perfect Partner
Relive the magic of Blind Date and prepare for a lorra lorra fun in this session - designed to match your advertising objectives with the perfect publisher partner. Question a panel and take your pick for a match made in heaven. 
Tribe
Ask the Creators
Ever wanted to get inside the mind of a content creator? Join TRIBE to hear from three unique Influencers. What makes them tick? What do they love about content creation and working with brands? Where do they see the industry going? And much, much more!
IAB UK
Going for Gold Standard
Get Gold Standard sussed with IAB UK. Come along to find out how your business can benefit and make a play for some golden prizes... think classic 90s game show with a twist. It will be aMAZEing!
Waze
No Waze!
Join the Waze team, with a host of special guests, to learn how your phone saves London from transport chaos, why ads on maps can literally drive people into your business and meet a real-life Waze map editor - what the Wall Street Journal have called the "internet's most devoted volunteers". 
Verizon Media
Getting Innovative with Native - Outside Social
You're probably used to delivering native on social - but with trust higher in premium environments, now's the time to get innovative with native outside social. In this session learn how you can push your native advertising to the next level and deliver better business outcomes for your brands.
Acast
The Good, the Bad and the Podly
Forget dull host reads and bad adverts, branded podcast campaigns can sound amazing. Acast, with the help of a top UK podcaster, reveal how to fine-tune your podcast ads.
Rabbit & Pork
A Carnival of Creativity
Unleash your inner creativity with this immersive workshop in voice app building. Rabbit & Pork will take you on a memorable journey through the steps to consider to make your voice heard via Alexa Skill or Google Action.
IAB UK Influencer Group
A Festival of FYRE and ICE
Fyre Festival may have been an #EpicFail, but it was a vivid example of the power of influencer marketing. In this session you'll learn what it takes to deliver a successful influencer campaign and put out the FYRE with the launch of ICE FESTIVAL.
The Guardian
That's the Way the Cookie Crumbles
The chips are down for the venerable cookie: join The Guardian to discuss the cookie's changing fortunes, explore the rocky road ahead via children's party games and ensure your company rises to the cookie challenge.
Taptica
Spin It to Win It
Test your ad tech knowledge with Taptica's trivia challenge. Spin the wheel and see where it lands. All you need is brainpower and a bit of muscle to stand a chance of bagging the winner's prize.
Generation Media
Move Over Millennials
What do today's kids think about advertising? Join Generation Media's Q&A with a panel of kidfluencers and their parents to find out what makes Generation Alpha tick and how this can shape your future strategy.
Mobile Fix
The Box Bingo
Join Simon Andrews, writer of weekly industry must-read Mobile Fix, for a fast-paced game of telly bingo. Duck and dive through the new TV sector – from subscription trends to emerging ad formats – clickety click your answers and come away top of the shop.
Havas Creative
No Bullsh*t Leadership
We can all be leaders every day, we just need to get on with it. Havas Creative dispels the myth that leadership is an exclusive club and shares the secrets to adopting a leadership mindset, making confident decisions and outperforming the competition.
Melville Marketing Solutions
You Need to Calm Down
Immerse yourself in a stress-busting, interactive workshop. Find out how to build your own brand resilience, decide what to change and find out how your company can support you to be confident and calmer.
QDOT & Talon Outdoor
InstaDOOH
Think you know digital advertising? Think again. Join QDOT & Talon Outdoor to explore the creative possibilities in digital out of home - transforming an Instagram ad into a dynamic DOOH campaign.
Quantcast
Rage About the Machine
Without the right tools, data is noisy, overwhelming, and unfocused. So how do you turn it into action? Get stuck into how machine learning can help you make decisions - from the direction of your campaign to choosing the perfect bottle of wine.
LADbible Group
Gen $: I Need a Dollar
What would a member of Gen Z spend £1,000,000 on? Find out as a team of 18-24 year olds help you understand their buying behaviours. As well as hearing findings from LADbible Group's first thought-leadership paper, you'll also get the chance to win some Gen Z approved prizes.
Zenith
Asking for a Friend
You know those questions you think you kinda know the answer to but aren't too sure and would never admit it? Like, 'does viewability really matter… really?' Don't worry, we cover it all with our interactive, quick-fire quiz guaranteed to sharpen your digital know-how, plus the chance to win some cool prizes.
The Telegraph
Brexit: Beyond the Spin
Baffled by Brexit bluster? Want to know what the big break up means for your business? We hear you. Just two days before the UK is due to leave, join The Telegraph for a game of Wheel of Fortune with an unEUsual edge. 
ADYOULIKE
Storytime… Live
Explore the creative possibilities of social style native stories with ADYOULIKE. You and your team will create a campaign, put it live on a leading publication and track the results throughout the day.
Rakuten Viber
Build-a-Bot
Tigers plus bots plus prizes – what's not to love!? Take inspiration from WWF's tiger bot as you build your own in this interactive session. Make sure to come armed with your best and weirdest facts to stand a chance of winning.
IAB UK Audio Group
Wired for Sound
Want to tune in to the audio market and turn up your creativity? Armed with a brief, you'll build an audio strategy before writing a pitch perfect script. The number one idea will even be recorded for the winning team. 
OpenX
Jingle Bell Shop
Deck the halls with boughs of knowledge. In this festive frisson, OpenX will use new research to educate you about your consumers' buying habits in advance of the biggest spending season of the year (and not a pear tree in sight).
Starcom
Digital in the Dark
End your Nonference with a multi-sensory meditation session from Starcom and Global. Using blindfolds, state of the art sound technology and a number of strategic LOLs, we'll transport you to the centre of the internet so you can feel, smell and taste the digital user experience first-hand.
GumGum
The Programmatic Olympics
We're all winners with GumGum's session. Learn how to get the right message to the right audience, not just during the 2020 Olympics but year-round, including how to harness programmatic, computer vision and AI.
Unruly
The Quiet Riot: Video in a Sound-Off World
Improve your moves, your video advertising skills and win a pair of Bose headphones at Unruly's sound-off dance-off – a hot ticket for anyone wanting to understand the complexity of video advertising in a sound-off world.
Blis
Wheel of Data Fortune
Take a game show style spin with Blis as they explore bespoke targeting to a mass audience, the strengths of different data sources and how they can work together to boost a campaign's performance.
The Guardian, Xandr, Rubicon Project, Verizon Media, PubMatic, IAS and Index Exchange
The Auction Arms
Pop in for a pint at the programmatic pub and let's get quizzical! Some of the biggest programmatic players unite to give you a whistle-stop tour of the industry, before putting your knowledge to the test.