Monster teams up with Admedo to deliver a new programmatic solution to its clients
Posted on: Monday 09 April 2018 | Adela Blackford
Admedo, the transparent Programmatic Marketing Platform is working in Europe with Monster, the worldwide leader in recruitment to develop a first of its kind brand solution with programmatic at its core.
Monster is the worldwide leader in successfully connecting people to job opportunities, enabled by the most advanced technology. The recruitment giant developed a solution for its clients who were looking to fulfil their employee recruitment demands. Monster partnered with Admedo, specialists in programmatic media buying, to build a bespoke and first of its kind brand solution with automation at its core to address its clients' needs.
Monster recognised that established companies were struggling to appeal to potential employees they need to recruit, especially amongst millennials, top graduates and tech talent. To address this need, Monster is building bespoke branded content hubs, 'Company Profile Pages', focused on career opportunities hosted on Monster's sites internationally. The recruitment giant is using Admedo's fully customisable programmatic marketing platform and service to drive quality targeted candidates to these branded hubs, leveraging their properties and sophisticated CRM programme.
Cédric Gerard, director of GTM marketing Europe at Monster said "I was impressed by the excellent service the Admedo team has provided us. Their ability to adapt to the needs of our business strategy coupled with their dedication has been key in delivering our programmatic solution. As a result, in just a couple of months, we have launched over 200 campaigns across 12 markets for our customers to date." Admedo developed a custom programmatic platform tailored to Monster's needs, from designing the UI around Monster's marketing goals to rebranding the look and feel of the platform to reflect Monster's brand.
In developing this new brand solution framework, Monster is able to offer their customers unique and innovative products facilitated by programmatic advertising. Integrating programmatic capabilities enables Monster to precisely target the most appropriate candidates contextually, behaviourally and geographically across its international markets in total compliance with the forthcoming GDPR regulations.
Automation leads the way
The innovative and unique process harnesses automation across all aspects of the solution to keep costs and resources to a minimum; from creating a centralised campaign management process for Monster's Global Services Team to developing and streamlining branded end of campaign reporting.
Reaching and engaging the right audiences
Many of Monster's larger company partners have recruitment needs across multiple sectors, job functions and geographies. Therefore, co-creating a standardised coding system simplifies this information process and by using Admedo's in-built geo-targeting tools Monster is able to target a diverse range of potential candidates on a hyper-local level at the right time and in the right context.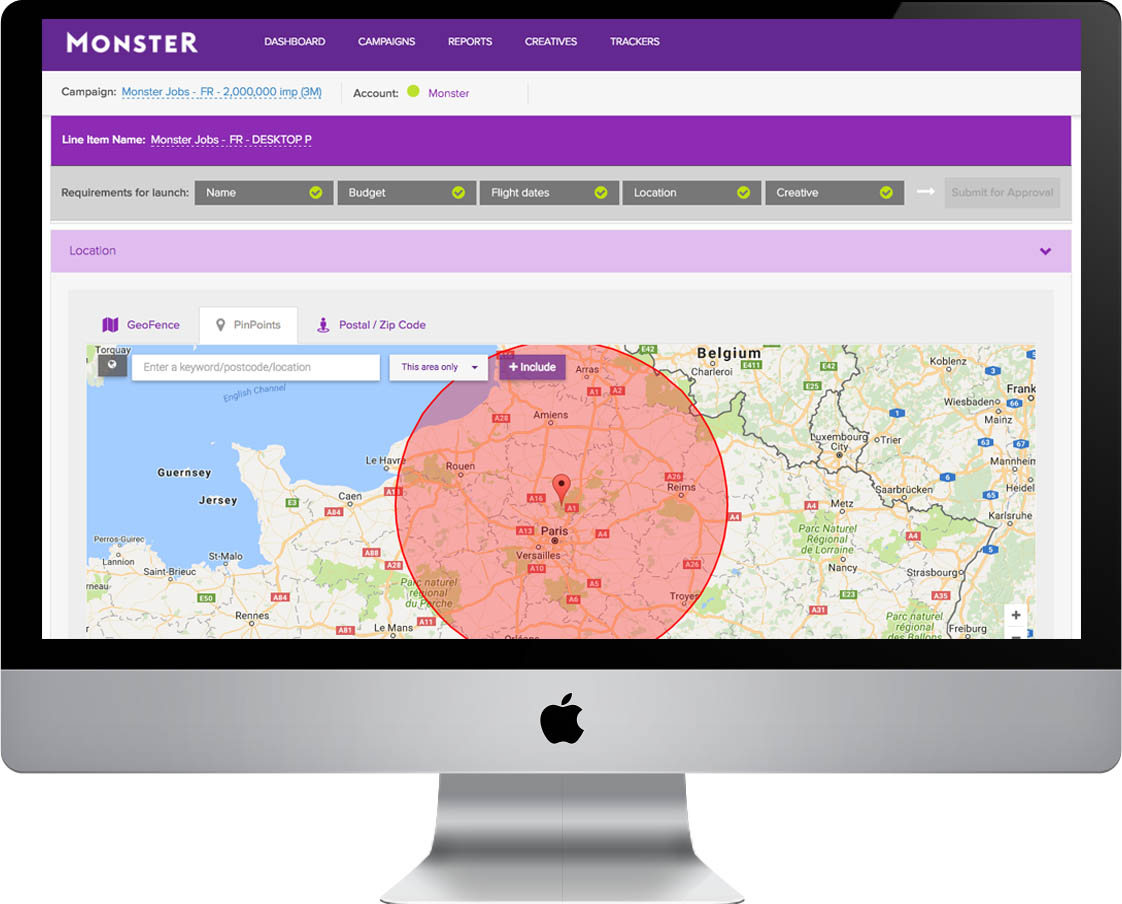 Creative optimisation plays an important part in delivering the brand message and aligning all content. Admedo's machine learning technology constantly optimises Monster's ad formats for engagement and performance across devices. Through the inclusion of programmatic native, overall CTR increased from 0.12% in the benchmark to an impressive 0.34%.
In light of the success of the programmatic solution, Nick Moutter, founder and chief executive at Admedo, said: "Programmatic is an incredibly powerful technology for brands to harness across their business. Our partnership with Monster works so well because we both recognise this. We have been able to build a fully bespoke product with Monster because we identified a need and addressed it. Automation has been the backbone of success and ongoing testing and optimisation will continue to take the solution from strength to strength."