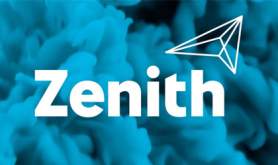 Broadening perspectives via reverse mentoring
Business Area
Communication, Culture, Education, Employee benefits, Employment, Hiring, Wellness, Work life
Key focus
Age, Class, Disability, Gender, Neurodiversity, Race & ethnicity, Religion, Sexuality, Socio-economic status
Overview
Mentoring has long been an established tool in our industry to help young people develop their careers, but we wanted to reverse the roles in order to broaden the perspectives of the Zenith leadership team. Reverse mentoring sees our executive leadership team paired up with junior members of staff so that both can learn from one another, expand their horizons and examine previously held beliefs.
What did you set out to achieve? 
Given the fact that change at the top of organisations is not going to happen overnight, we at Zenith wanted to do something to start to infuse our leadership team with a broader set of perspectives today. The intended effect is to influence thinking among leadership, to help them make better decisions, engage with difficult topics more effectively and uncover potential blind spots. 
Describe how the initiative works
Each of the members of Zenith's executive leadership team is paired up with a junior member of staff to act as a mentor.  
We open applications out to all junior staff in the agency once a year. The Zenith D&I team goes through the applications to select the seven they feel will best augment the perspective of the leadership team. Mentors are then assigned to mentees at random. The programme runs for 12 months, with a structure which was set up by our first cohort in 2020, which we intend to review every 12 months. 
What was the first step you took to get the initiative off the ground? 
We set the agency a day to generate ideas for how we could drive forward diversity and inclusion. That was when the idea was conceived and welcomed by the leadership team, who worked with the Zenith D&I team to organise it. 
At a Publicis level, we have a next generation board, which is an annual programme that includes reverse mentoring. It was not previously focused on D&I, but it meant we had lots of people we could reach out to for advice on what we needed to consider. 
How do you keep the initiative going?  
The key thing is to have a leadership team that genuinely sees the value in this - they are super busy and it is easy for this to fall down without their commitment. It is equally important to have motivated mentors and good support for them (the Zenith D&I team, in our case). 
What positive impact has this initiative had? 
Reverse mentoring is a great opportunity for both mentor and mentee in terms of expanding horizons and examining previously held beliefs. The mentee has the chance to gain new insight that might otherwise have escaped them, while the mentor is given a platform and influence that may previously have been inaccessible. For both, it is a learning experience and opportunity to think about things from a different perspective, while helping to amplify diverse voices. 
"I consider myself quite a grounded person. I've made my way up the ranks from a grad at Zenith into the management team. But it was truly eye opening how much our agency and the industry has changed since I joined. Reverse mentoring really helped provide perspective on the challenges and motivations of our most junior employees. It was also great to hear reaction and opinion on how the decisions the management team made on a regular basis were being received in the agency." 
What did you learn that could help others? 
You need to equip the mentors with tools to help them set a structure: 
Agree a set cadence for meetings
We made an 'about me' slide for mentors and mentees to fill in and share ahead of the first meeting
We also made a template meeting structure. It's totally optional, but helps some of our mentors to structure that time 
Linked to the above, the Zenith D&I team created a topic bingo card for mentors, which are also completely optional, but help some mentors, especially as time goes on
How will you make the ID&E benefit of this initiative endure? 
It is very difficult to benchmark the impact of this initiative, not least because the meetings are private, but the goal is to broaden the perspective of the decision makers in our business. 
To make sure the benefits of this initiative endure, we commit to making it part of the operating rhythm of the leadership team.  
Have something to share?
We'd love to hear what your company is doing in the ID&E space. If you're a member of IAB UK, find out more about how to submit your case study here.