Who are Gousto?
Gousto provides delivery recipe kits to make cooking at home easier, quicker and tastier. Each kit contains a recipe card and pre-measured quality fresh ingredients from a choice of around 40 recipes a week, including dairy-free, gluten-free and vegetarian options.
Where did it all start?
Founders Timo Boldt and James Carter were motivated to address the chronic food waste problem – 2 billion tonnes of food are wasted globally each year. By providing portion sized ingredients, Gousto tries to minimise the amount of leftover food thrown away and offer a functional alternative to ready-made supermarket food.
What's the marketing approach?
The Gousto marketing team employ a test and learn approach to optimise customer acquisition. Whilst early marketing was primarily performance driven, Gousto is starting to consider brand building at the top of the funnel. As well as maintaining a strong digital presence, Gousto is working with an agency to develop a TV and OOH campaign to spread awareness.
Tell us about customer relationships
As a Direct to Consumer company, top quality customer service is a business priority for Gousto in order to manage customer retention. As Tom Wallis, the company's CMO says: "We have been able to maintain close customer relationships because we invest in CRM and customer support. As we have grown, we have learnt more about our customers and what they want and have tailored our products to better meet their needs."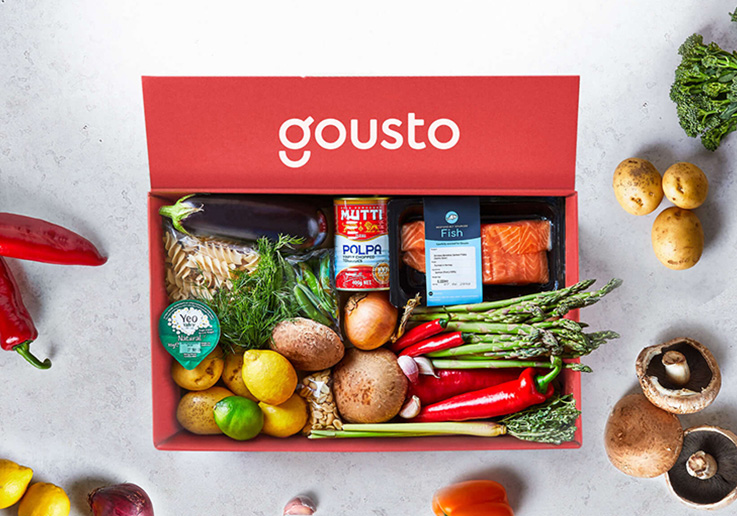 How is data used?
Gousto has been data-driven from the start, with analytics informing business decisions across the company; from logistics to marketing. The performance marketing team can access all orders to help inform targeting decisions, while predictive supply and demand data helps the company plan ingredients purchases; reducing waste and stopping it being in a position where it can't fulfil orders.
What is company culture like?
Sustainability is a key company value, reflected in every component of the meal kits. The recipes use local, seasonal produce from British farms wherever possible and care is taken to ensure fish and meat are responsibly sourced. Gousto's free-range eggs were awarded a Compassion in World Farming's 'Good Egg Award'.
Most of the packaging is recyclable or biodegradable and the company uses innovative, environmentally friendly transport solutions; including award-winning compostable wool insulation liners to help keep food cool.
Tell us a fun fact
The average Gousto customer takes just 48 seconds to order a box of meals, compared to the 40 minutes spent on a typical order from a traditional grocer's website.
We invested heavily in data infrastructure early and keep the data accessible to everyone in the business.
Tom Wallis, CMO, Gousto