IAB Europe recently released preliminary results from its AdEx Benchmark Study, stating that European online advertising grew 12.2% in 2016 to €41.8bn.
Online has established itself as the dominant advertising medium in Europe, with traditional media gradually falling since 2011 and online growth offsetting this decline. Online ad spend has been consistently growing and 2016 marks a new advertising market high in Europe for the first time since before the recession. All markets participating in the study recorded positive growth, which is a testament to the success of online ads across Europe.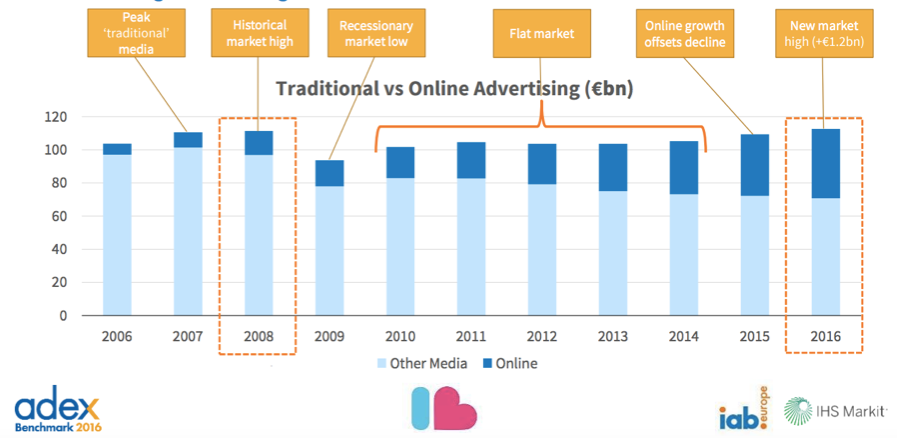 The UK maintained its lead over other markets in 2016 with ad spend 2.4X larger than the next biggest, Germany, and as big as the next three biggest; Germany, France and Russia, combined. 
If you think about the size of the UK compared to the next highest spending European countries the difference is even more significant. When we look at spend per head in the top 10 European markets (using total population estimates for a crude but consistent comparison) the UK spent €219.83 per person in 2016, or €0.60 each per day. The next highest spending countries were Sweden at €160 per person and Switzerland at €109. Again, the UK spend per head in 2016 was more than the next three biggest markets combined, as the UK continues to embrace digital as the smartest way to reach and wow audiences. 
Mobile continues to drive the growth across Europe, with both mobile display and mobile search seeing 50%+ growth in 2016 and dominating across all markets. Despite unanimous growth in mobile across Europe, UK spend on mobile display is almost €2bn (or 4X) higher than the next highest reporting country, France, whose mobile ad spend is similar to the UK's back in 2013.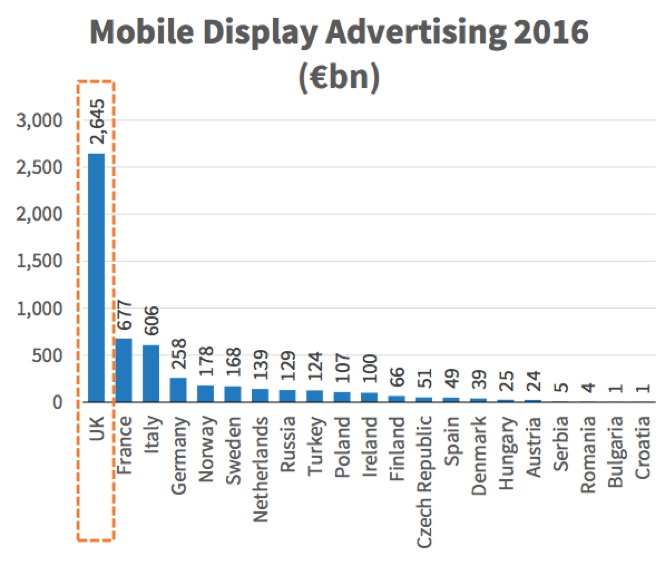 The UK is a great place for digital media to thrive at the moment, especially for mobile. Better data plans available for consumers teamed with the increasing amount of time people are spending on their smartphones has led to exponential investment in mobile ads in the UK. We can see this from the vast growth in formats such as native, video and interactive ads, which are increasingly used to maximise engagement with consumers and provide mobile users with the high quality experiences they demand. 
You can download the full study here.