Stay Engaged
(New episode available each day)
Daily offstage audio sessions
Not a member yet?
From events to training to research, find out what becoming part of the IAB means for you and your team.
Become a Member
Event Overview
Engage is IAB UK's flagship event, attracting thousands of people to London's iconic Barbican Centre since 2005. It is a chance for the industry to come together, be inspired and stay ahead of the latest trends in digital advertising. Speakers have included high profile business names and media celebrities from Bill Gates to Brian Cox, Sir Martin Sorrell to David Hasselhoff, and Keith Weed to Stacey Dooley.
But 2020 is an exceptional year. Stay Engaged is everything you know and love about Engage, but reimagined for these extraordinary times. It's Engage, but offstage.
Replacing a stage for a microphone, we'll be running this year's Engage as a series of daily offstage sessions throughout May. Combining keynotes, deep-dive interviews and provocative group discussions alongside some of the best of Engage from the archives, Stay Engaged will showcase members and the best of the digital advertising industry via the IAB UK Podcast. 
It's Engage, but from the comfort of your own home. Stay connected, stay engaged.
Sign up to receive a daily notification once each session is live. 
Podcast sessions
14/5
50 Questions with Tom Goodwin
Having captivated Engage-goers with his provocative take on advertising for the post digital age back in 2018, Publicis Groupe's enfant terrible Tom Goodwin returns to answer 50 of the IAB's most pressing questions. No rehearsal, no advance peek and recorded entirely in a single take.
15/5
Social Media Stories can Help Save the World
Nature is in real trouble. WWF is on the front line in the struggle to rebalance the relationship between nature and people. To the world's leading environment charity, social media is the quickest way to mobilise billions of people. Find out how WWF and Tug are using social stories to help save the world.
18/5
Blood Without Bias: Rallying a Social Community for Change
Outdated legislation prevents sexually active gay or bisexual men from donating blood, even if it's perfectly safe to use. Listen to LADbible Group's UNILAD and Freedom to Donate discuss their award-nominated 'Blood Without Bias' campaign; which saw the social publisher use its mass reach to raise awareness of this discriminatory issue and galvanise a youth audience to take action.
19/5
Making Your Brand Sing: A complete guide to developing your sonic identity
Let Red Apple Creative take you by the ear with a complete guide to understanding music and sonic identity for brands. Covering the language of sound, briefing in a request for audio branding, how to work with composers and why audio branding needs to be part of every advertiser's plan right now.
20/5
Purpose, in a Time of Crisis
In trying times, 'good business' matters more than ever and actions speak far louder than words. In this session, find out how Good-Loop is helping brands continue advertising with purpose, while also literally funding the front-line through immediate donations to vital causes.
21/5
The Impact of COVID-19 on the Digital Ad Market
What will the impact of this global pandemic be on the digital ad market? And how will it rebound? Join IAB Europe's Daniel Knapp for expert insight into the relationship between economic trends and advertising growth, what we can learn from previous recessions, and what's different this time.
22/5
The Assistant Powered Future is Closer than You Think
With hundreds of millions of Amazon Alexa smart speakers in homes worldwide and Google Assistant available on more than a billion devices, an assistant powered future is much closer than people think. This session analyses a day in the near future, envisioning how consumers will use virtual assistants to enrich their everyday lives and exploring what brands can do to get in on the action.
26/5
You've Got a Friend in a Podcast
The intimacy of podcasting creates engaged and loyal audiences, with listeners looking to their favourite podcasts to help them through tough times. In this session, Acast reflects on connections made, and to be made, through podcasting; featuring Emily Dean from 'Walking the Dog', James Barr and Dan Hudson of 'A Gay And A NonGay', and Caroline Foran from 'Owning It: The Anxiety Podcast'.
27/5
The Doctor Is In: Long-term health risks of an ad industry reliant on cookies
With a Ph.D. in machine learning, what better person to take us through a cookie-less future than Quantcast's Dr Peter Day? Join him as he discusses the benefits of a new, more attractive advertising landscape. Everything you need to know to be prepared for what comes next.   
28/5
The Power of Personalisation
Creating and interpreting sound has given humans a distinct evolutionary advantage. Our ability to subconsciously filter information and prioritise attention was refined well before the 'battle for attention' we all experience in the modern digital world. This experiential session will explore how our evolutionary legacy can be harnessed by dynamic creative and personalisation to help brands communicate instinctively.
29/5
The Art of Successful Troublemaking
Agitation and transformation are the lifeblood of our advertising. But what does it take to be a successful troublemaker? How do you become a fire-starter without starting actual fires? How do you build a career on being contrary, and lead your team to challenge consensus? Join Tor as she shares her learnings from the last few years to inspire you to bring about change.
1/6
The Power of Partnership: Empowering real-world change through purpose-led communication
When it comes to having a tangible impact on society, many brands place too much emphasis on talk not action. Samantha Williams, Facebook's Global Category Director for Food, will look at household brands that have defined, built and communicated purpose to drive real-world change via Facebook platforms.
2/6
Self-Care & Community - Could This be the Turning Point for Social Media?
Our relationship with social media has changed in the face of the crisis. Before the pandemic, experts raised concerns over the mental health of social media users, yet usage is up 40% and influencers are reporting exponential growth. As we connect more with our communities offline, perhaps the pandemic will encourage a kinder community online? The Fifth's founder Olly Lewis and a line up of expert panellists discuss. 
3/6
Advertising in 2030
What will advertising look like in 2030? Will it even exist? Hear the results from Essence's global study on what the next decade of advertising will look like. Key themes include increasing use of biometrics, technology's impact on consumer behaviour and the deepening relationship between brands and consumers.
4/6
The Story of UK Lockdown Through Google Search
In this dialogue between Jonny Protheroe and Justine L'Estrange of Google UK, the two reflect on their extensive Google Trends analyses spanning the last two months - interpreting what the nation has been searching for during the lockdown, while inviting listeners to draw their own conclusions. They'll retrace something of an emotional memory rollercoaster of trends - from the surprising to the moving, reflect on the big open questions being asked at Google, and touch on the ways in which they are advising their clients in this climate.
5/6
The Ken Fawes Listening Party
Relive the most talked about session in Engage history - 2017's 'Future of News' presentation. Hear behind the scenes detail about Ken Fawes' inception, preparations in the weeks leading up and how it all came together on the day. Featuring the full session as an audio track, intercut with stories and observations from the IAB and special guests.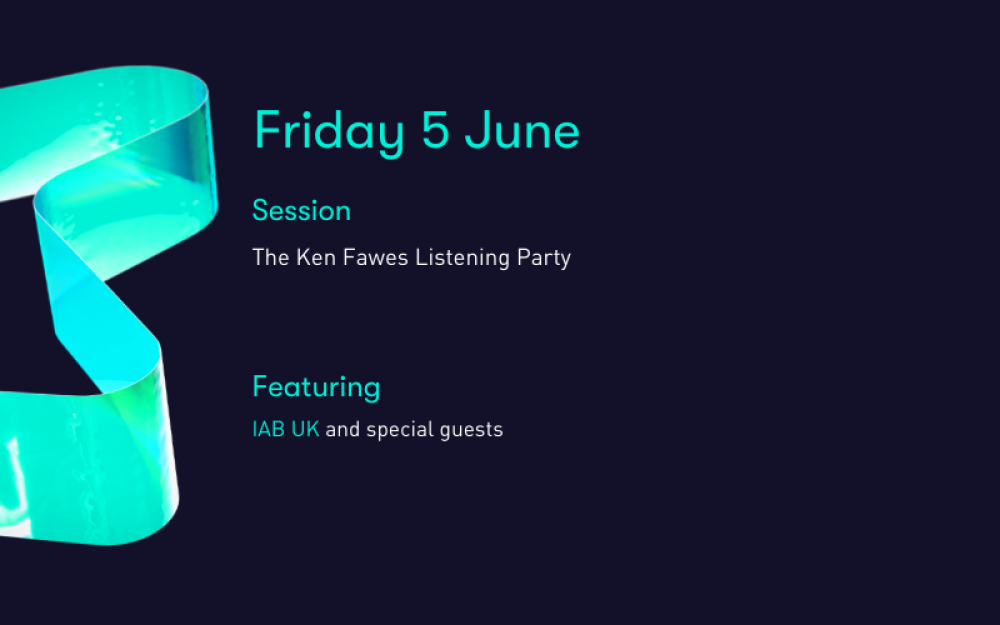 The Ken Fawes Listening Party
Sign-up for Stay Engaged and hear from our members about the best of the digital advertising industry via daily offstage audio sessions.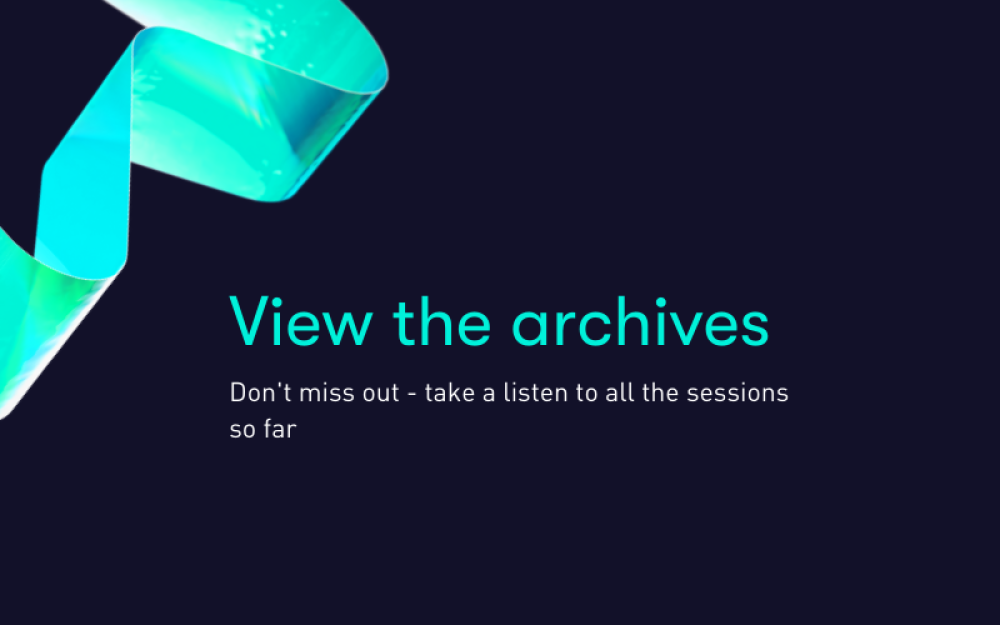 View the archive
Daily offstage sessions to inspire and showcase the best in digital advertising.