More to voice search than featured snippets
John Campbell – MD Rabbit & Pork, part of the TIPi Group
---
John Campbell gives advice on gaining results in voice search using Google.
To date the majority of advice around gaining results on voice search has been focused on gaining featured snippets on traditional Google web search results. Featured snippets, or answer boxes, appear when Google extracts the answer to a user's search from an existing ranking page. For example, "lowest calorie food from chinese takeaway".  At the time of writing Google created a snippet of information from a page on the NHS website.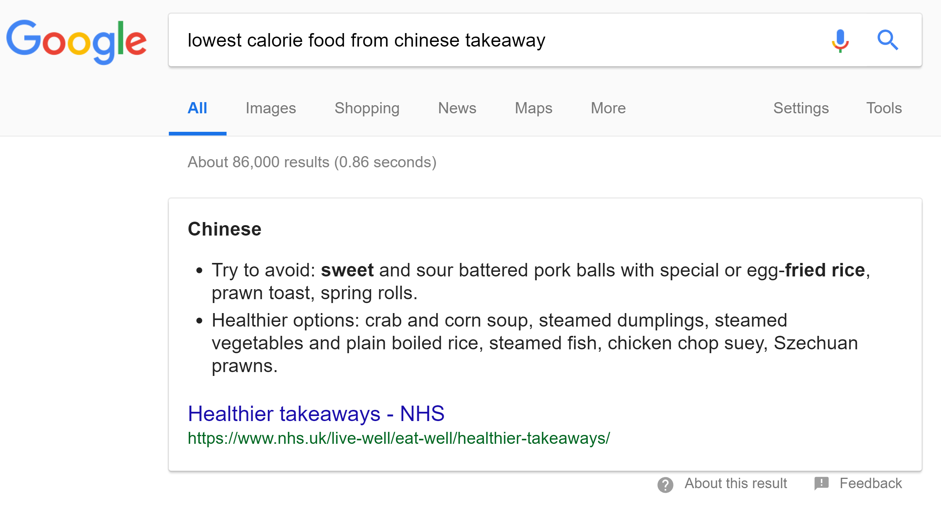 Many "How to do SEO for voice search" type blogs suggest that gaining the answer box automatically grants you the voice search result. E.g. asking the same question to the Google Assistant on a smart speaker would yield the same result. 
However, if you voice search with the same phrase about low calorie Chinese food, Google responds with "Sorry, I don't know how to answer that yet".
Keeping on the same topic of takeaways, a search for "Best chinese takeaway london" on a web search would return organic web listings and three local Google My Business listings. The same search on voice returns - "I found a few top-rated places. The 1st one is Golden Food Chinese Takeaway at 368 Kingsland Rd, London". Here the Google Assistant used data from Google My Business for the recommended locations.
In this instance featured snippets have no role to play in gaining voice results. Instead, optimisation of your Google My Business listing is the key. 
Above are just two example of result types for voice. Over the past year, checking result types for over 10,000 voice search key phrases across 23 verticals has shown us over 25 different types of results. To conduct these tests, we created a tool similar to a traditional web ranking tracking tool, but for voice searches on the Google Assistant.
Understanding that the Google Assistant has several data sources for different answer types enables brands to understand where to focus. For example:
Restaurants and hotels are dominated by Google My Business listings

Insurance, heath and finance have a high percentage of answers from featured snippets

Transport, fashion and property queries are usually met with no response
The graphic below shows result type by vertical.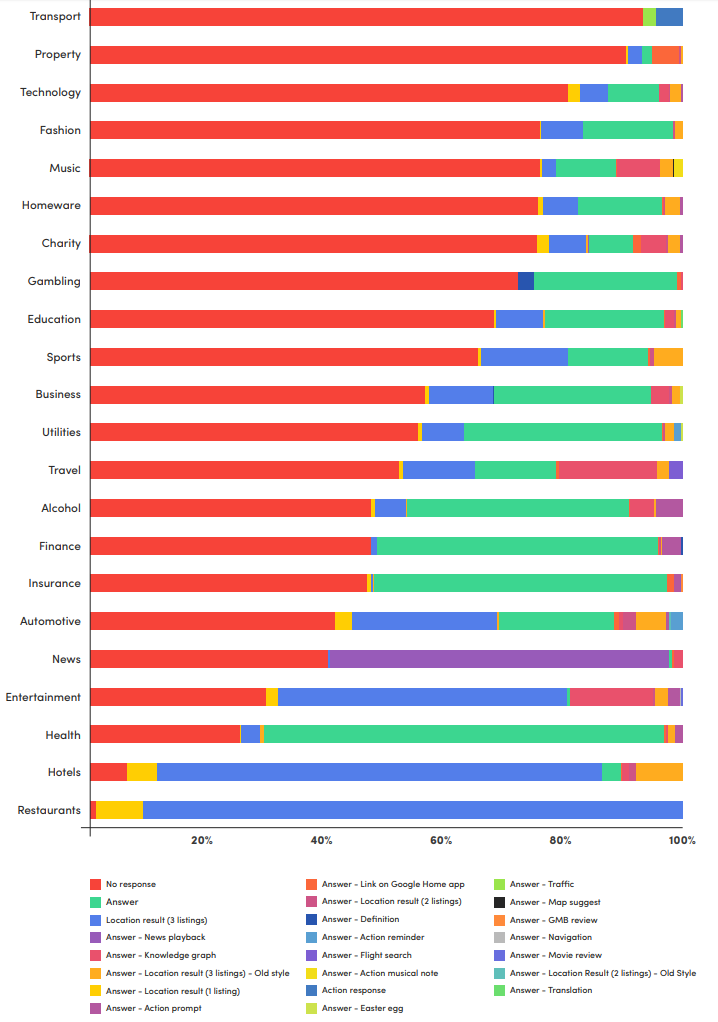 One of the lesser talked about result types is implicit invocations.
Google Actions
To understand why implicit invocations are important, a little background on Google Actions is needed.  
Actions are third party "apps" which can be used on the Google Assistant. Similar to Alexa Skills, brands can develop an Action to add extra functionality to the Assistant. For example, to order food or check the status of a delivery. 
Companies such as Argos, ASOS, The Trainline and the BBC have already released Actions.
In order for users to open the Action they need to explicitly invoke it; "Ok Google, talk to ASOS".
Brands need to advertise the fact that they are on the platform, but as your invocation phrase matches the name of your brand it is easier to remember than a generic phrase.
So those are explicit invocations, but what about implicit?
Implicit invocations occur when the user asks the Google Assistant a generic question and the Assistant suggests a third-party Action.
For example, "Ok Google, can you suggest a jacket suitable for a summer wedding."
The Assistant could respond with, "Ok, for that you might want to talk to ASOS. Is that ok?"
The user says "yes" and then the ASOS action is opened and can answer the question.
 
This setup is really exciting for brands who can put themselves forward as the Action to answer a user's question, even if the user is unaware of the brand's Action.
And with there only being one result (compared to traditional web searches with multiple results) it's even more important to gain that spot.
Real example of implicit invocation
Above is a theoretical example with ASOS. The example below is a real Action that Google is suggesting with an implicit invocation.
House Prices is a simple Google Action we created that answers questions around the average house price in towns around the UK.
We knew this would be a good vertical to focus on as past voice ranking reports highlighted that the Assistant was struggling to answer these types of queries. 
 To see how frequently our Action was implicitly invoked, we tracked 200 key phrases such as "average house price in Coventry" or "what's the average house price in Birmingham", using our voice tracking tool. .
Before launching the Action, Google could answer around 50 of the 200 questions using a standard "Answer" where it reads out a featured snippet. The rest it couldn't answer.
Three days after we launched the action, Google was suggesting that users open the House Prices Action for the majority of the key phrases.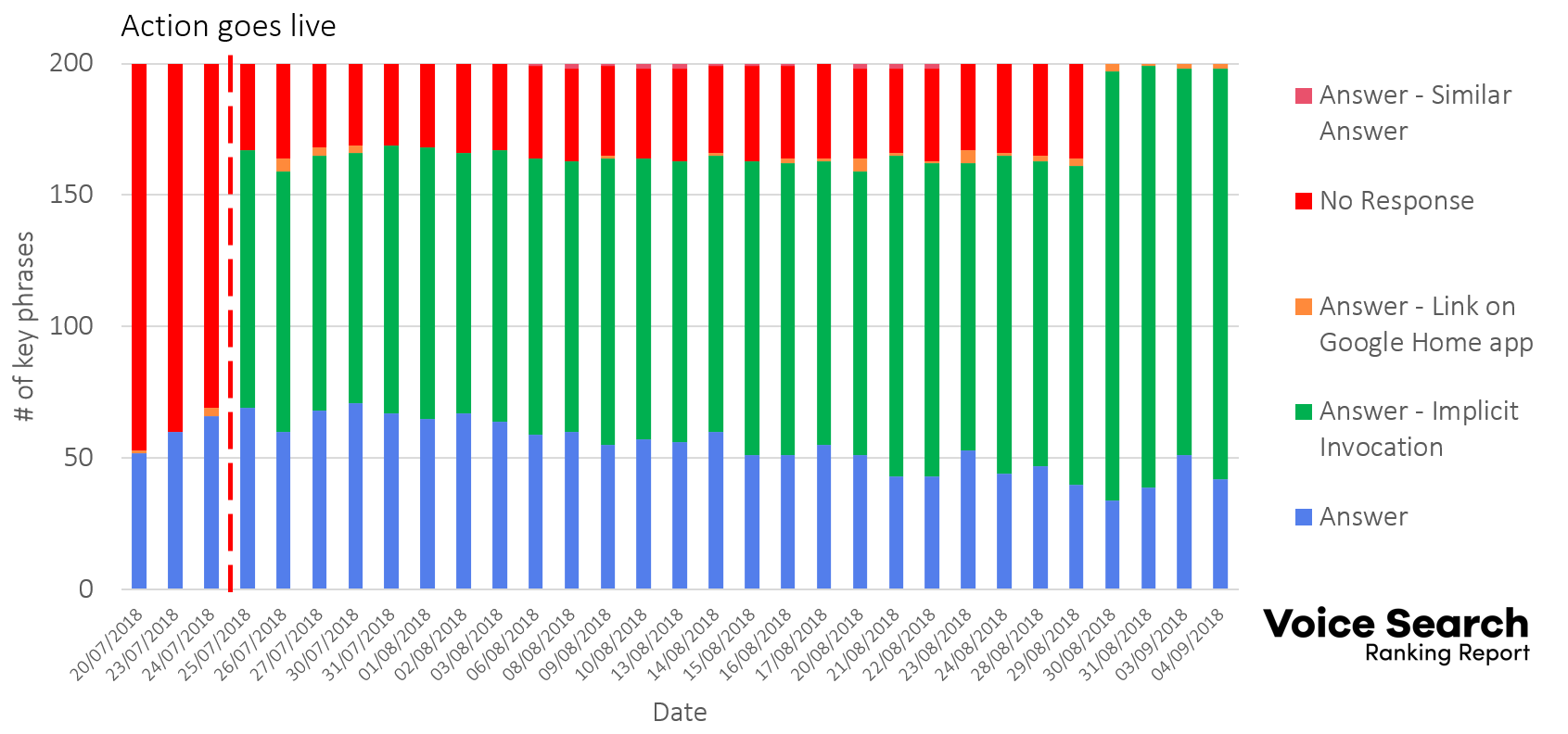 Caption: Green – Answer – Implicit invocation is when Google suggest the House Prices Action

It's still early days in voice and the platform is changing daily. Brands that move first and proceed in an agile manner should reap the rewards in the short and long-term.
To recap,
More to voice search than gaining featured snippets

Understand what data source the Google Assistant is using to answer questions

Driving users to your Google Action can be split into explicit and implicit invocations.

Implicit invocations can drive non-brand traffic to your Actions
Why digital advertising works
Discover why digital advertising is effective for reaching your customers and building brands.