An affiliate Christmas in review: from Black Friday to Boxing Day
Richard Greenwell
Richard Greenwell, Head of Affiliate Development and Operations at affilinet looks at the results of affiliate campaigns on some key shopping dates.
---
Black Friday has overtaken Boxing Day as the biggest day in the retail marketer's diary in the last few years, with shoppers keen to snap up as many bargains as possible for their family and friends in the run up to Christmas.
This year, though, the general feeling was that advertisers embraced the season and introduced deals early, with many brands going live with offers for the whole week ahead of Black Friday itself. To evaluate the success of the sales period, we analysed our data from the last three consecutive years in order to reveal the peak days over the sales period, and whether this was consistent year on year, looking at the eight-day period from the Monday before Black Friday, through to Cyber Monday.
Some retailers saw a big shift when orders came though, as demonstrated in the chart below. Sales across the Black Friday period (Mon to Cyber Monday) increased during the last two years by 50% (2015) and 40% (2016) respectively for a leading online fashion advertiser, with more orders coming through on the first Monday of the week, rather than Cyber Monday itself. This advertiser began its sale on the Monday in order to capitalise on the publicity that Black Friday was generating, and this was a similar trait across the retail industry, with leading retailers such as Amazon starting their sale on the same day. For the Monday to Wednesday period at the start of the week, sales double what was seen in 2014 and 2015. This advertiser ran various offers at the start of the week, including discounts on specific brands, as well as up to 30% off throughout the store.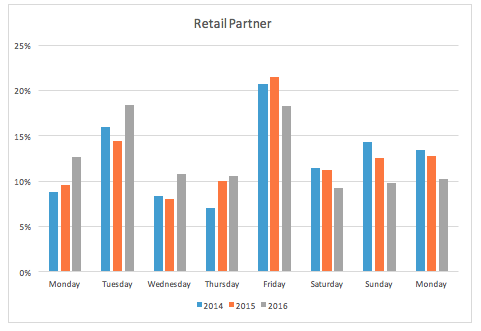 A similar pattern can be seen across the entire affilinet platform. Whilst Friday remained the strongest day by some distance, the volume of sales across the network shifted to the start of the week from the end.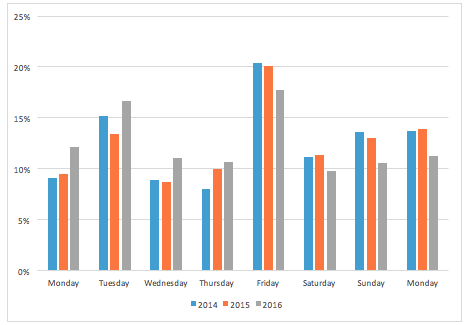 Overall sales patterns in the Christmas period (November 1st to December 24th) haven't altered too much, and as the hype surrounding Black Friday grows, so the sales attributed to that periodincrease, albeit only slightly. The challenge for advertisers in 2017 will be how to increase these sales, without further discounting their products. They should look to content affiliates and bloggers to further build hype around the period, and look at creative ways of doing so, through areas such as Social Media and Bloggers with YouTube channels.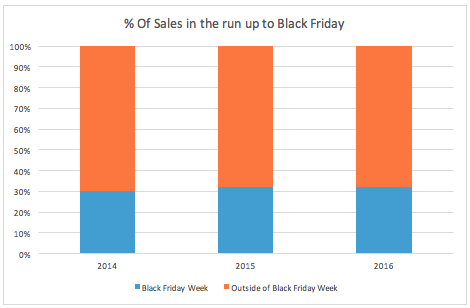 What is now clear is that retailers see Black Friday as not just a four-day period, but an eight-day event which drives more sales than ever before, and we would expect to see a similar pattern next year.
Why digital advertising works
Discover why digital advertising is effective for reaching your customers and building brands.