Viewability is a measurement metric that defines whether a digital display ad had the opportunity to be seen. In April 2014 IAB UK lifted an advisory against trading on viewability and have since taken a position on the minimum thresholds that need to be met for an ad to be considered viewable.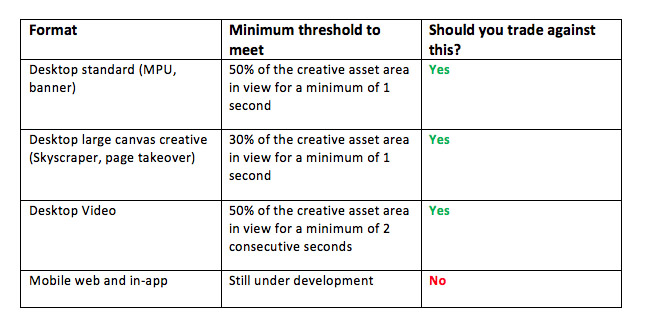 These principles inform the JICWEBS Viewability Product Principles (Version 4, effective August 2016).
There are currently seven vendors in the UK who have been audited by ABC and awarded certification.
Principles are under development for mobile web and in-app and are anticipated after further discussion between the four UK trade bodies IAB, ISBA, AOP and IPA who make up JICWEBS on what is realistic and in line with the desires of marketers. Standards are anticipated before the end of 2017 with principles to follow in Q1 2018 and a vendor audit environment soon afterwards.
IAB UK believes in maximising viewability to facilitate the trading of effective display media and will continue to work as part of JICWEBS on raising the standard across all screens.