Helping SMEs unlock the power of digital advertising
Posted on: Wednesday 11 November 2020 | IAB UK
As we launch our new interactive tool to help small businesses get the most out of digital advertising, find out why we've created it and what's next
---
Look at the data and you can understand why SMEs often get called the 'backbone' of the UK. They make up a huge 99.9% of private-sector business and have grown by 63% in the past two decades - providing millions of jobs and helping to define our nation as one of entrepreneurial innovation.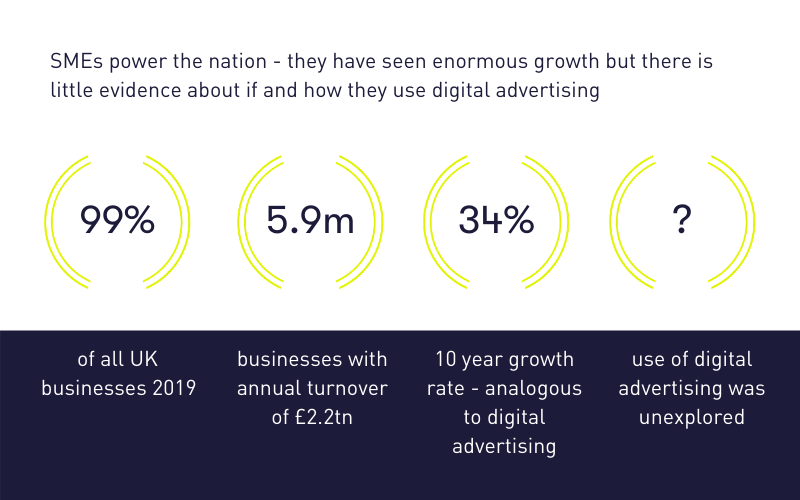 With its accessibility and affordability, digital advertising has played a significant part in fuelling SMEs' growth - and vice-versa. It's a symbiotic relationship that has helped to establish the UK's digital ad market as a world leader and given rise to a diverse and dynamic SME economy. 
With this in mind, we at IAB UK wanted to explore how small businesses are using digital advertising and where they feel more support is needed to help them get the most out of it. This became all the more poignant when it came to conducting the study in spring/summer 2020, with the COVID-19 outbreak making 'business as usual' tougher than ever. 
So, with the recession and the pandemic showing no signs of abating, how can digital advertising help small businesses weather the storm and recover? Find out what we did, what SMEs told us and how we're using the results to help small businesses maximise their investment in digital advertising. 
What SMEs told us 
Our study - 'Powering Up: Helping UK SMEs unlock the value of digital advertising' - draws on evidence from nearly 1,200 UK SMEs to understand small businesses' use of digital advertising and where they feel more support is needed. We found that 60% of SMEs across the UK are currently investing in digital advertising and, of them, 63% believe it delivers a good return on investment. However, this leaves 40% of SMEs that are not using any form of digital advertising and, amongst those that do, they're not taking full advantage of what it has to offer - often only using one or two channels.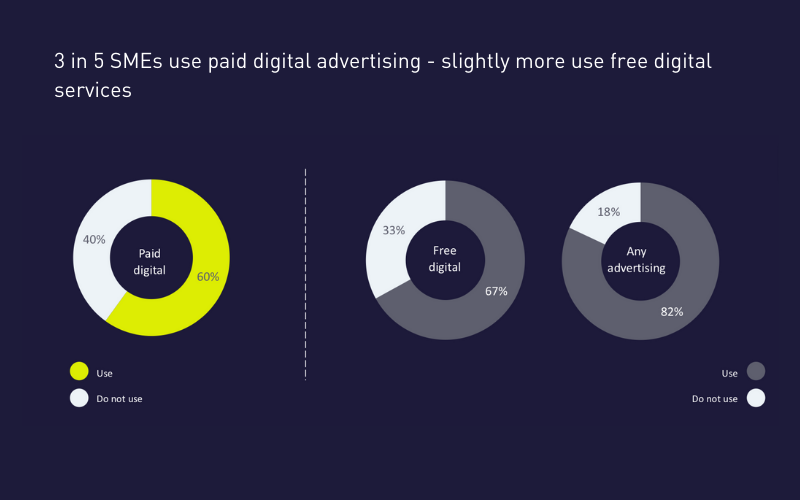 Most crucially, SMEs want help to utilise digital advertising more effectively, particularly during this challenging time. Nearly two-thirds (64%) of UK SMEs are concerned about the future of their businesses as a result of the current pandemic, and 70% feel it is more important than ever to communicate with customers about their services. One in seven SMEs describe their knowledge and ability to use digital as "not good" and, while social media is the most used paid-for digital channel, it also has the highest demand for more support on how to run a campaign effectively.
These results showed us that while many SMEs value digital advertising, there is a huge opportunity to help them develop and diversify their use of digital channels, while also providing accessible guidance for those that are currently not investing in digital at all.  
What we're doing 
SMEs told us that they wanted accessible and tailored guidance from an objective source. To answer this need, we've launched an online interactive tool that pulls together jargon-free advice, guides and case studies to support small businesses at this critical time.  We've worked with a range of our members from across the digital advertising industry to cherry-pick the best information for those that are keen to build or develop their digital advertising strategies. In short, this tool is a one-stop-shop to help SMEs take advantage of what digital advertising has to offer - catering for a range of campaign objectives and budget levels between £500 and £5 million.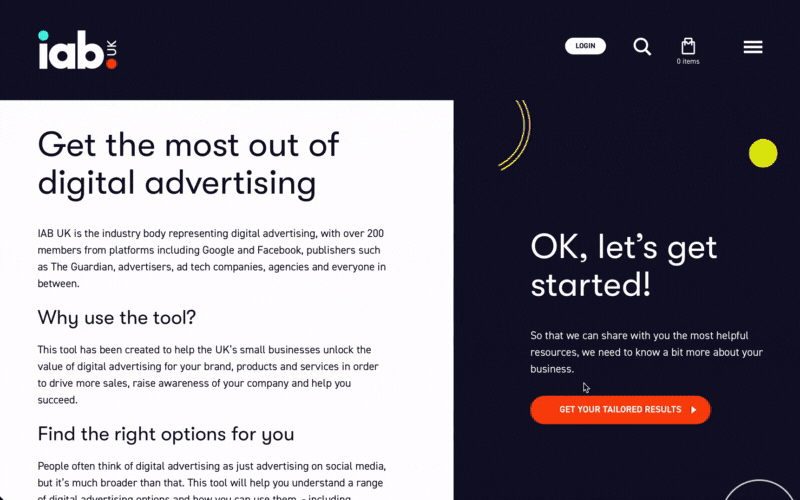 The tool encompasses channel-specific guides on how to get started in everything from social media advertising to digital out-of-home, breaking down the key considerations and what to expect at each stage of the process. It also pulls together guides on how to implement a digital measurement strategy, how to understand programmatic advertising, and what makes for an effective digital ad campaign. Throughout, there are case studies to illustrate how different channels can deliver for small businesses, as well as links to useful resources from our members. 
The best bit? SMEs can tailor this advice to their needs. By answering six simple questions about their objectives, business owners can access guides and advice that are specifically designed to deliver the help that they want. 
What's next 
Just as it played a central role in growing the UK's strong SME marketplace, digital advertising can now play a crucial part in keeping small businesses resilient and aiding their recovery. Our challenge is to spread the word and make sure that SMEs know that this resource exists - it can only make a difference if they know about it. We're asking our members, the wider advertising industry and MPs to amplify our efforts and share the tool with any relevant contacts, clients or constituents. By raising awareness of it and encouraging uptake, we can help small businesses get the most out of their digital advertising.
Why digital advertising works
Discover why digital advertising is effective for reaching your customers and building brands.