What can the Royal Warrant teach us about influencer marketing? iCrossing's Jill Alger and Sam Colebrook explore
Despite only being added to the English dictionary in May 2019, the word 'influencer' has been in our vocabularies for many years – especially in the digital marketing industry. But how long has this form of marketing actually been around? We'd argue it's much longer than you might think…
What springs to mind when someone mentions 'influencer marketing' to you? Visions of glossy product reviews? Unboxing videos? Or that all important '#sponsored' tag? While these may be what we best associate with influencers today, the official definition is much broader:  
Influencer [in-floo-uhn-ser]
Noun:
a person or thing that influences

a person who has the power to influence many people, as through social media or traditional media
Based on this definition (and who are we to question the English dictionary?), the term can encompass anything that influences, or that has the power to influence many people. Which brings us to the question: is The Queen the longest-standing lady in the game?
Robinson's squash, Hunter wellies, Strongbow cider. Aside from being Glasto packing essentials, these things all have one thing in common: they all hold the Royal Warrant.  
What is a Royal Warrant?
A Royal Warrant of Appointment is a mark of recognition for individuals or companies that have supplied goods or services to the households of The Queen, The Duke of Edinburgh, or The Prince of Wales for at least five years. They've been issued in the UK since the 15th century and were introduced as a way of telling the public that the suppliers' goods are of a high enough quality to be used in the Royal household. They intend to inspire confidence in the general public, giving something the 'Royal seal of approval'.
Today, there are around 800 Royal Warrant holders across a range of trades and industries – some of which you'll be familiar with and may even use on a daily basis. Look a little closer next time you get the ketchup out, pour yourself a Gordon's gin or tear open a bar of Dairy Milk; that Royal coat of arms printed on their labels signifies Royal Warrant ownership.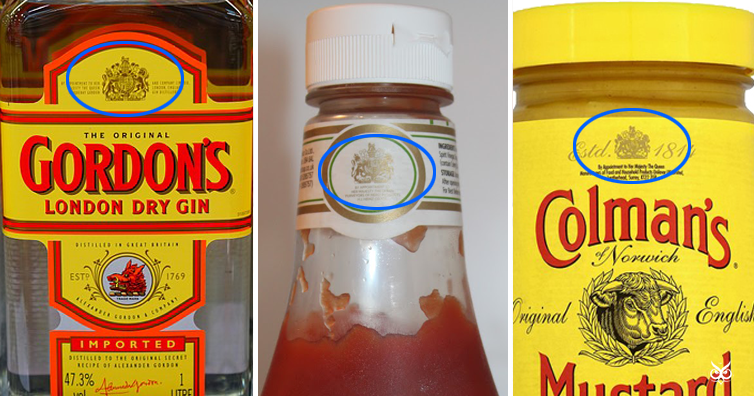 What does the Royal Warrant have to do with influencer marketing?
The Queen may not be snapping her five o'clock G&T for Instagram Stories, but similar to how you might pay an influencer to tell their followers what they think of a brand, The Queen's crest is recognised as a stamp of genuine advocacy for a product. 
Advertisers have long debated whether influencer marketing is fad or future, but appreciating it as a marketing channel stemming from this heritage makes us think this 'fad' isn't going anywhere soon. The shape it takes may evolve with modern culture, but history suggests this marketing mechanism has century-old longevity.   
Power of the Royal Warrant over time
Product quality was a public issue at the time of the Royal Warrant's establishment, giving it instant clout with consumers. But does the Royal Warrant carry the same influence today? 
Previously conducted research by Brand Finance has suggested that some companies earn up to 5% of their revenue as a result of the Royal Warrant. However, certain brands, have opted to remove it from their packaging altogether, including After Eight and Jacob's Cream Crackers. Have a browse of the full list of current warrant-holders. We think you'll be surprised at how many you weren't aware of…    
We asked over 3,500 people for their thoughts on the Royal Warrant and astonishingly, 87% said they had 'no idea' what it is; a sure sign that its awareness is dying out. On the flipside, 30% of people said they had bought something due to an influencer's post on social media.
Despite this cultural shift, findings from Brand Finance on the impact of Britishness and Royal endorsements suggest that while Royal Warrants no longer influence consumers, they're still associated with quality. 83% of survey respondents agreed that warrants indicate quality and excellence of a product. But is this enough to inspire a purchase?  
Wider learnings we can apply to influencer marketing
Comparing the understated coat of arms printed on a product with a well-executed influencer activation across the mighty social ecosystem leads us to believe that simply being present is no longer enough. Genuine endorsements must be heard to be noticed; else they won't cut through the noise of today's saturated marketing space. Selecting the right people to work with is crucial to this. Opting for the 'right fit', and not just profiles with the most followers, will result in much more authentic endorsements which, ultimately, drive better quality conversions. 
Of course, influencers and their level of authority are always subject to change, which is why it's important for brands to stay ahead of the curve. Here at iCrossing, we work with clients to ensure their influencer marketing strategies keep up with cultural and behavioural shifts, and aren't left in the 15th century. 
The Queen may no longer be 'owning' the influencer market, but we think it's fair to say she helped pave the way for what it is today. #YasQueen
*Data collected from separate surveys, all hosted across Cosmopolitan UK platforms. Data correct as of September 2020. 
All figures, unless otherwise stated, are from YouGov Plc. Total sample size was 4,370 adults. Fieldwork was undertaken between 20th - 22nd October 2015. The survey was carried out online. The figures have been weighted and are representative of all UK adults (aged 18+).
Posted on: Monday 9 November 2020