Principle 1. Avoid unnecessarily dramatic language, hyperbole and misleading copy
Ally Stuart, Managing Director EMEA, Sharethrough
The challenge in writing effective native copy lies in creating a balance between advertising and content; ensuring the headline communicates the campaign message whilst still forging an emotional connection with the reader.
Research from Sharethrough and Nielsen Neurolabs shows there are some fundamental aspects to consider to achieve successful native copy:
Humanise your brand's story: if a consumer can relate, they are more likely to pay attention. Themes that are timely, related to the social life of the reader and connect with wellbeing are most likely to engage

Use brand synonyms; including words that match your brand values and messaging strategy as these build that association in the readers' subconscious.
Insight; e.g. discovering, secrets

Time: e.g. history, soon

Space: e.g. beyond, everywhere

Motion: e.g. growing, appearing
A headline analysis tool can be found here.
Principle 2. Understand the different types of native formats and what works creatively well and where
James Murphy, Director / Content Lead, Tan Media
Native advertising has become a broad term for paid media that replicates the 'form and function' of the website, app or social media platform it sits within. This includes promoted posts on social and sponsored articles on newspaper and magazine websites. The term has also become used for click-out formats such as content recommendation and native display.
All formats have a place, but buyers should consider their goals when selecting a native execution. A direct response campaign is more likely to suit click-out formats, and for brand non-interruptive stay-on-site formats.
Regardless of native execution, trust is key. Clickbait headlines and images result in an erosion of trust, so ensure that your headline unit is not misleading and is a fair representation of the article or video. 
Other creative things to consider include:
Use striking images that provoke emotion. People respond to people. Users like to see other people using a product / service which helps them relate to the experience.

Make sure the image relates to the copy. The text should inform the image and vice versa!

Use visual call to actions – research shows users are x2 more likely to click on a visual CTA in a piece of sponsored content vs text hyperlinks.

Unbranded headlines generally work best. There's no need to mention the product / brand in the headline. Instead, advertise the value that your content is going to offer the user.
Test everything and optimise! The smallest change to a word or phrase can make all the difference, so try things out and analyse how users are reacting.
Principle 3. Be transparent, use clear labelling so people know content is advertiser funded
John Haake, SVP Marketing, Nativo
Content advertising in the UK should meet the IAB UK Content and Native Disclosure Guidelines as a minimum to ensure transparency that content is advertiser funded.
To ensure the best possible consumer experience, research can be conducted to shape your own set of standards. Nativo conducted a study to determine consumers' ability to recognize paid advertising that borrows from the aesthetics of surrounding editorial content. 
The study asked consumers to consider two "articles", one sponsored and one editorial, when answering three questions: Why is the formatting of one article different from the other?; What does "Sponsored Content" mean?; Who is the source or author?
To summarise the findings:
84% of respondents correctly defined "sponsored content."

93% correctly identified the byline author as the advertiser. 
This data, alongside the IAB UK Content and Native Disclosure Guidelines, informed Nativo's own set of standards ensuring ad funded content is always clearly labelled.

Principle 4. Understand the context where your ad will be shown and aim to stand out
Nadeem Ibrahim, Brand Partnership Director EMEA, Apester
Contextual environments have become crucial for advertisers, particularly now that GDPR has been enforced across Europe. We now question the accuracy of behavioural targeting and what it means for a consumer across traditional display.  Consumers want relevant experiences between editorial and branded content, albeit native to the eye.
Here are some basic principles to stand out from the rest:
Create the perfect synergy between your branded content and the organic content it sits within.
Sports environment:                                                                                                         Lifestyle environment: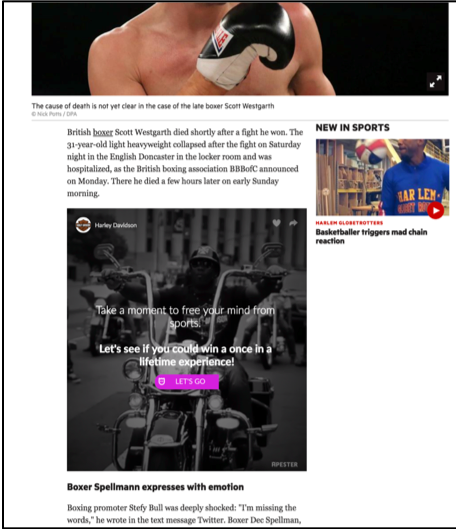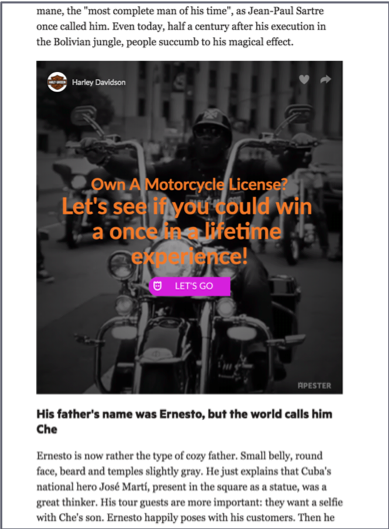 Humanise the tonality instead of being 'on-brand'.  We're creating a content experience, not an ad experience.   Users like to feel connected with your content – "do you dig it?!"

Use brand logos, GIPHYs and emojis – it's the new way of communicating.

Be bold, but in a subtle way for your brand. Your audience should be able to recall the brand at a later stage.
Taking the above principles into account will help provide the perfect balance between the consumer and advertiser.
Principle 5. Pay close attention to images
5.1 - Avoid sensationalised images. Find the right image to fit the context of the copy you are promoting
Dale Lovell, Co-Founder, Chief Marketing & Partnerships Officer, ADYOULIKE
The image thumbnails that accompany your native advertising text are going to be the most viewed part of your campaign. It is an opportunity to attract attention to your advertising message.
 
Do:
 
Use images of people using your product. Not stock product images.
Be careful with landscape-style shots – native advertising images are often condensed into relatively small thumbnails – so you need to ensure there is something in the foreground of your images to draw in attention.
Make sure you have the copyright permission to use images in paid-for advertising placements. Explore Creative Commons licenses if in doubt.
 
Do not: 
Get carried away with overly sensational images. Celebrities, bikini-shots, humorous images and famous photographs are well known click-bait tactics – they only work in context to the content you are promoting.
5.2 – Consider the source of your images and how they might be cropped
John Stoneman, GM Europe, TripleLift
Images are a key component of any native campaign. They are the visual stimuli that draws the reader's consideration and attention.
The golden rule of native advertising is simple. Never cut off a person's head!
Choose images which will crop naturally, or which have flexibility to run across image ratios like portrait, landscape and widescreen, or use technology platforms that can 'recognise' the various aspects of the image and crop sympathetically across those formats.
Avoid text on an image - it can be cropped or resized and can become ineligible.
Leverage imagery which comes directly from your website, or social media feeds - there is every likelihood the image will have been pre-approved by creative and/or legal teams which will avoid delays in campaign sign-off.
Finally, TripleLift campaign analysis shows that consumers respond to lifestyle images in greater numbers than isolated product shots.