As mobile video advertising continues to grow, brands and agencies want to understand how to better optimise their investments in mobile video across Facebook and Instagram. To help our clients achieve maximum impact and drive efficiencies, Facebook's Marketing Science team undertake research and share insights into both ad creative and how to capture attention in feed to increase video performance. Study results are available on our Facebook For Business blog.
Optimising reach through broader audiences
Planning and buying on auction-based digital channels is not the same as buying broadcast media, but often advertisers are using the same approach in both and missing out on opportunities for efficiency and broader impact.
Broadcast based media channels deliver mass reach by design and have historically been the dominant channel for reach based objectives. Planning audiences are often translated into buying audiences, which are broader groupings often based on age, gender and/or social grade. Using these buying audiences means that the advertising reaches the planning audience, as well as others in the expanded buying audience as well as outside of it due to the nature of broadcast delivery. Auction buying through biddable systems like Facebook and Instagram by design deliver more precise reach within the intended audience but likely to be at an increased CPM due to the 'supply and demand' nature of the system.

Because clients are excited by the prospect of more precisely targeting their consumer audiences on digital in a way they haven't before, we sometimes see advertisers move to very narrow targeting, often without any real understanding of whether that precision is necessary and worth paying for in terms of total brand impact possible at a given budget level.

However, when we recommend to clients that they broaden their audiences to achieve reach efficiency, we often hear that they are concerned the video asset itself won't achieve as much 'relevance' amongst those outside the core audience. We decided to put this to the test to work out whether increased reach efficiency outweighed any potential reductions in brand metrics amongst broader audiences.
Our measurement approach
To understand the role of targeting in driving business results on our clients' brand outcomes. We set out to:
Establish the difference in creative impact when targeting broad or core audiences on Facebook with Facebook mobile video ads

Explore the efficiency benefits for broad targeting in terms of audience reached, with Facebook mobile video ads.
How did we do it? We commissioned MetrixLab to conduct this research to be consistent with the methodology used in similar mobile video creative tests conducted in 2016 and 2017 projects, as they were one of the first third-party vendors to offer creative testing for mobile videos actually tested on mobile devices in a feed-based environment.

The 2018 study involved 100 videos that ran on Facebook from multiple verticals, with the test designed to provide a representative view across Facebook rather than specific vertical level insights. Categories included Food, Beverage, Pharmaceuticals, Fashion, Retail, Personal/Baby Care and Beauty. We used creative from the US, UK, Argentina, Brazil and Mexico to provide internationally representative insights. All videos were tested on a mobile phone, in a Facebook branded feed-based environment, so that videos could be measured in-situ.
The trade-off's of broad vs. core audience targeting
The outcomes are intended not as a new set of targeting 'rules' but to offer a better understanding of the trade-offs made when using more narrow audiences.
For ads used in this study, We saw that 66% of videos maintained or improved their performance against MetrixLab's quintile benchmarks when shown to a broad audience compared (fig. one).

Using broad audiences could result in an average of 44% more incremental brand recallers and an average of 31% more incremental purchase intenders with the same budget spend thanks to greater reach efficiency (fig. two)

Videos delivered to broad audiences saw slightly lower creative impact on average for individual brand metrics, but none of these were statistically significant.

Videos that were less likely to maintain performance were most often lacking in Breakthrough, an aggregate score of Brand Recall, Message Recall, and Ad Recognition. Mobile optimised videos delivered greater Breakthrough naturally due to improved upfront branding, shorter lengths which brought the main message forward in the asset, and mobile optimised imagery.
Figure one: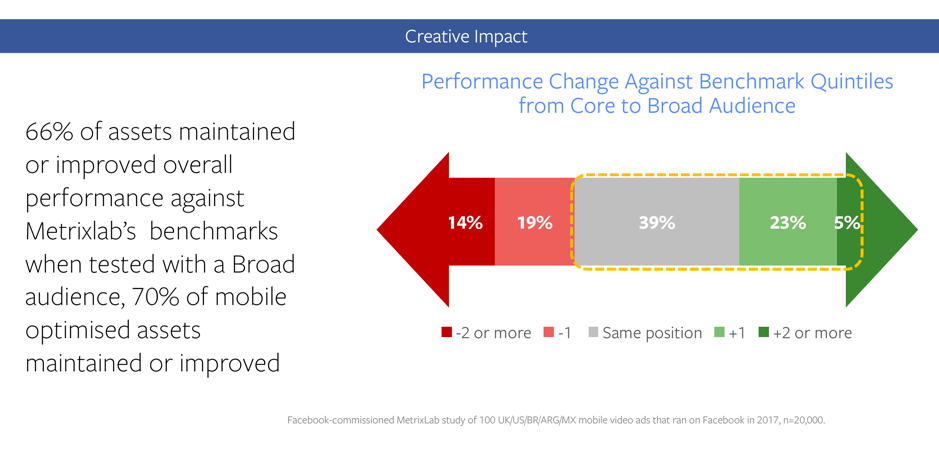 Figure two: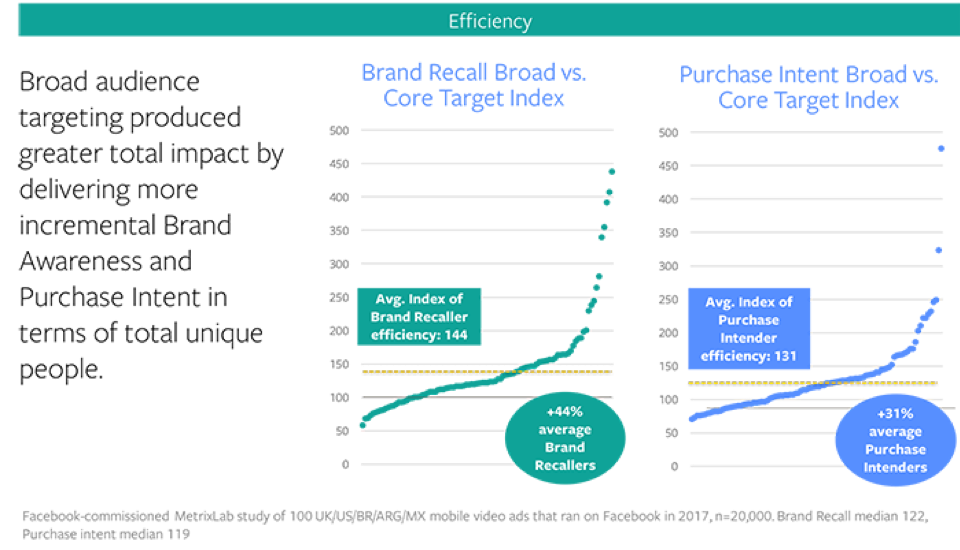 What this means for planners
Here are some considerations and tools to help as you think about your approach to our auction:
Build for Mobile-first. In creative terms, it's about bringing the branding and messaging upfront in the ad to build better breakthrough. You can try these mobile considerations before your creative goes live with Facebook's Creative Hub where you can experience how your work would appear in feed.
When it comes to targeting efficiency, if you do not have any data or intent signals to enhance your audience targeting beyond simple age/gender demographics than go broad, as any overall reduction in creative impact against broad audiences is outweighed by their reach efficiencies in an auction-based system.
So, consider broadening your target audiences on Facebook by conducting your very own Broad vs. Core test to ensure that you are maximising the impact of your investment on the platform.