IAB UK's CEO Jon Mew kicked off proceedings by pointing out that Leadership Summit was conceived as a place to share ideas with the aim of building a sustainable future for digital advertising. 
 
As such, last year's event, at which delegates called for progress around metrics, transparency and diversity, led to the launch of the IAB's Measurement Toolkit, Transparency FAQs and Inclusion, Diversity and Equality Advisory group.
 
"This year we're on a train, destination regulation," said Mew, pointing out that whilst this is not necessarily a bad thing, the sentiment of policy makers, the potential for unintended consequences, and education about the value exchange are all key issues. 
Mew also pointed to new IAB research which has found that 89% would prefer free online services featuring advertising as opposed to the alternative of paid-for services.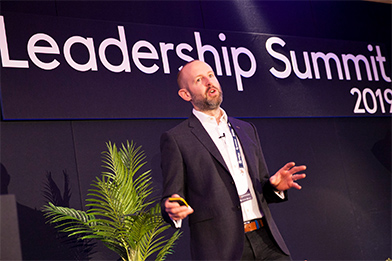 Daniel Finkelstein OBE, Times columnist and Conservative member of the House of Lords, was up next, emphasising the difficulty in distinguishing 'signal' from 'noise'. 
 
"We talk about policy the whole time but people often don't know what we're talking about," he warned, adding that, "People are influenced by their own economic circumstances" with a 'deeply reciprocal' understanding of fairness – certainly factors which need consideration from the online ad industry as it seeks to futureproof its model.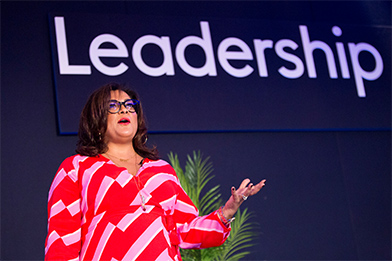 Nishma Robb, Google's Ads Marketing Director, then reflected on the fact that the search giant will turn 21 this year. She said: "In 2019 there are 4 billion people using the worldwide web. It's an incredibly exciting time. Every day 15% of the searches on Google are new; things we've not seen before. This shows our endless curiosity… but change can be terrifying."
 
Robb stressed in particular that it is trust that propels change, emphasising, too, the importance of collaboration and a focus on the end user.
 
She ended with the warning: "We need to continue to listen, to really listen … Everything that hurts user trust affects all of us."
 
Continuing on the theme of change, Nigel Gilbert, Chief Market Strategist at AppNexus, spoke about the importance of continuing to innovate. Describing content as 'the new battleground', he stressed that leaders must look to where people are consuming media and react accordingly, setting their organisations up to be agile.
 
"Normal is changing. The game has changed. There is no question of that," he said. 
 
After lunch, Paul Knight, CEO at OmniGOV, part of Manning Gottlieb OMD, spoke about the need for 'better metrics'.
 
"We are too obsessed with the short term," he said. "Just reacting to current problems isn't good enough."
 
Sarah Hofstetter, Comscore President, then shared details of brand new research looking at what she termed 'the next frontier of publishing'. 
 
Publishers need to create more real life events, spark more offline conversations and provide more personalisation and points of entry, she said adding: "We have been so optimised that we are not necessarily remembering the importance of the desktop experience."
 
People will be willing to pay for the better stuff, despite what they may say, she added, urging publishers to think in terms of 'utility' and 'exclusivity'. 
 
"Think about how you can turn your readers into members. Move beyond commodity content. You want to be one of a kind," was her rallying cry.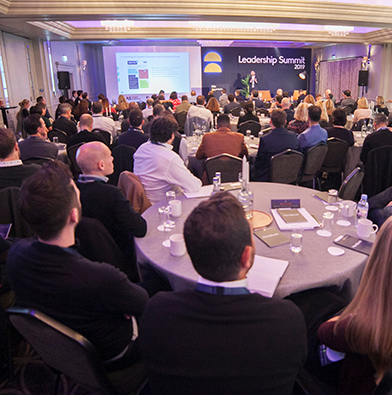 Anna Watkins, UK Managing Director at Verizon Media then delivered a hard-hitting presentation about why diversity and inclusion is 'a cultural, moral and business imperative'.
 
She pointed to recent research showing that two thirds of job seekers say that a diverse workforce is an important factor when evaluating companies and offers, as well as to recent McKinsey data which has revealed that teams that are gender, age and ethnically diverse are a whopping 87% more likely to make better decisions.
 
Verizon Media is rolling out unconscious bias training for every employee globally, she said, and next week sees the launch of a new video series entitled 'Change Agents' on Yahoo Finance, which celebrates and champions female entrepreneurs and business leaders.
 
"It's our responsibility as an editorial team to promote diversity and inclusion in the content we produce," she told delegates. 
 
Besides this, the company has committed to the use of an online tool which scans and removes gender-biased language in job descriptions and has introduced gender-balanced interview panels. In addition, it has set up a number of 'employee resource groups' (ERGs); voluntarily-run groups which have a budget to implement actions that they think will have the most impact in driving diversity and inclusion and which she claimed have been 'phenomenal' in terms of staff engagement.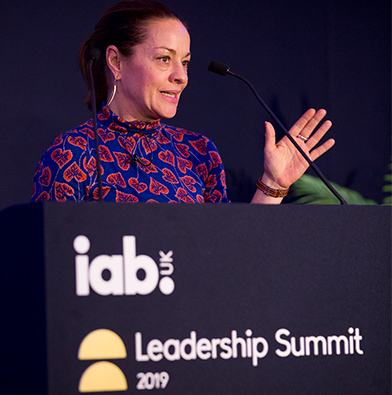 Nick Morley, Managing Director, Integral Ad Science then looked back at a transformative decade for digital media measurement.
 
With recent IAB research finding cross-media measurement the biggest measurement challenge for UK brands, mirroring an IAS Industry Pulse survey which revealed a lack of consistent measurement as a major priority this year, Morley told delegates that, despite all this we have 'reasons to be hopeful'.
 
"The challenge of consistent measurement can be solved," he told those gathered, calling for the industry to embrace change and to collaborate. 
"While change is difficult, we do need to embrace it." 
Martin Harbech, Group Director at Facebook, went on to share some critical learnings from some of the social network's recent challenges. 
"We are building a global platform that has never been built before," he said. "There are no blueprints and that has resulted in mistakes."
But he said Facebook is working hard to fix these mistakes, pointing for instance to a tripling of the number of employees working on safety and security in the last two year from 10,000 to 30,000.
Facebook has launched a third-party fact checking programme, is fighting false news, and is in the process of launching an oversight board for content decisions.But it recognises that it can't always make content decisions on its own, he said."We have realised we shouldn't be making so many decisions about content on our own".
Finally, in a session before dinner, David Jones, Founder of You & Mr Jones and One Young World
spoke about a 'new world' of marketing, driven by purpose and by revolutionary technologies such as AI and AR being used in ground-breaking ways.
"I think AI will be an absolute game-changer," he said, and whilst also pointing to the potential for its misuse, he stressed the growing importance of what he termed 'people-powered marketing'. "The industry has to go from focusing on marketing to consumers to mattering to people," he stated. "Most of the bad stuff happens when we look at people as consumers, not people."
If you are interested in reading the write up for day two, then follow this link.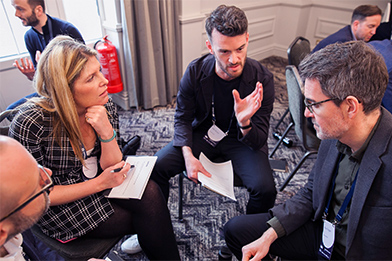 Thanks to Leadership Summit sponsors Comscore, AppNexus and Integral Ad Science for their support. Thanks also to the sponsors of our Townhalls, Dynata, Sovrn and Sublime. And thank you to our Gala Dinner Sponsor Teads.