IAB UK Leadership Summit 2019: Day Two
Posted on: Monday 11 March 2019
IAB UK's annual Leadership Summit took place at Sopwell House 7-8 March 2019. Here's what happened on Day Two.
Day two of the IAB's Leadership Summit got off to a bracing start when Twitter's Bruce Daisley quizzed the legendary Creative Director Dave Trott on the state of modern creativity.
"Everybody says they are creative but nobody is," said Trott. "They just tick it off on their website. We don't revel in trouble or controversy these days. We immediately issue an apology. Where's the creativity in that? I can get a computer to not break the rules."
He also emphasised the importance of passion, ambition and enjoying your work, before sharing a number of other thought-provoking observations, including the fact that creativity is about 'doing things differently', 'focusing on the problem as opposed to the solution', and 'principles over formulas'.
"When you learn formulas, that's for machines. Machines should work, people should think," he said. "It's about thinking versus acting like an algorithm."
And he said that, at a time when the ordinary person gets some 2000 ad messages a day, it's increasingly important to be simple, evocative and different. In the same way as a pearl is made from one grain of sand, there is an art to reducing things to their essence, he said, concluding with the warning that: "The thing that stops you is your own worry and thought about what other people think… Political correctness has killed creativity."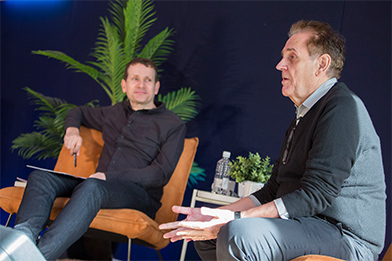 Gill Hind, COO at Enders Analysis, was up next, delivering advice for advertisers in a market under pressure. It's important to take learnings from previous recessions, she said, and for advertisers to have a 'deep understanding' of their audiences.
But there will always be unexpected successes during a period of recession, she said, pointing out that a time when competitors are cutting spend can be a great way to gain share of voice. 
Hind also spoke about the 'relatively poor' performance of TV advertising over the past six months, which she said is partly the result of economic uncertainty. But she also stressed TV's ongoing effectiveness for mass reach and said that, as a result, it will 'never been majority addressable'.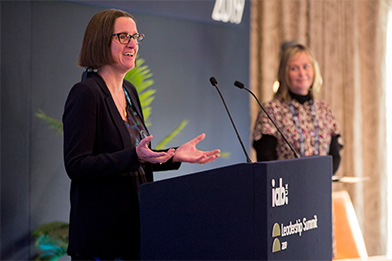 Ravleen Beeston, Head of UK Sales at Bing, then delivered a session focused on Inclusive Marketing, using inclusive design principles which result in more accessible products, services and experiences for all. With over a billion people globally having some form of disability, Beeston stressed the importance of empowering teams with a growth mindset, encouraging empathy which can in turn drive innovation via truly inclusive design.
Finally, pointing to the Xbox Adaptive Controller as an example of inclusive design, Beeston pointed out that business leaders influence others' experiences and that striving for truly inclusive design has benefits for all – and has contributed in no small way to Microsoft's recent success.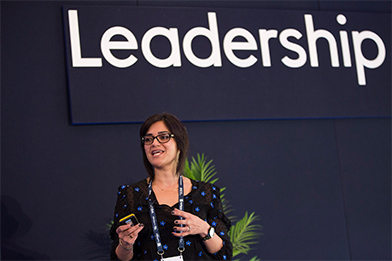 George Bettany, Founder of Sanctus, spoke of his company's mission to change the perception of mental illness, having been working with businesses to support mental health for three years. He admitted that mental health was not something that he had thought about until he and his co-founder of an app suffered themselves and started to talk to each other about their wellbeing for the first time. Now their business, Sanctus, delivers mental health sessions at work, with over 1000 people booked in this month alone.
And Alison Garbutt, Strategic Programme Manager at WHSmith, delivered a passionate plea for more businesses to take mental health seriously, having spearheaded training at WHSmith following the tragic suicide of a colleague. She spoke of a lack of basic knowledge when it comes to mental health and claimed that such programmes can significantly reduce workplace absence.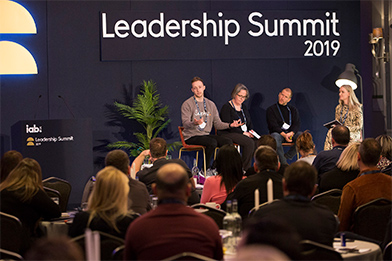 "There are still people that need a bit more convincing," she said. "But the fact that you are here in this room with me gives me hope. I'm excited to think about other employers also taking action."
Next, Josh Krichefski, CEO of MediaCom spoke of the high levels of stress and anxiety in the industry and outlined why he has introduced flexible working and asked his staff not to send emails after 7pm or at weekends. The sharing of mental health 'stories', he said, has made the business feel like a place where people can talk openly, free of judgment, while almost 60 people have now been trained as mental health 'allies', to support work colleagues. 
But Krichefski also warned against spearheading mental health programmes without any genuine passion. "Don't try and stand for something you don't care about. I personally don't think there's anything more important and people can see that."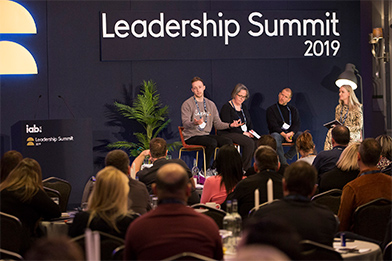 Finally, Gráinne Wafer, Global Brand Director at Diageo, delivered a powerful session entitled 'Time for change'. She revealed how a more progressive representation of gender in Diageo's content has proven that diversity and inclusion are intrinsically linked to performance. And she said the need to act is urgent as it's part of a big cultural shift across the world.
"Women are switching off content when they feel there is stereotyping," she warned, urging marketers to think about 'moments rather than demographics'.
"It's not easy. We all have unconscious bias," she said, describing how the brand's creation of a framework for progressive gender portrayal has allowed it to make more 'deliberate' choices with regards representation, perspective and characterisation.  
"It's great for society, great for business and also great for performance," she said.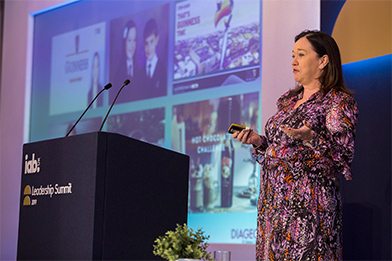 Thanks to Leadership Summit sponsors Comscore, AppNexus and Integral Ad Science for their support. Thanks also to the sponsors of our Townhalls, Dynata, Sovrn and Sublime. And thank you to our Gala Dinner Sponsor Teads.