UK advertising expenditure grew at its highest rate since 2010 last year, increasing by 7.5% to £20.1bn, according to the UK's definitive advertising statistics, the Advertising Association/Warc Expenditure Report.

Internet adspend increased 17.3% to £8.6bn, with mobile accounting for 78% of that growth, growing 61.1% to a total of £2.6bn. The UK is comfortably the largest internet advertising market in Europe and ranks third globally, behind the US and China.

TV adspend rose 7.3% to a record £5.3bn, with spot expenditure rising 6.7% and video on demand increasing 20.7%. Cinema adspend rose 20.8% to reach a new high of £238m, driven by high-grossing films like Star Wars: The Force Awakens and SPECTRE.

Annual growth in adspend was also recorded for direct mail (+1.4% year-on-year to £1.9bn), out of home (+3.9% to £1.1bn) and radio (+2.9% to £592m) last year.

The strong growth in total UK adspend is expected to continue with a rise of 5.5% forecast in both 2016 and 2017.

Tim Lefroy, Chief Executive at the Advertising Association said: "The UK is the fastest-growing major advertising market in Europe, and its most successful exporter. It's a tribute to our creativity and technical innovation."

The data show that as a share of GDP, UK adspend rose to 1.08% in 2015, higher than any other G7 nation. For every man, woman and child in the UK, £308.56 was spent on advertising last year.[1]

The Advertising Association/Warc Expenditure Report is the definitive measure of advertising activity in the UK. It is the only source that uses advertising expenditure gathered from across the entire media landscape, rather than relying solely on estimated or modelled data. With total market and individual media data available quarterly from 1982, it is the most reliable picture of the industry and is widely used by advertisers, agencies, media owners and analysts.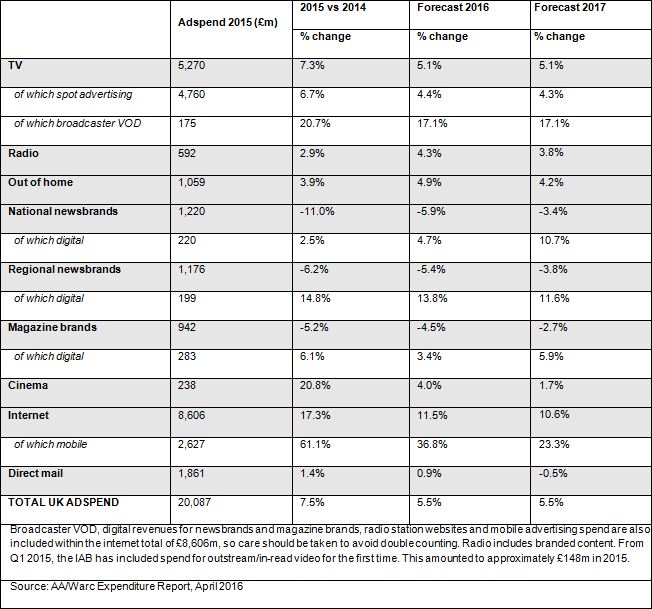 At-a-glance media summary
Television adspend grew by 7.3% to reach a record £5.3bn in 2015. This was spurred on by a 6.7% growth in spot expenditure to £4.8bn, as well as a 20.7% growth in video-on-demand, reaching £175m. Further growth for total TV spend of 5.1% is forecast for 2016.

Radio adspend (including branded content) rose by 2.9% in 2015, amounting to a total of £592m. We forecast radio adspend to register an annual rise of 4.3% in 2016.

Out of home adspend grew 3.9% to a record high of £1.1bn in 2015. Of this, adspend on digital panels rose strongly by 22% to £332m. Total out of home adspend is expected to rise a further 4.9% in 2016.

National newsbrands adspend declined 11% in 2015 to £1.2bn. Print advertising revenues fell by 13.4% to £1bn, although digital adspend rose in 2015 by 2.5%, to reach £220m. Looking at print advertising revenues more closely, there was a 16.7% drop for popular (tabloid) papers, and a more modest 9.2% drop for quality (broadsheet) titles. A slower decline (-5.9%) in total adspend is forecast for national newsbrands in 2016.

Regional newsbrands adspend declined 6.2% in 2015 to £1.2bn. Print advertising spend saw a 9.5% dip, falling to £977m, but digital advertising revenue grew by 14.8%, to £199m. The reduction in overall adspend is set to slow in 2016 to -5.4%.

Magazine brands adspend fell 5.2% in 2015 to £942m. Print adspend dipped 9.3% to £659m, while digital adspend rose 6.1% to £283m. Overall, adspend is due to fall by 4.5% in 2016.

Cinema adspend grew by 20.8% to reach a record £238min 2015, driven by two of last year's highest grossing films, Star Wars: The Force Awakens and SPECTRE. It is expected to grow a further 4% in 2016.

Internet (including mobile) adspend rose by 17.3% to reach £8.6bn last year. Mobile adspend rose by 61.1% to reach £2.6bn. In 2016 total internet advertising will rise by 11.5%, while mobile adspend is expected to climb by 36.8%.

Direct mail adspend data from the Royal Mail show 1.4% growth to £1.9bn in 2015. A rise of 0.9% is expected in 2016.
Digital market share figures will be available as part of the IAB/PwC adspend study results within two weeks once all the figures have been collated.