Record first quarter prompts upwards forecast for UK advertising
Advertising Association/Warc figures show that UK advertising expenditure shrugged off European uncertainty to post 8.2% growth in Q1 2015. Reaching £4,711m in total, UK advertising spend in the first quarter of the year was the highest on record.
---
Growth in traditional display advertising, including television, radio and outdoor, was particularly strong - TV spot advertising rose 11.5% to reach £1,220m for the quarter, with display advertising overall rising 8.5% to reach £3,172m. Mobile's rapid rise also continued, with spend increasing 50.9% for the quarter and passing over half a billion pounds.

The 8.2% growth posted in Q1 was well ahead of the previous prediction of 6.2% - and forecasts for full year 2015 have been revised up 0.6pp to 6.2%.

Separate research from Warc's International Ad Forecast shows UK adspend will rise faster than the largest European markets this year and next, and behind only India and China in a global context.

Tim Lefroy, Chief Executive at the Advertising Association said:

"Despite uncertainty in Europe and at home prior to the election, these figures come as a welcome boost. Adspend is growing faster here than anywhere in Europe, to the benefit of our digital economy, creative industries and UK plc."

The Advertising Association/Warc Expenditure Report is the definitive measure of advertising activity in the UK. It is the only source that uses advertising expenditure gathered from across the entire media landscape, rather than relying solely on estimated or modelled data. With total market and individual media data available quarterly from 1982, it is the most reliable picture of the industry and is widely used by advertisers, agencies, media owners and analysts.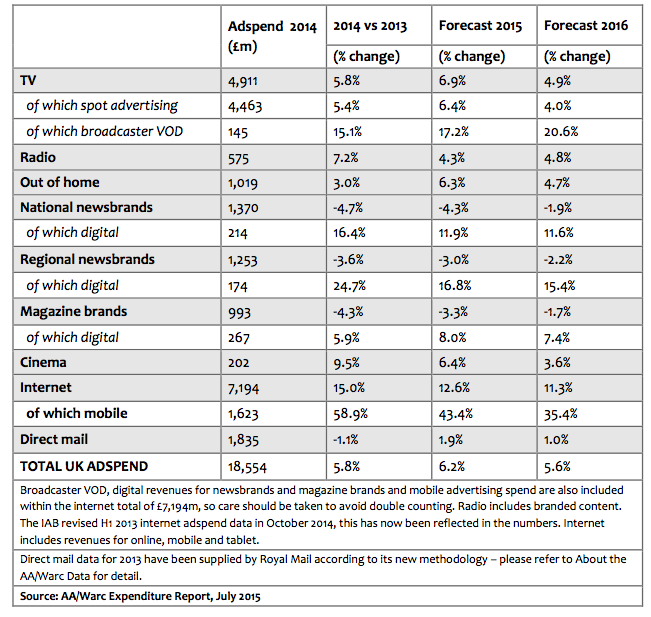 Regional newsbrands declined by 2.3% in Q1 – driven by a 5.2% decline in print revenues, somewhat offset by a 17.6% increase in digital revenues. An overall decline of 3.0% is forecast for 2015, slowing to -2.2% in 2016.

Magazine brands saw adspend dip 3.9% in the first quarter, with an 8.6% decline for print, and 11.5% increase in digital spend. Total magazine brands adspend is forecast to decline 3.3% in 2015, slowing to -1.7% in 2016.

Cinema according to data from Nielsen, adspend saw strong year-on-year growth of 19.6% in Q1 2015, reaching a value of £43.6m. AA/Warc predicts overall growth of 6.4% in 2015 and a further 3.6% in 2016.

Internet (including mobile) had its highest quarterly total on record, rising 12.8% in Q1 to reach £1,904m. Growth of 12.6% is forecast for 2015. Mobile spend grew 50.9% in Q1 to reach £502m. Please note: The IAB releases advertising spend data every six months, so Q1 2015 data are Warc estimates and will be replaced with actual figures when data is available in October.

Direct mail advertising revenue grew 6.0% to reach £489m in Q1 according to data from the Royal Mail. 2015 growth of 1.9% is predicted for direct mail.
Why digital advertising works
Discover why digital advertising is effective for reaching your customers and building brands.