Updated with H1 2017 digital adspend figures
Two good rules of thumb to live your life by; don't count one's chickens before they've hatched and don't throw the baby out with the bathwater. Digital advertising is growing, brand safety is a concern and we're at risk of breaking both these idioms if we're not careful. 
In October 2017, the IAB UK announced the official size of the digital advertising market for half year, (January - June 2017) at £5.56bn, a 13.8% year on year growth (IAB / PwC UK Digital Adspend Study, H1 2017). So, the UK digital market is growing fast, as advertisers choose digital to reach their audiences, but before we count our chickens we need to consider whether all digital ads are appearing in an appropriate, brand safe environment.
Whilst, quite rightly, there has been recent concern about brand safety in digital, to avoid throwing the baby out with the bathwater, it is worth exploring the proportions of the total market that is at risk. But first, what do we mean by brand safety?
As per the IAB's Q&A, brand safety is about ensuring your advertising does not appear on any inappropriate or illegal content or websites. It's not the same as your ad simply clashing with website editorial. 
So, what proportion of digital advertising is actually at risk?
Firstly, search (which makes up 51% of all digital advertising) is brand safe, we are only dealing with two big media brands; Google and Bing and with them, advertisers are in complete control of the keywords and phrases their brands appears against. This leaves display and classified advertising.
Classified advertising is also brand safe. Deals are, by and large, made directly with a media owner so autos listings appear on chosen autos sites, property listings appear on property sites and so on. Finally, we have display advertising. 
The automated trading of display advertising has led to some brand safety concerns. Through programmatic trading, advertisers started buying target audiences around the long tail of the internet, rather than choosing the specific sites that their ads appeared on. This led to some of their ads appearing on inappropriate sites.
However, programmatic trading is changing. In April, 2017, the IAB also released their Media Owner Sales Techniques (MOST) study, showing two distinctly different techniques of programmatic advertising - "Direct" and "Indirect". The difference being that with programmatic direct, advertisers use methods like private market places and header bidding in order to control which site, or sites, their ads appear on.
It is programmatic direct that dominates digital display, (49% is traded this way) and it is programmatic direct that is growing year-on-year, up 9%. Indirect, by comparison, accounts for 24% of the market and is flat year-on-year. This shift to favour a more controlled form of trading (programmatic direct) reflects advertisers desire to only place advertising on known, appropriate and brand-safe websites. This desire is also reflected by the fraction of the market (2%) being traded via networks, another method whereby advertisers don't specifically choose the sites their ads will run on.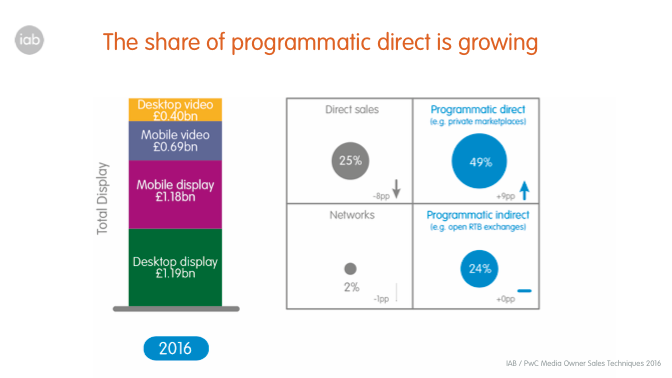 In this total scenario, with 36% of all digital advertising being digital display and 26% of all display being traded via programmatic indirect or by a network you get 9% of a £5.56bn market where it is possible for an ad to appear on a brand unsafe site. However, the majority of these ads are appearing on brand-safe sites every day. Another way of looking at this is 91% of all digital advertising is completely free from even the risk of appearing on inappropriate websites.
There is a second risk for advertisers. Appearing on a brand safe website but still next to inappropriate content. Because the site itself is safe, the only way this can really happen is via user-generated content (UGC). There isn't comprehensive data to assess this fully but we can look at the biggest homes of UGC - the social media sites.
The IAB / PwC study published that 19% of all digital advertising is being served in a social environment.
In this scenario, 81% of all digital advertising is entirely safe from the risk of appearing next to user-generated, and therefore inappropriate content. However, the majority of content on social sites is absolutely brand safe.
In conclusion, it's worth remembering that only a small minority of digital ads are even at risk of being served in a brand unsafe environment, with a smaller amount still being actually affected. So, whilst one ad appearing against non-safe content is one too many, we should not throw the baby out with the bathwater when assessing the threat.
Finally, as digital continues to grow, and advertisers take even more control over where their ads appear it may not be long before we can count all of our chickens before they hatch. 
Sources:
IAB / PwC UK Digital Adspend Study – H1 2017, October 2017