The IAB UK Gold Standard is a key element of this vision. This page contains all the essential information you need to know about the Gold Standard.
Executive Summary - important links and information
Register for the Gold Standard

See our Gold Standard certification compliance criteria

See a list of Gold Standard Registered and Certified companies
Initially, the Gold Standard has three simple but fundamental aims - to reduce ad fraud, to improve the digital advertising experience and to increase brand safety by implementing three specific initiatives.

1 - Reducing ad fraud through the implementation of, or demonstrating support for, the ads.txt initiative. This new initiative from IAB TechLab shows who is authorised to sell a specific site's inventory and prevents the selling of spoofed or fake inventory. 

2 - Improving the digital advertising experience by adhering to the LEAN principles and the standards set by the Coalition for Better Advertising and never using the 12 'bad ad' formats that offer people a poor digital advertising experience in desktop web or mobile web environments.

3 - Increasing brand safety by working with JICWEBS to ensure that the Display Trading Standards Group (DTSG) Brand Safety Principles are valuable, applicable and continue to evolve with market expectations:

a) With a view to becoming certified signatories (for current non-signatories)

b) To continue to have their policies and processes independently verified. (for current signatories)

The IAB UK Gold Standard was announced in October 2017 and all 24 IAB UK Board Members have committed to meeting the IAB Gold Standard through signing an open letter to the industry.
The IAB UK Gold Standard is open to IAB UK members and is currently limited to companies operating within display advertising on desktop and mobile web only - For updates on certification for in-app companies please refer to this page. 
How does the IAB UK Gold Standard work?
Meeting the IAB UK Gold Standard is a two-stage process.

Stage one - registration

You can register your company for the IAB UK Gold Standard by completing this short online questionnaire.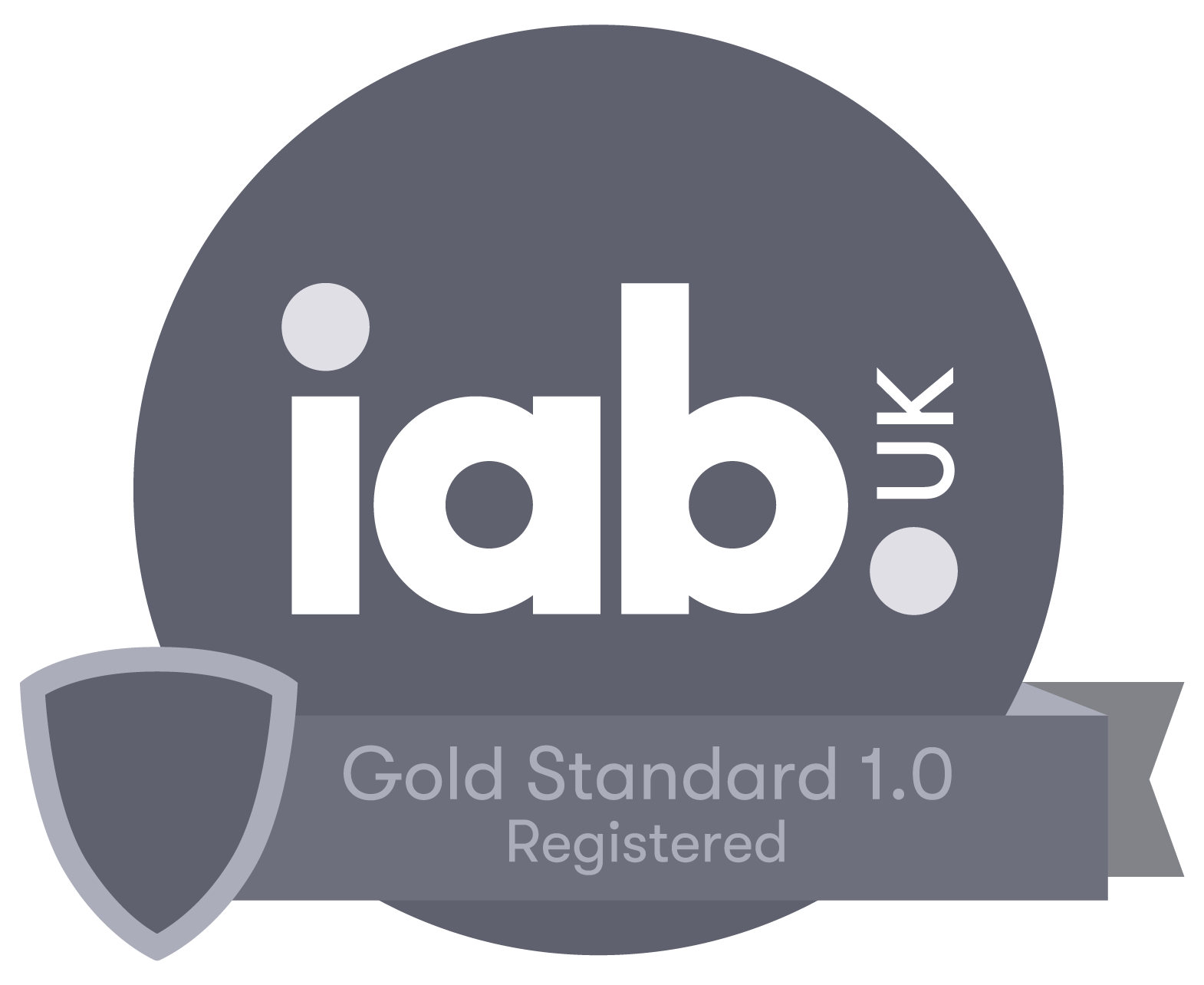 This allows us to collect all the information we need to start the process, for example the category of your company and the contacts within your company responsible for driving your certification forward internally. Once we've verified your registration details we'll issue you with the Gold Standard 1.0 Registered Badge that you can use on your website and marketing materials.
Importantly, if you operate different businesses within your overall organisation you'll need to complete separate registration forms for each type of business that you want to enter into the Gold Standard. For example if you operate a consumer facing website and an ad exchange you will need to complete two registration forms.

Stage two - certification

Once you're registered, you have six months to complete your certification, by submitting the necessary evidence. The cross industry Gold Standard Group has agreed the criteria that different businesses within the digital advertising eco-system have to do in order to comply with Gold Standard certification, and the evidence which must be submitted. This information is summarised on the Gold Standard compliance grid.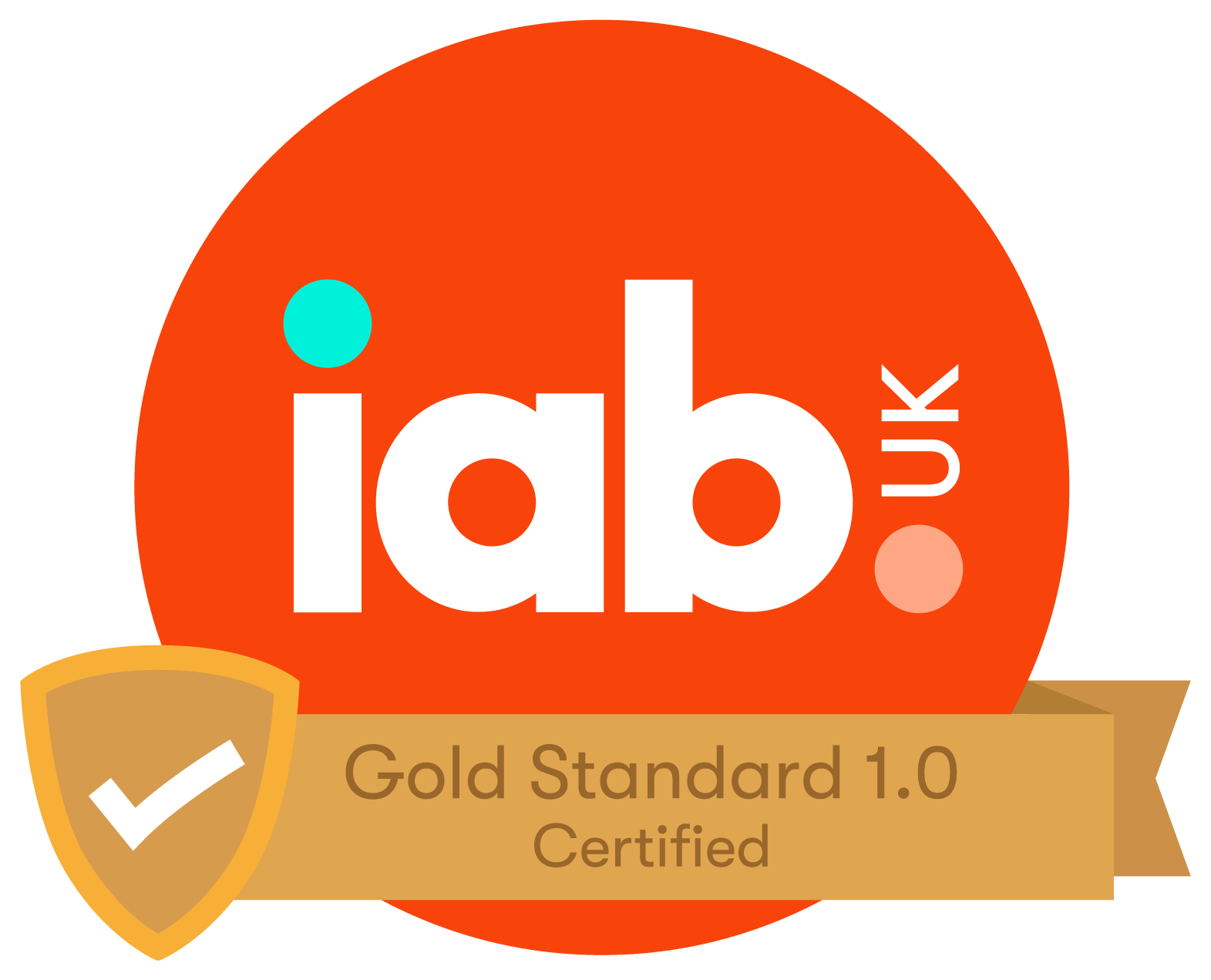 Once you're happy that your company has met the criteria specified within the compliance grid you can send the evidence that supports this to goldstandard@iabuk.com.

When you've met all the criteria for your category of company we'll issue you with a Gold Standard 1.0 Certified badge that you can use on your website and marketing materials.
You can view the list of all companies that are Gold Standard 1.0 Registered or Certified here.
What is the Gold Standard Group?
The Gold Standard Group is a cross industry committee of IAB members that makes key decisions on Gold Standard issues - for example what different types of company have to do in order to comply with the Gold Standard. The members of the group are listed below:
Accenture, Bauer, Celtra, DMG Media, Facebook, Google, GroundTruth, GroupM, Inskin, Manning Gottlieb OMD, News UK, Spark Foundry, Teads, The Guardian, Weve 
For more information about the IAB UK Gold Standard please contact goldstandard@iabuk.com.
Support for the IAB Gold Standard:
Richard Reeves, AOP: "I firmly support IAB UK's commitment to raising standards in digital advertising through this 'Gold Standard' initiative, and the inclusive nature by which they continue to involve AOP, and other trade bodies, to ensure the Gold Standard respects and reflects the principle constituents that comprise the UK's digital advertising economy."
Phil Smith, ISBA: "Raising standards in digital advertising is the top priority for ISBA and we welcome the work the IAB has been doing to create a Gold Standard. We encourage all parties of the digital advertising industry to get behind these very important initiatives as soon as possible. We are looking forward to working with the IAB in supporting this program."
Bethan Crockett, Senior Director of Brand Safety and Digital Risk, GroupM EMEA: "GroupM fully supports IAB UK's Gold Standard initiative and it is fantastic to see the industry committing to implement best practice standards relating to ad fraud, brand safety and the digital advertising user experience."