First up was Jon Mew, IAB UK's CEO, who called on those who are not already Gold Standard certified to sign up, pointing to a really positive step change, with 88 members having already done so. "Self-regulation of our industry has never been more important," he said.
Jon went on to focus on how digital has evolved businesses, sharing a sneak peak of soon to be launched research on direct-to-consumer (DTC) brands, showing that 97% of the UK population are aware of at least one of the top 50 DTC brands and 39% have used at least one.
Next, Alex Jenkins, Editorial Director at Contagious shared some pointers about how to stay ahead over the next decade, stressing the importance of adopting 'agile long-termism' and warning against excessive 'rigidity' in ways of working. His main advice? Know more than the person next to you.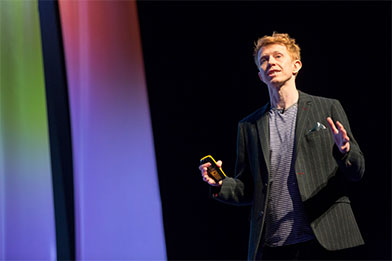 Nigel Tierney, Head of Content at RYOT, part of Verizon Media, followed to speak about the future of content with 5G. This next era heralds "ground breaking" improvements in immersive entertainment and an array of richer, more personalised experiences, he told delegates.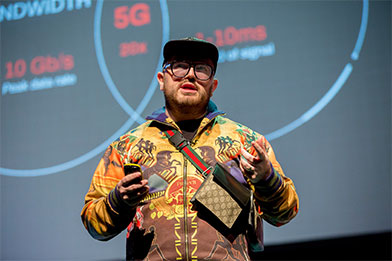 Taking to the stage next, Emma Turpin, Senior Team Lead at Google Creative Lab, shared some lessons about how to aid creativity. Tech should be the stage, not the star and diversity is central to creating impactful work, she said, before sharing some examples from Google Creative Lab. She ended by highlighting the positives of flexible working: "It can transform your business… For me, this has created balance. I'm energised, productive and focused. Think about how flexible working can work for you."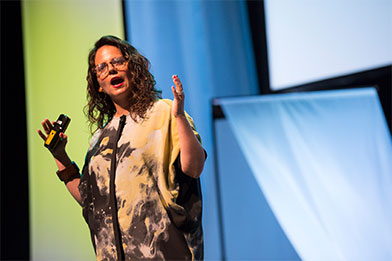 Carrying on the theme of creativity and technology, Dr Peter Day, CTO at Quantcast, outlined how autonomy, velocity and fearless positivity is reshaping the business structure of successful companies. Truly great companies are organised for autonomy, he said, enabling and empowering rather than controlling. "The opposite is death by committee," he warned, adding that 'the agency of the future' incentivises, makes people feel part of a team, learns, automates and is optimistic.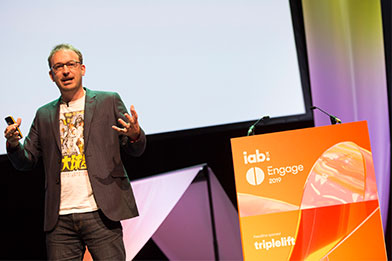 Following a short break, Credos' Director Karen Fraser MBE launched the Advertising Association's Advertising Pays 7 report, created with Enders Analysis. Karen cited results showing that UK advertising's digital revolution has led to an explosion of new creative advertising possibilities: "We are number one in Europe in terms of ad spend, and, in terms of GDP, we are the world leader." Claire Enders, Founder of Enders Analysis, added that the current, "tricky" political situation makes the power of this story even greater. You can view the report here.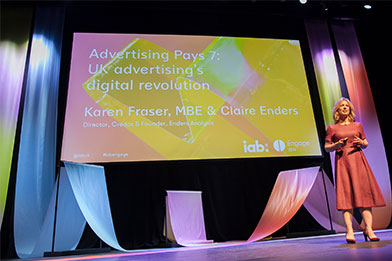 Ari Lewine, Co-Founder and Chief Strategy Officer, Triplelift, then delivered a passionate presentation focused on the need to deliver ads that truly engage. He urged the audience to design ad experiences that prioritise people, rather than brands or consumers (a term he said brings to mind walking cheque books rather than human beings), while also debuting TripleLift's new branded video initiative.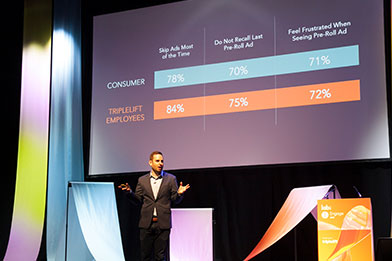 Last but certainly not least, Trans Activist Charlie Craggs illustrated how important it is to represent marginalised groups in a respectful way in the media. "There can be a lot of eye rolls when you talk about under-representation – often from people who don't know how it feels not to be represented," she said, revealing how, after years of abuse, she set out to build allies through the launch of Nail Transphobia, which offers free manicures in exchange for a chat with a trans person: "There is so much power in conversation. It's about humanising…ripples make waves."
Craggs went on to urge brands to work with marginalised groups in the right way – so, rather than tokenistic gestures, being respectful, educating themselves and understanding the word diversity in its truest sense. "If you are going to use a community struggle to sell, it's important to give back," she warned.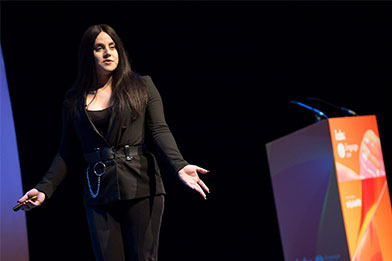 Want to know how we closed the day? You can find the afternoon write-up here. You can see the day as it happened by following #iabengage or by watching our highlights film here.