Digital Trust Forum: Cross-industry collaboration is crucial
IAB UK
Read the full day's round-up from our first Digital Trust Forum
---
AM
"We all have a responsibility to solve the issues damaging trust in digital advertising - the future of your businesses and the future of our industry depends on it" said IAB UK's Tim Elkington, opening our first Digital Trust Forum at the British Museum. Describing the day as an opportunity to "address the key issues head on", Elkington announced plans to release Gold Standard 2.0 at the end of the year. This new iteration of the Gold Standard will see the Transparency and Consent Framework incorporated into the requirements and an independent third-party appointed to audit the certification process. 
Next on stage was the Advertising Association's CEO Stephen Woodford and Chair Keith Weed. With both highlighting the need for collaboration to address falling trust, Woodford referenced the industry's response to the ICO's ad tech and RTB concerns as a prevalent example of this. The central role that the Gold Standard plays was also highlighted, with Woodford saying it should become the standard for the whole industry and one "we want to see universally applied".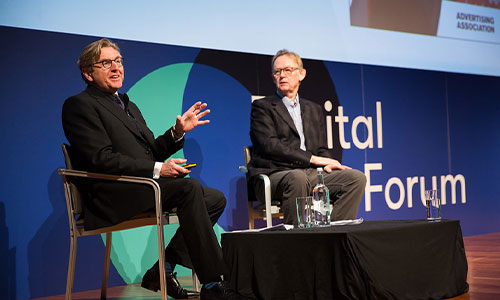 The pair drew on Credos research to show the key drivers of public trust in advertising, with creativity and entertainment the largest positive influence on trust rates (25%) and bombardment the most detrimental (21%). The session ended on a resounding note with Weed saying: "We all need to lean in. Wherever you are, whatever role you are in, you can bring a focus to this and you can help create the sort of ad industry we all want to have and build trust back into it."
JICWEBS's CEO Jules Kendrick and TAG's VP Nick Stringer followed with an insight into how the two bodies are working together to tackle two of the underlying issues damaging trust rates - fraud and brand safety. With the aim of creating greater economies of scale in these areas, Kendrick said that JICWEBS and TAG are in the process of developing a shared fraud and shared DTSG standard and hope to make an announcement at the end of Q1 2020. As Stringer said: "Self regulation is only as good as us working together collectively."
The central role industry standards play was also highlighted by Facebook's Director of Agencies Nick Baughan, who explained: "Facebook cannot exist in a vacuum, it needs to be part of global standards and local standards." His session focused on how Facebook is putting user value at the heart of its strategy by giving people more control over what they see and share, and through the use of "a new ad product and auction formula that drives down bad ads". 
Addressing Facebook's policy on political advertising, Baughan said that he doesn't believe a ban on political ads is the right thing to do - in part because it is very difficult to distinguish between political ads and issue-based ads - but that "Facebook should not be the arbiter of what is true or not in political discourse" and should be "accountable through scrutiny". 
Newsworks' Executive Chair Tracy De Groose opened her session with a video of Peppa Pig. Why? Because the cartoon is currently on the blocklist for a large entertainment brand. While De Groose believes that content verification technology has a role to play in advertising, she drew attention to the "unintended consequences that are harming journalism" and stated that UK publishers lost out on £170 million in ad revenue last year due to blocking, with some sites seeing up to 60% block rates. As a result, brands are missing out on engaged, quality contexts. We need to "be more considered, intelligent and thoughtful in how brand safety tools evolve" De Groose concluded.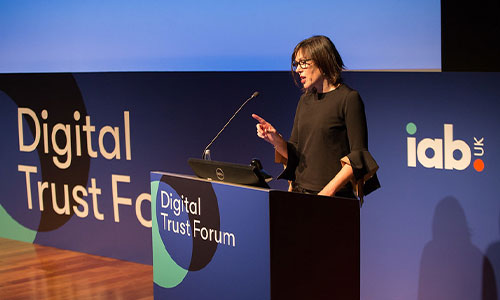 As part of the drive to address current content verification practices, industry bodies including IAB UK and Newsworks have come together with Content Verification providers to produce a guide on how to effectively implement a brand safety strategy. Take a look here. 
Fake news was on the agenda next, with NewsGuard's MD Anna-Sophie Harling calling on delegates to take a stand against ad-fuelled fake news websites. "So many of these sites exist because of advertising, so the people in this room have the power to put a stop to it… As an industry we should be looking really closely at where our money is going and who we're funding", she said. 
Integral Ad Science's MD EMEA Nick Morley followed with the quote of the day: "We're here in the British Museum, where the Rosetta Stone has been since 1802 - almost as long as we've been talking about trust in advertising." He went on to take a closer look at the difference between brand safety and brand suitability. In a nutshell, "brand safety is for everyone, suitability is what works for you". A successful strategy will incorporate brand safety measures as a base protection and then layer on risk calibration (each brand will have its own risk threshold) and suitability measures.  
Rounding up the morning, Mark Howe, Google's MD, EMEA Agencies, explained how privacy and personalisation can coexist. While the majority of people don't mind being targeted with relevant ads based on good use of data, users don't like being bombarded, he said. According to Howe, this isn't a privacy issue but down to "bad planning and bad buying". At Google, the guiding principles are to apply transparency, choice and control to the tripartite of users, publishers, advertisers - starting with the user and giving them control of how much data they share.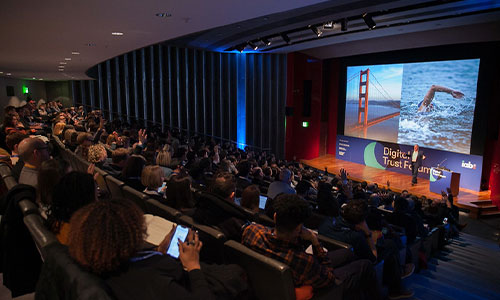 Addressing Google's recent announcement that it will phase out third-party cookies in Chrome within the next two years, Howe said that the industry needs to work together to "do more for the user with less data" and warned against techniques such as fingerprinting as an alternative. 

PM
Ali Shah, Head of Technology and Policy at the Information Commissioner's Office (ICO), was up after lunch, discussing the digital ad industry's response to the regulator's 'Update report into adtech and real time bidding'. Emphasising the need for meaningful change, Shah told delegates that "work has to happen, and it has to happen quickly, to resolve these issues". On IAB UK's six point action plan for the industry, published last month, Shah said that "it's a great start, but we want to see that turned into actions… the window to sit back has gone." 
Addressing recent reports that the ICO has not been strong enough in its recent messaging, Shah explained that ICO messaging is typically cautious to ensure any future decisions or interventions it takes will not be prejudiced. He pointed to language in the ICO's most recent blog that made it clear that further action is deemed necessary and that the ICO would use its wider powers against any organisation that doesn't address its concerns: "If anyone feels that we are stepping away from this issue they are wrong."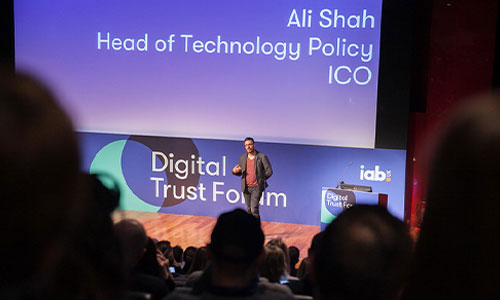 Deep fakes were on the agenda next with political commentator Nina Schick giving an insight into the world of disinformation in the age of AI. As she put it, deep fakes are like "fake news on steroids, both in terms of creation and dissemination". So what impact does this have? In a world where anything can be created, everyone has plausible deniability and deep fakes pose a threat to both individuals and businesses - from intimidation to fraud. While there is no silver bullet to address the issue, there are steps that can help to contain it, including updating legal frameworks, utilising AI solutions and improving industry engagement - such as retraining staff to spot deep fake activity.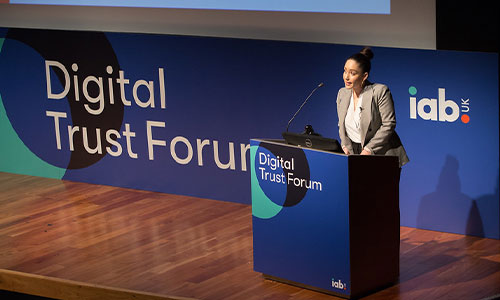 Neal Thurman, Director of the Coalition for Better Ads (CBA), followed with a case study developed in partnership with German publisher Burda, demonstrating how user-centric advertising can deliver hard, positive business KPI improvements for brands. With ad blocking having peaked in 2017, Thurman credited industry education and action with a fall in the use of ad blockers - such as adoption of the CBA's Better Ads Standards. 
Next, FIDUCIA DLT's CEO Tim Brown demonstrated how blockchain can been applied to the digital supply chain to help with trust, transparency and efficiency. Six months into the JICWEBS Distributed Ledger Technology (DLT) pilot, Brown ran through what the initiative means in practice: essentially providing a "single source of truth" for the industry, connecting corporate identities within a distributed ledger and activating them as part of a network. Input from all parts of the industry is essential for the next phase of the project, says Brown. 
Following the announcement that the Transparency and Consent Framework (TCF) will be incorporated into the Gold Standard's criteria later this year, IAB Europe's CEO Townsend Feehan gave an insight into how the TCF addresses trust issues. Running through what the framework means in practice, Feehan described it as the "best tool we have to deliver on GDPR's requirement for transparency and control". With version 2 having been introduced last year, Feehan said that there are currently 160 vendors signed up and an intensive programme of webinar workshops for vendors and CMPs planned for the following months, with version 1.1 being rolled up at the end of Q1 2020.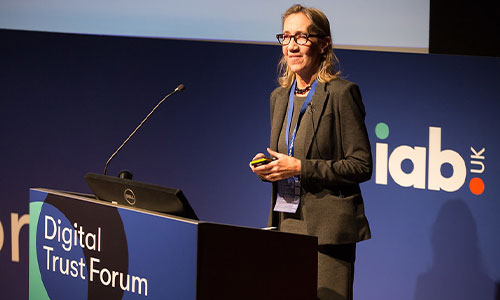 Talk of the TCF continued in the next session, with Douglas Miller, VP of Global Privacy and Trust at Verizon Media, describing it as "a fine example of industry collaboration" and one that "regulators should endorse and companies should adopt". Focusing on how digital advertising should adapt for the future, Miller discussed the value of first-party data and how GDPR needs to evolve in a sustainable way to address new technology, such as AI. Ultimately, he believes: "We must all work together to put consumers first, safeguard privacy and data and also protect innovation." 
The final session of the day was hosted by OmniGOV's CEO Paul Knight and Amanda Svensson, Chief Media and Marketing Data Officer at the Prime Minister's Office & Cabinet Office. With a focus on how to address trust issues and, in doing so, create opportunities, Knight said that they're tackling trust on two fronts - both internally and externally. 
On an internal basis, the focus is on maintaining transparency in the client/agency partnership, while externally it's about being truthful with citizens to better the digital ad experience. Svensson shared case studies to illustrate how both of these objectives are being met in Government campaigns - such as challenging the use of data in an army recruitment campaign that harnessed contextual relevance to drive up interactions. 
Why digital advertising works
Discover why digital advertising is effective for reaching your customers and building brands.