AA/WARC: UK ad spend reaches record level of £6bn for Q2 2019
By IAB UK
Overall market growth is being driven by increased spend on online advertising, which saw rises across most formats
---
The latest AA/WARC Expenditure report shows that UK ad spend rose 5.8% year-on-year to reach £6 billion in Q2 2019, marking UK advertising's 24th consecutive quarter of market growth.
Overall market growth is being driven by increased spend on online advertising, which saw rises across most formats. Digital ad formats for radio broadcasters witnessed a year-on-year rise of 15.9% and online national newsbrands recorded growth of 15.6% over the same period. Digital out of home – not included in online totals – experienced growth of 17.2%. The report also reveals particularly strong growth for TV video on demand (VOD), which saw an increase of 20.0% in Q2 2019.
The report shows ad spend growth for 2019 is forecast to rise 5.0% and reach £24.7 billion, with the UK's ad market expected to grow a further 5.3% in 2020. The predicted full year growth figure for 2019 is an upgrade of 0.4 percentage points on the figure forecast at the last release of ad spend data in July this year.
Stephen Woodford, Chief Executive, Advertising Association said: "These very encouraging ad spend figures for Q2 2019 cover the period immediately following the original Brexit date of March 29, demonstrating the continued strength of UK advertising during a time of political uncertainty. Advertising's dynamism is shown by the growth recorded across many different formats, with particularly impressive performances from cinema, TV VOD and online radio." 
James McDonald, Managing Editor at WARC, added "An upgrade to our 2019 projection of almost half a point is reflective of stellar online growth, as well as over-performance for a number of traditional channels against the expectations we laid out in July."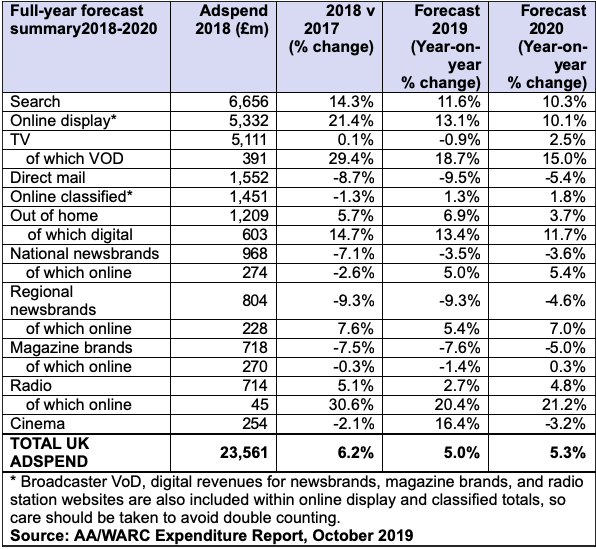 Why digital advertising works
Discover why digital advertising is effective for reaching your customers and building brands.