Overview
In the last 20 years, technology has fundamentally changed how we perceive and engage with the world around us. This change brings progress but also presents new challenges and questions on a daily basis.
Engage is the ultimate antidote, helping us to celebrate digital and think about what we do in future, and how we do it better.
We've curated a range of unconventional views to challenge perspectives on what the digital future holds, from industry provocateur Tom Goodwin to Polly Curtis, editor-in-chief of HuffPost. We'll also be hearing revolutionary views from Unilever's Keith Weed and the dynamic truth-seeking Stacey Dooley. Check out our speakers and book your seats before we sell out.
Barbican Centre, Silk Street, London, EC2Y 9DS
Agenda
Break Out Session
8:35 - 8:55am
Stalls Lounge - Celtra 
200 BPM
David Rozac, Director of Product, Celtra
In the 90's electronic music exploded from dark and sweaty basements into a global phenomena with events taking over entire cities attracting millions. It fundamentally broke with musical traditions to date. It blurred the line between sound and noise. It redefined the structure of a song and the politics of the dance floor.  And of course it was produced by machines for people.  
 
On the cusp of the new era of algorithmic advertising is there anything that we can learn from 90s electronic music? Why is good advertising still perceived to be a luxury? Is the divide between award winning and ROI winning creative really insurmountable? How to make, how to measure, how to manage and finally how to master advertising? 
Introduction
9.00am - 9.20am
Fireside chat
9.20am - 9.40am
When offline is the exception: advertising after the turning point
9.40am - 10.00am
Last year, online turned from the minority to the majority of all ad spend in the UK, one of the first markets in the world to see this shift. There is no turning back: not only do pure play online advertising channels continue to grow, but more and more of TV, out of home and radio advertising is run over internet protocol.
The unique tools and capabilities that online advertising offers are multiplying, offering unparalleled flexibility and a new level of insight about the consumer. The question therefore no longer is, which media will shift online, but rather which will stay offline?
But with the majority come expectations of maturity. Online campaigns are no longer novelties or experiments, but are increasingly judged on the same fundamentals as all media spend: effectiveness relative to cost, and relevance to the consumer. Online advertising's future hangs on delivering these. The stakes are higher than ever for advertisers, agencies as well as media owners, and much remains to be done.
The unskippable future of advertising
10.00am - 10.20am
In a connected world of abundant choice, the nature of attention is changing how can advertisers maximise the effectiveness of their creative and drive measurable results? 
Unskippable Labs' EMEA Creative Director, Billy Corbyn and  Olivia McMongle, Director Of Digital EMEA from 20th Century Fox, will go behind the scenes to share the latest on how purposeful experimentation delivered success for the theatrical release of The Greatest Showman and beyond.
Fireside Chat
10.20am - 10.40am
Our future is our audience. Understanding audiences and their expectations is key to becoming closer to them, whilst also being central to their interests and lives.
We are bringing in new voices and talent via recruitment and an internship scheme, expanding our newsroom outside the capital and listening to what's important, relevant and engaging.
Breakout Sessions
11.00am - 11.20am
Fountain Room: GroundTruth
The Power of Place: The Real Truth About The High Street
Matthew Spears, Client Partnership Manager, GroundTruth
There are an abundance of different signals available to marketers in this day and age, but what do they really tell us about who we are and what our customers want….and are they really accurate?
 
Join Matt Spears, Client Partnerships Manager at GroundTruth, as he looks to reveal the truth about the high street, our shopping habits, and how mobile can inform other media channels to ultimately bridge the gap between online and offline worlds.  
Ground Floor Foyer: Spotify 
Music is culture
Rak Patel, UK Head of Sales, Spotify
Music is with us throughout our day, across all moments, and even when we don't share what music we're listening to publicly, music paints a picture of how we are really feeling in a given moment. It's a mirror and signal of emotions that is both authentic and personal.
 
In this interactive presentation, Spotify's Head of UK Sales, Rak Patel will be talking about how music can connect with people throughout their daily lives and how brands are engaging with them at specific moments wherever they are, whatever they're doing.
How to avoid becoming completely irrelevant in 2018
11.25am - 11.45am
4 million hours of video uploaded to YouTube.

67 million Instagram posts.

650 million tweets.

 
Welcome to ONE DAY on social media.  
With so much noise and a never-ending battle for attention that millions of pounds a day is spent trying to win, it has never been more important to understand how to cut through and make an impact than it is today. 
Steve Bartlett will share with you the journey of how a bunch of 'kids' who knew nothing won the battle for the hearts and minds of the younger generation every day in order to build a global agency with 170 staff across several countries in 3 years, and in turn teach you the key to avoid being completely irrelevant on social media in 2018.
The Connected Home and the Future of Advertising
11.45am - 12.05pm
With the advent of the Smart Home, Data is doubling every 2 years, Voice shopping will raise from $2 billion in 2018 to $40 billion by 2022 and by 2020, there will be 200 billion devices in the IOT. These factors are going to transform and disrupt marketing. 
Advertising was once one-way storytelling, which we observed. With recent tech trends - AI, Voice, Lens and AR - its become two-way story-sharing and immersive.
Mobile advertising is now 10 years old. We're in the BlackBerry year of voice, AI and the connected home. That explosion which took 10 years in mobile is going to take just 3 years on these new platforms. 
Unruly Futurist, Simon Gosling, shares an insightful presentation, advising brands and agencies on the risks and opportunities presented by these new tech platforms. In an era of fake news, he looks at the importance of trust and how the application of emotion intelligence, to content creation and distribution, can help brands not just survive, but thrive in this next wave of marketing - 'The Ambient Era'. 
Digital Native Panel
12.05pm - 12.25pm
"If you want to build a ship, don't drum up the people to gather wood, divide the work, and give orders. Instead, teach them to yearn for the vast and endless sea."
The prevailing wisdom in business has been that strategy drives growth while culture keeps people happy and motivated.  However, for digital heart businesses, culture eats strategy for breakfast. Why? Because it motivates behaviour based not on an end goal, but on a mindset. The power of culture is not just about keeping people happy, it's about improving performance - which is integral for business. 
We are living through a transformative time for companies- what was considered good enough yesterday will not be good enough today; and it certainly won't be good enough tomorrow. Businesses who focus only on technology will miss the point. The key to success lies in the ability to be agile and pivot to address consumer desires and demands. 
Join Vanessa Fitzgerald, Director, Digital Natives, UK, Facebook and a brand for a fireside chat that will look to shed light on how digital disruptors are drawing on the power of consumer influence to push business innovation and growth to places they've never been before.  
Vanessa will also discuss how Facebook's tools are enabling businesses to tap into behavioural insights, creating value between brands and consumers - even at the rapid speed of ever-changing customer expectations
Trouble is Inspiring
12.25pm - 12.45pm
Our industry is in trouble. 
We are living in an era of skip ad.
And increasingly, people wouldn't care if most brands disappeared either.
So, what's the new playbook for building brands people wish existed?
Lunch & Breakout sessions
12.45pm - 1.45pm
1:25 - 1:45pm Breakout session - Fountain Room: Research Now SSI
Data – The New Oil: The Role of Data in the Advertising Cycle.
Liam Corcoran, VP Ad & Audience Measurement, EMEA, Research Now SSI
 
Nick Watt, Head of Partner Content, Econsultancy
Data has been described as the new oil; it will help drive the economy of tomorrow and the most effective marketers will be those who know how best to leverage data to inform their strategy. Join Research Now SSI and Econsultancy as we present the results of our new report on the role of data in the advertising cycle and learn how to optimise data to drive better business results.
Advertising for the Post-Digital Age
1.55pm - 2.15pm
The world is changing faster than ever, which creates both uncertainty and excitement, as well as fear and room for people to talk nonsense.
In this provocative session, Tom Goodwin outlines key ways to think about advertising for the future. Looking at what we can learn from the past and how to need to build for the post-digital age, this presentation will spark new thinking and empower you to make better decisions and do better work. 
 
GDPR-mageddon - Fact or Fiction?
2.15pm - 2.35pm
After months of speculation, hyperbole and debate, GDPR finally happened. But what actually happened?
In this session TripleLift takes us through a fortnight in the life of a programmatic exchange, to provide one of the world's first case studies focusing on the changing trends of publishers and advertisers during the two weeks that straddled the GDPR enforcement date of May 25th. Who were the winners, and the losers? How did buying evolve? And what are the early lessons to be learned for the ecosystem?
The Science of Influencer Marketing
2.35pm - 3.05pm
An expert panel will discuss influencer marketing from all angles, including the roles of different parties, best practice and how to achieve demonstrable ROI.
The Panel: 
Leading YouTube star - Fleur De Force

Talent agent - Danny Lowney, Managing Director, Sixteenth Talent

Laura Wade from Essence, VP EMEA, Content and Innovations

Lauren Stretch - PR and Influencer Manager, Missguided

Moderated by James Erskine, from Influencer Marketing platform Social Circle
Thanks to the rise of social media platforms like Instagram, Twitter and YouTube that share in-the-moment stories, anyone and everyone can be a marketing influencer within their social network. It's no longer reserved for celebrities as it was in the past.
 
On top of this, we're living in the internet age of authenticity. Consumers seek stories they can connect with; that they can get behind, and that they can believe in. And increasingly they trust people more than they trust brands - particularly those who have the same beliefs as them.
 
As humans, we never lose our need to connect with others. Influencer marketing is the new, digital take on this, where endorsers are like friends and family who we trust, admire, and, most of all, listen to.
 
We will look at the science of harnessing this new force and provide practical advice to help marketers maximise their ROI.
 
The Future of Advertising: Radical Challenges and Radical Solutions
3.05pm - 3.25pm
A little over 10 years ago, Brian O'Kelley left his role as CTO at Right Media, after a major acquisition by Yahoo. Brian then set out to go it alone and co-founded AppNexus - the arms race against Google and Yahoo was on. Over the last 10 years, AppNexus has become the largest independent marketplace for Programmatic Advertising.
 
He's known as the inventor of ad exchanges, and the biggest independent exchange apart from Google.
Join Brian O'Kelley as he discusses topics that affected all corners of the industry and how his vision has played out, including challenges and opportunities that the future may bring.
Breakout sessions
3.35pm - 4.00pm
Stalls Lounge : BitPoster 
The OOH Opportunity for Digital Buyers - a panel discussion with digital agencies who spend in OOH
Craig Mytton, Chief Revenue Officers, Bitposter
HQ Trivia
4.00pm - 4.20pm
It's official, HQ is the trivia game taking the UK by storm. Common rooms, offices and factory floors country-wide are stopping dead at 3pm and 9pm every day to join hundreds of thousands of others to play the 15min trivia game to be in with a chance of winning a grand sum of £1,000. That's right.
For the first time exclusively in the UK, The Drum's Katie Deighton will be joined onstage by one of HQ UK's presenters, Beric Livingstone and HQ's Director of Partnerships, Dylan Abruscato, to talk about this new appointment-to-view phenomenon, how the format is blending and breaking the moulds of traditional TV and HQ's work in partnership with brands so far.
Behaviour
4.20pm - 4.40pm
Conscious and unconscious behaviours around data and how to manage them for success the information overload era.
James Chandler, CMO, IAB UK in conversation with special guest, Stacey Dooley.
Tom Goodwin, Head of Innovation, Zenith
See a sneak preview of what industry provocateur Tom Goodwin will be speaking about IAB Engage 2018.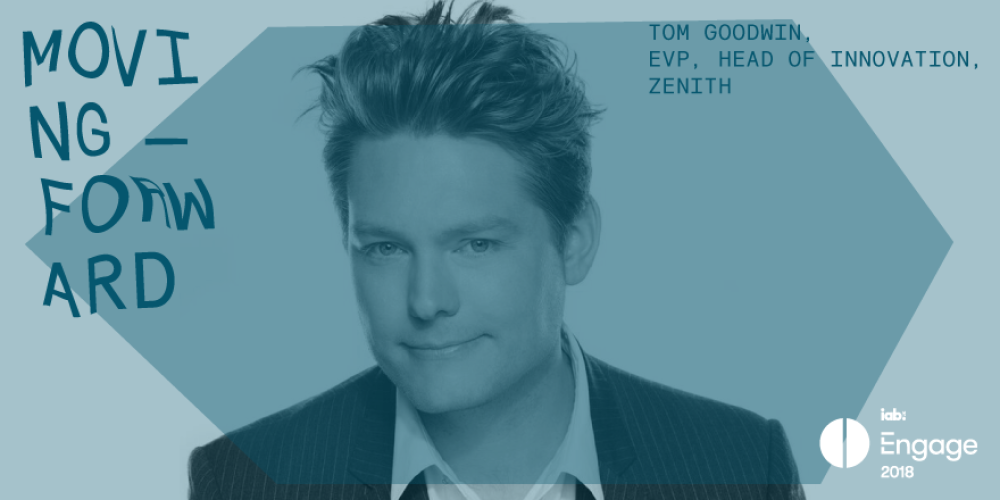 Don't just take our word for it. Hear from 2017 attendees