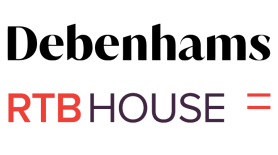 Debenhams boosts its brand for the Valentine's Day sales with video ads from RTB House
Objective
Awareness, Consideration
Overview
Debenhams is a leading UK brand with a history dating back to 1778. In 2021, the company reinvented itself as a leading online store, offering home delivery of its iconic fashion, beauty, and home collections. Despite being a well-known brand, Debenhams needed to educate the public about its new online model and let them know that its digital doors were open for business. The company wanted to find ways to rapidly rebuild the passion and loyalty that it had nurtured in its customer base and establish itself as the online department store of choice. Valentine's Day offered the perfect opportunity to drive customers to the store's blue-ribbon lingerie and fragrance categories. This required grabbing consumer attention and driving traffic to the Debenhams site during one of the most competitive shopping periods of the year.
What was the role of digital within the media mix? 
The Valentine's Day campaign involved RTB House working as part of multiple retargeting strategy. This was how Debenhams felt it could get the best possible results. The key was to combine effective user targeting with creatives that stood out from the crowd and deploy them in the run-up to Valentine's Day. To that end, RTB House implemented a combination of Streaming Video Ads powered by Deep Learning algorithms and our ContextAI feature. These solutions enabled RTB House to show high-potential users personalised video content showcasing fragrances and lingerie in an aspirational context. This encouraged users to click and check out the Debenhams online offering, cementing the brand's reputation as the go-to online shopping location for both Valentine's Day lingerie and year-round purchases of other items.
7 million+
unique users reached
19 million+
ad impressions
69%
video completion rate
What results did you attain? What was the biggest achievement?
The adverts reached over 7 million users, with 71% viewability and a 69% completion rate. This outperformed the video campaigns that competing agencies were running during the same period. In fact, our ads were so compelling that 54% of all target users saw at least one branding banner from RTB House in the three-week run-up to Valentine's Day.
Find out more about the campaign and check out the creative here.