Blis creates a support network for women at work
Business Area
Communication, Culture, Education, Wellness, Work life
Overview
Blis' grassroots D&I initiative, Rise, has created a meet up series called 'Let's talk about…' to help the women of Blis to support one another. It has been created as a 'safe space' for women to meet monthly and talk about challenges uniquely or predominantly faced by women in the workplace. It's an informal, no-judgement virtual group session that anyone can join and bring their true confessions, fears or questions. Topics we've covered include imposter syndrome, bravery vs perfection, vulnerability,  'fake it till you become it,' '10 ways to have a better conversation'', people pleasing and getting out of your comfort zone.
What did you set out to achieve?
Following our Rise International Women's Day panel in 2021, the panellists, a few members of our Exec team and HR had a follow up discussion to try to tease out areas highlighted during the panel where we could better help the women in our business to grow and succeed. 'Let's talk about…' was borne out of these conversations, and we set out to create a 'safe space' to help other women in the business to troubleshoot tricky situations, talk through an issue or share helpful tools and approaches to tackle or rise to a pressing challenge they may have in front of them.
Describe how the initiative or campaign works?
Ahead of each event, we share a stimulus video about a topic of interest ahead and also play it at the start of each session. We then go into virtual breakout rooms to chat about the subject. Each room is facilitated by one of our organising team and we create a discussion guide ahead of time, to guide the conversations. We then come back together as a group and share key takeaways from the breakouts and encourage attendees to share what we call 'courageous commitments' - something they will start or stop doing as a result of what they learned or discussed in the sessions. We also discuss what Blis can do as a company. We have expanded the remit of 'Let's talk about…' to foster allyship and help break down bias so, once a quarter, we invite the men of Blis to join as well.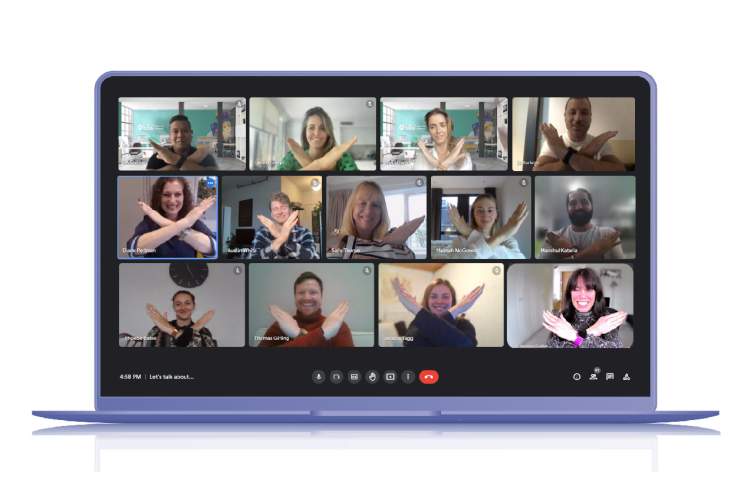 What was the first step you took to get it off the ground?
We held an internal panel for International Women's Day in 2021 and, following that panel, we had a debrief during which we identified some areas where we could create some initiatives to better champion and support women working at Blis. The idea for 'Let's talk about…' sprung from these conversations. Once we had the idea, we tested it out with women working at the UK office and then rolled it out to other markets. 
Who are the internal business partners you brought on board? Are there any external stakeholders you spoke to for advice?
Our Chief Marketing Officer is the executive sponsor of the programme and actively involved in driving it forward, along with a small group of passionate women in the company who all jointly run the initiative, including our Data Protection Officer and two of our UK sales managers. We didn't seek external advice when we created the programme.
What budget/resource did you need?
This initiative, to date, has required zero budget.
How do you keep it going?
We have a small volunteer team of women who plan the events and share the responsibilities to make them as impactful as possible. Word of mouth from those who attend the meet ups help us to keep it going. Highlighting positive change coming about as a result of the sessions in our company meetings also helps too.
What positive impact has this initiative or campaign had? 
Since its inception, Rise has brought together dozens of our female employees, and also our male colleagues too, to discuss really fundamental issues and challenges. This initiative has led to:
New HR policies being implemented, including menstrual leave

More diverse voices in our company meetings. Suggestions from our sessions have led to a radical change to the line up in our weekly company meetings, which previously were led only by our Exec Team, to inclusive voices across the company in every meeting. We've had great feedback on this evolved format

New relationships being fostered, as attendees really value getting to meet and spend time learning from people from other teams and regions they wouldn't normally get to speak to.

A more inclusive culture and greater awareness of the need for and importance of allyship
What did you learn that could help others?
Not only is creating a safe space for women to openly discuss challenging issues that women uniquely (or predominantly) face in the workplace a very positive action, but also opening up that discussion to men helps to foster allyship and understanding, and ultimately create a more inclusive culture.
How will you make the ID&E benefit of this initiative or campaign endure? 
Due to the success of the programme, we've expanded it beyond just those who identify as women. We will invite men from the UK and other regions involved to join in a 'Let's talk about…' meet up once every quarter, in addition to holding two meet ups per quarter just for women. We also plan to report back to the company on positive actions that we have taken and implemented as a result of the ideas and suggestions coming out of the meet ups. We've also expanded the organising group to create more momentum and share the planning responsibilities.